Complete guide to exterior signage
Did you know almost 8 in 10 consumers choose to enter a business based on its signage alone*? So having your company brand professionally displayed outside the premises is vital.
Why is exterior signage important for a business?
ADVERTISE – promote your business and build brand awareness, getting your company name out there and telling people what you do and why they should use your product or service. For physical premises, your external signage is your opportunity to create a great first impression of your brand.
ATTRACT – once you've advertised your business and people are interested, you need to convert them into customers, particularly relevant for customer-facing businesses such as shops, restaurants and salons. If you are an office-based business your outdoor signage may be used to attract and welcome new clients or employees to your organisation.
GUIDE – if your business or premises welcomes customers and visitors there will be a need to provide information and directions for entrances, exits, receptions, meeting rooms etc. This may be on a bigger scale for businesses with large outdoor spaces.
What are the different types of outdoor business signage?
Fascias & Shop Front Signage
Highly visible and made to catch people's attention, large fascia signs make a big impact on a building. They create a lasting impression by prominently displaying your business name, often seen high up on commercial buildings. With competition fierce, having a stand-out sign that is clear and can be seen from a distance is ideal to grow brand awareness.
There are several options available to create an impactful fascia sign and our dedicated page (linked below!) has some great examples. You can hover over each image to find out more about the different options.
PRODUCT SPOTLIGHT: ILLUMINATED FASCIA SIGNS
Illuminated fascia signs are a popular option adding the WOW factor to your premises. By illuminating some or all of your signage you can increase your visibility and the awareness of your business.
Fascias & Shop Front Signs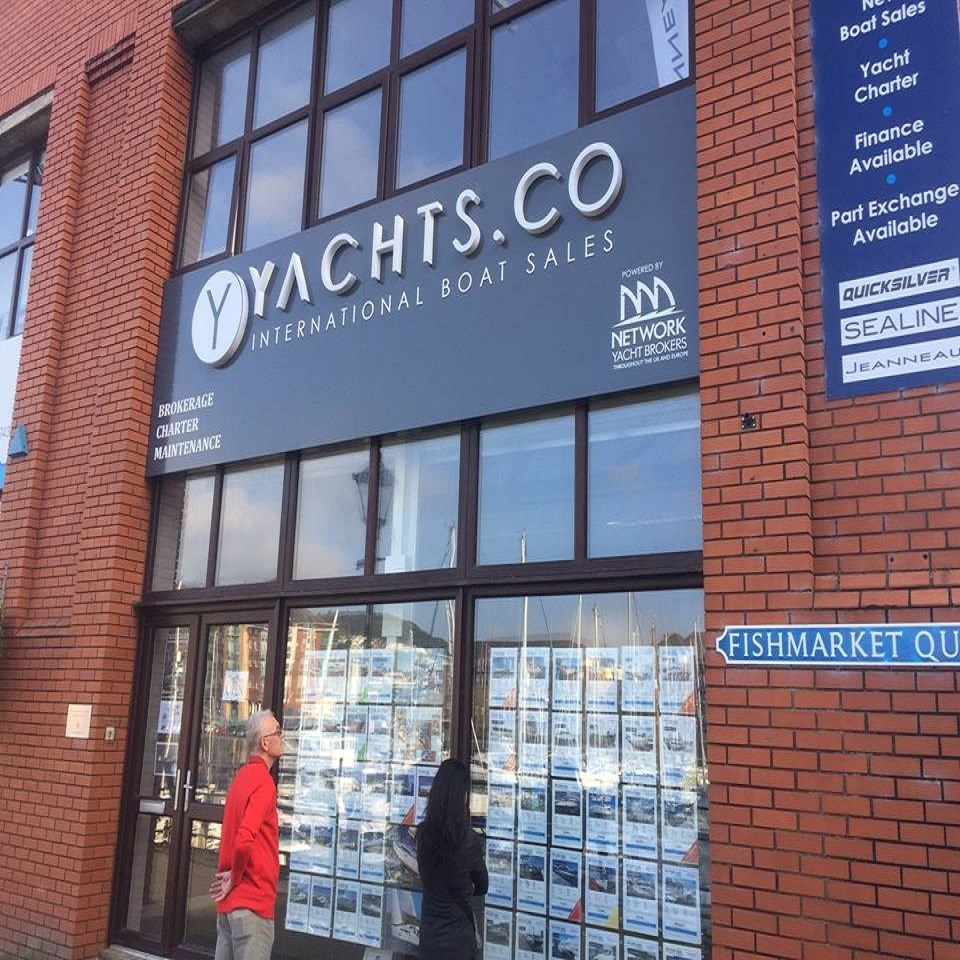 Directional signage
Directional signage is an important part of your signs and graphics package, helping customers, visitors and staff to navigate any outside areas. The objective of these types of signage may include:
Signposting customers to receptions, entrances and exits
Showing visitors where to park and enter the building
Displaying maps on large sites with multiple buildings
Ensuring people are kept safe and stick to pedestrian areas
Whilst directional signage serves an important purpose there are many options available to allow it to meet your exact requirements and incorporate your brand identity.
PRODUCT SPOTLIGHT: POST AND PANEL SIGNS
A very popular and versatile signage system, post mounted signs are used across many business sectors. Post and panel systems are durable outdoor business signs and can be made bespoke in practically any size or shape or by adding vinyl graphics or illumination
Directional Signage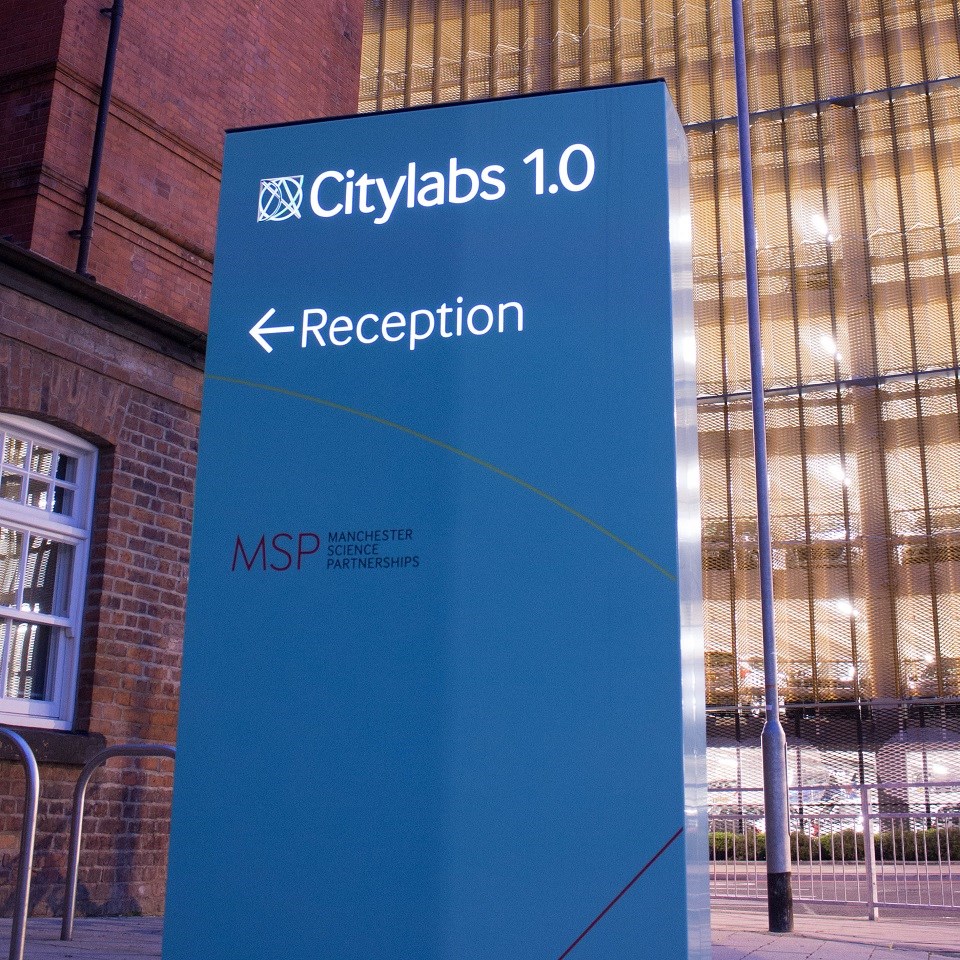 Window graphics
Window graphics are one of our top recommendations for improving the exterior look of your premises where you have undressed windows. Not only can they create a showcase of your business, but they can also play an important health and safety role.
Once again, aside from some compliance and application restrictions, window graphics can display whatever you wish. Whether that be branding, decoration, privacy screening, temporary promotions or manifestations.
PRODUCT SPOTLIGHT: FROSTED WINDOW GRAPHICS
Make the most of external glazing with frosted, or etched, window graphics. This style is used to create a variety of designs, most commonly though this is a decorative element with branding incorporated.
Window Graphics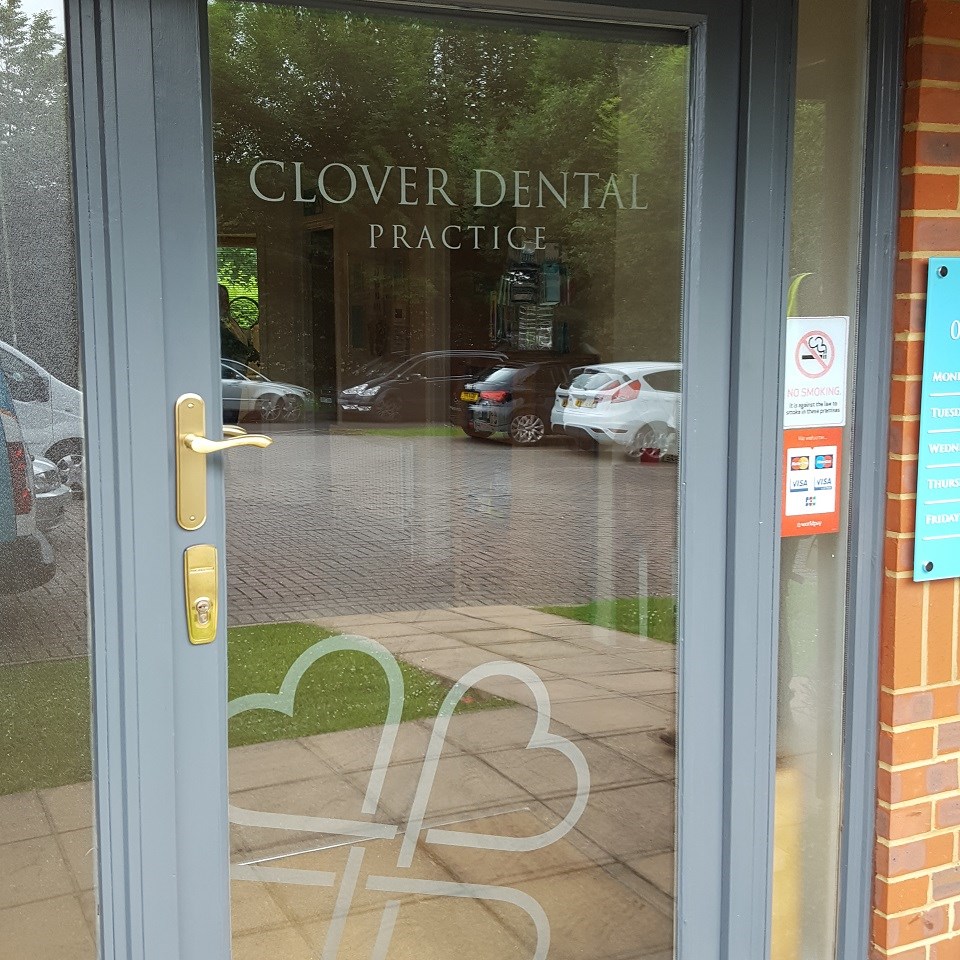 Street furniture
Signs and graphics don't need to be costly, especially if you are a small business or are looking for a simple solution. Street furniture such as pavement signs (also known as A-boards or sandwich boards) and café barriers can be very effective for your business.
We have a huge range of standard-sized street furniture to suit different budgets but we can also create unique sizing and custom shapes if you require.
PRODUCT SPOTLIGHT: PAVEMENT SIGNS
Some people may think pavement boards are a little dated, however there are so many options for styles and designs that can make them unique and eye-catching. A benefit of investing in pavement signs is they can be moved around and used again and again. They are particularly useful at events or street markets for example.
Street Furniture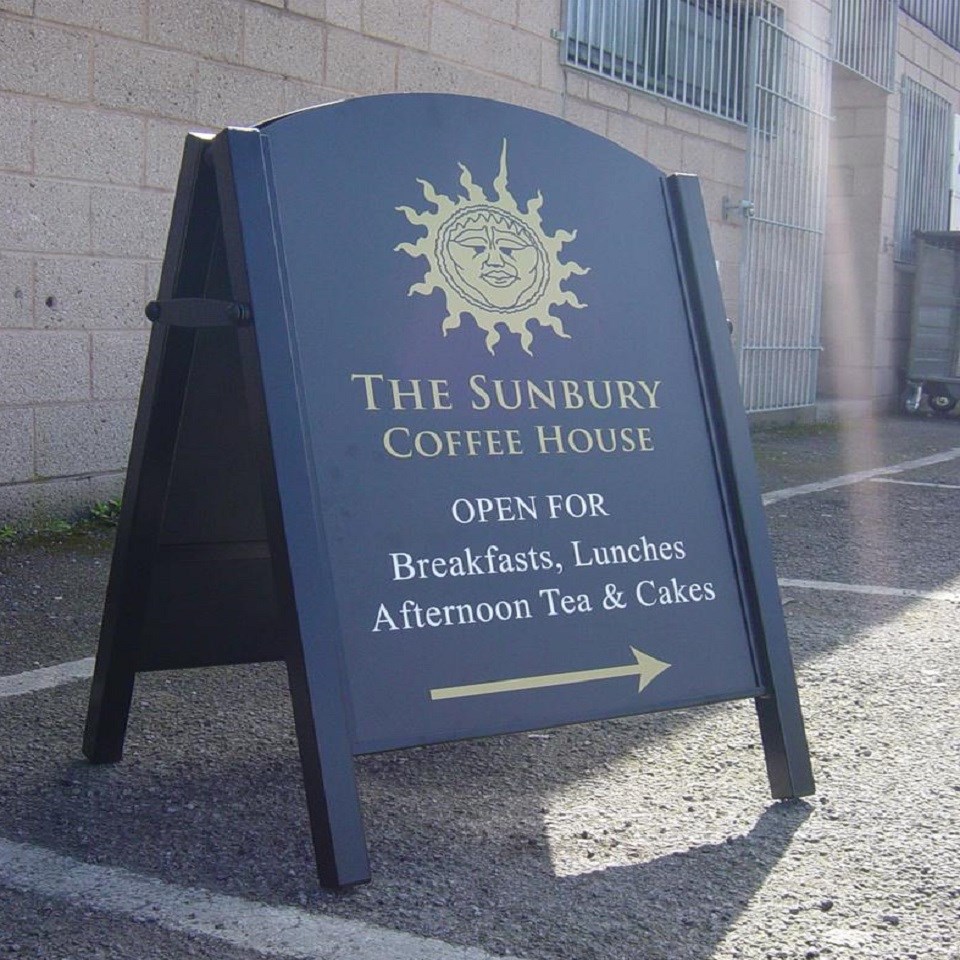 Illuminated signage
Add an extra dimension to your signage by using illumination. This is a great option if your business needs to be seen at night or on dark mornings and afternoons in the winter months. By illuminating part or all of your sign you can increase visibility and make sure people know you're there.
There are many options that provide different looks, you don't need to worry about the 'how' just focus on what you want your illumination to look like and we'll do the rest.
PRODUCT SPOTLIGHT: HALO ILLUMINATION
Create a soft glow of light behind built-up letters and logos for a subtle and stylish look. The light brings definition to each letter, with the illumination coming from behind to create a shadow effect that looks particularly effective on certain backgrounds.
Illuminated Exterior Signs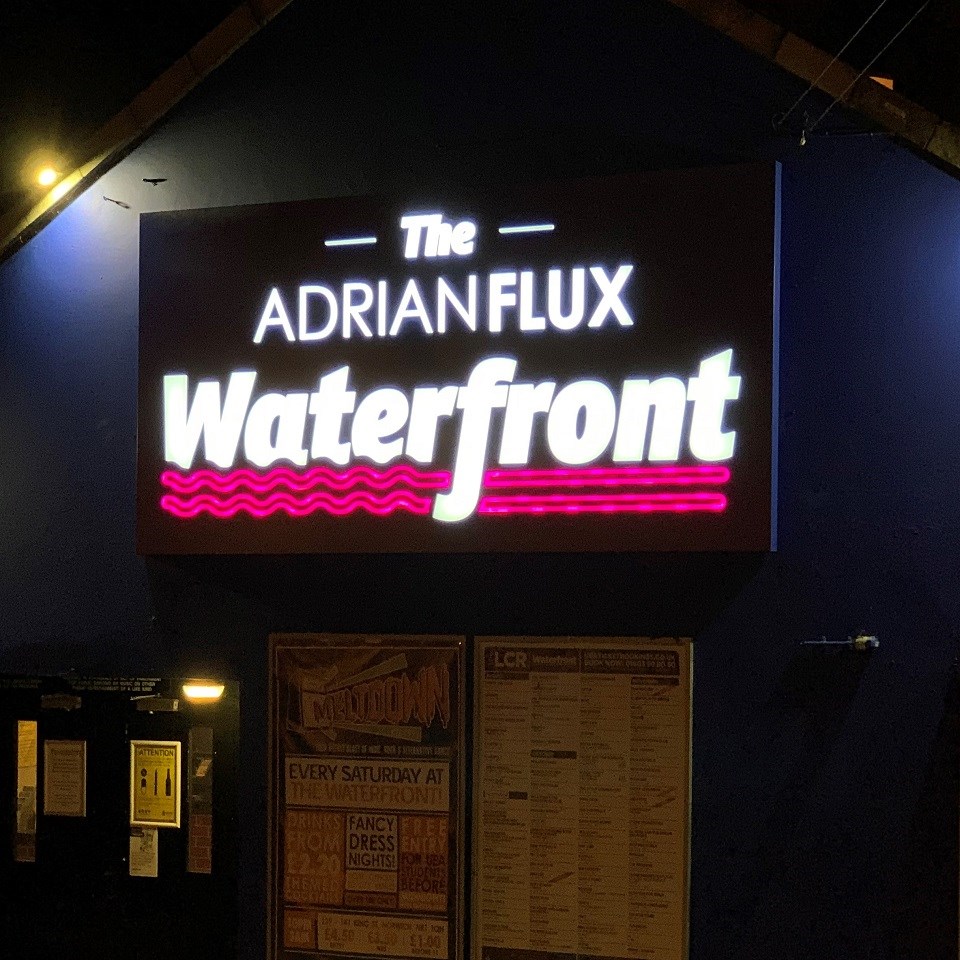 Digital signage
Using digital signage can be very effective when used externally and there are several benefits for your business. The ease of use and quick process of uploading new content is one of the biggest benefits, you can change messaging as and when required to suit the situation.
For external use, our range of products are robust, durable and vandal-resistant to ensure quality and longevity. Importantly, screens also have anti-reflective glass and high brightness properties to make content stand out even in direct sunlight.
From one small screen to the largest external video advertising walls and fasicas – we can help!
PRODUCT SPOTLIGHT: WALL-MOUNTED DIGITAL SCREENS
You can use wall-mounted digital screens for most sectors, retail and hospitality businesses can particularly benefit from displaying eye-catching promotions, up to date menus and opening times. Displays on screens also don't need to be static, videos or slide shows can also be visible to passers-by.
Digital Signage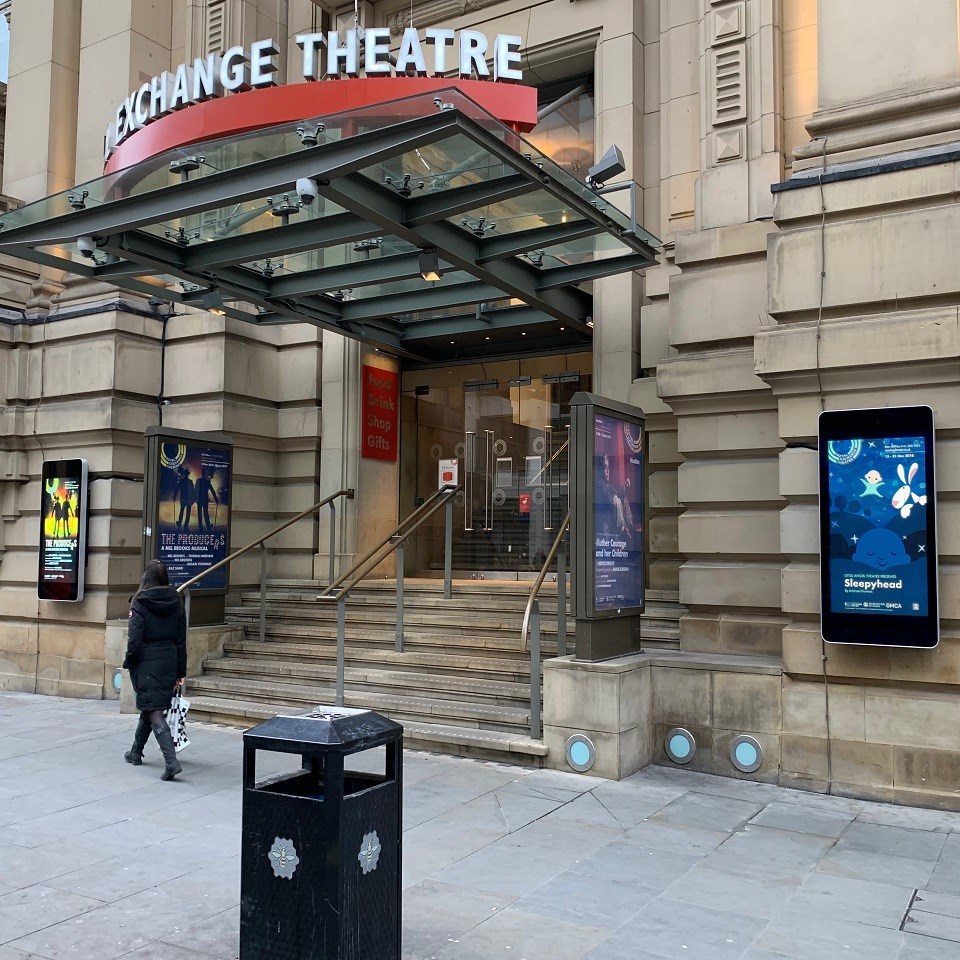 Do you need planning permission to install new exterior signage?
With the installation of most outdoor business signs you will need to consult local guidance and regulations to ensure you're complying. You may need to obtain advertising consent for some projects which could also include getting planning permission, so be aware of any restrictions before you add to or refresh your signage.
Typically, our centres will be able to offer advice at the time of your initial enquiry, however these sources provide some helpful information:
1. Outdoor advertisements and signs: a guide for advertisers - click here.
2. Advertisements - click here.
How much should I expect to pay for outdoor business signs?
With most types of signage there isn't a single cost, it will vary for each project and each of our centres can provide a no-obligation quote at the point of your enquiry.
It is worth checking with your local council or Business Improvement District group to see if any grants are available that may support the cost of your exterior signage. Grants for outdoor business signs are seen most commonly for independent retail and hospitality businesses. By supporting local businesses these grants help to rejuvenate town and city centres so be sure to contact your local council.
Where to get outdoor business signs near you
Signs Express has over 60 centres across the UK and Ireland that are perfectly positioned to help with your enquiry. Use our centre finder to find your local centre.
*FedEx Office "What's your sign" survey of American consumers
Find Your Local Signs Express
With over 60 centres across the UK and Ireland, we enjoy a national reputation for providing quality products and supreme customer service.
Roots to Food - Roots to Food

Deborah Hockey - Sky Platform Hire Ltd

El Picante

Dunster House

Baytek Office Solutions - Baytek Office Solutions

Bedford Bid

Cranfield Aerospace Solutions

Combi-Ride - Combi-Ride

Kimberley Food Fest - Kimberley Food Fest

Hashim Majeed - Byron Fast Foods

Ross Salmon - Salmon Heating Services

Liz Myers - UWM Accountants
Richard Hook - Postcards Cafe, Exmouth

Paul Knight

Peter Hines
Juicy Vapes

LSK Hire Ltd

Roy Martin

David Rooney - Bath Spa University

Fred Vernalls - Exeter and District Scouts

James Varney - Professional Window Cleaners Exeter LLP

Charlie Trulove

Rosemary Duffett

Adam Clark - Park to Pro