The Complete Guide to Exhibition & Display Solutions
Exhibition and Display covers a wide array of products as organisations can exhibit in locations of all shapes and sizes, whether it be at large national indoor arenas or smaller community hubs. The information below gives details about the most popular Exhibition and Display products as well as answering some frequently asked questions on how to achieve the best results when you next need to exhibit .
Retractable Banner Stands
Retractable banner stands also known as pull up or roller banner stands, are a great way to display your branding at an affordable price. All you need to do is pull the graphic from the base and you're ready to go. When not in use, the graphic retracts into the base, making it easily portable and ideal for conferences, reception areas, retail, schools, and exhibitions.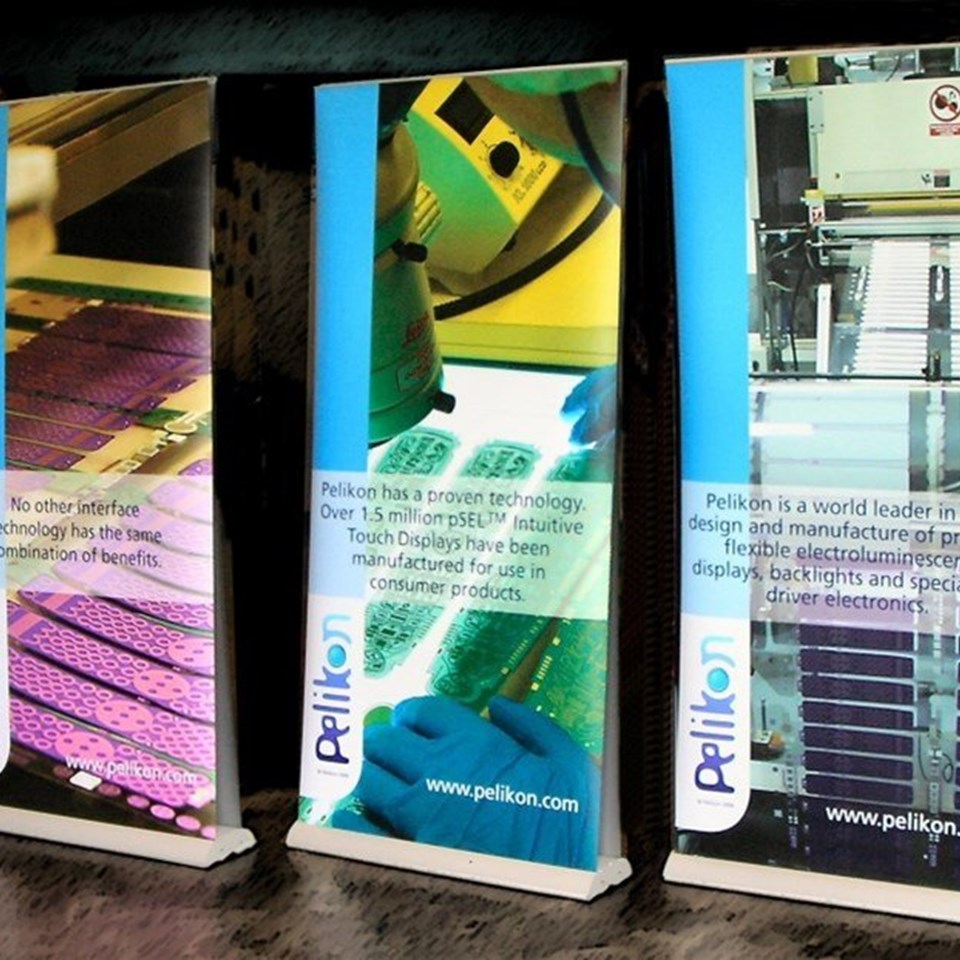 Pop-Up Stands
Pop-up stands are a favourite solution for exhibitions and trade shows due to the portable nature of the frame and the ease of assembly. Once the frames are erected, printed graphic panels are attached to the frame or if it is a fabric pop-up then the one-piece covering is placed over the frame, creating an attention-grabbing display.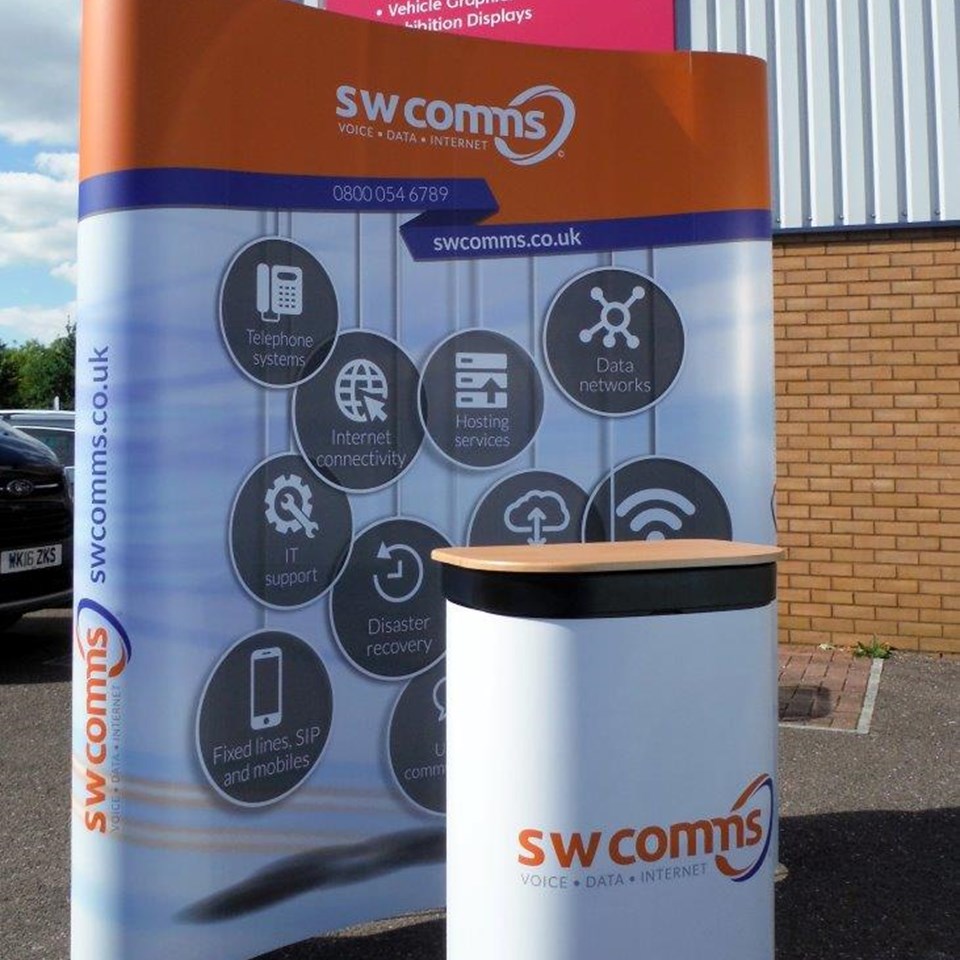 Modular Display Stands
Modular display stands bridge the gap between portable stands, such as pop-ups and custom-built traditional joinery stands and are ideal if you have a regular exhibition calendar. The big advantage of modular stands is that they are reconfigurable, re-usable and more importantly flexible to allow you to adapt to different marketing requirements. Our team can provide artwork at specific sizes which you can drop in or Velcro down to shell scheme panels for minimal cost.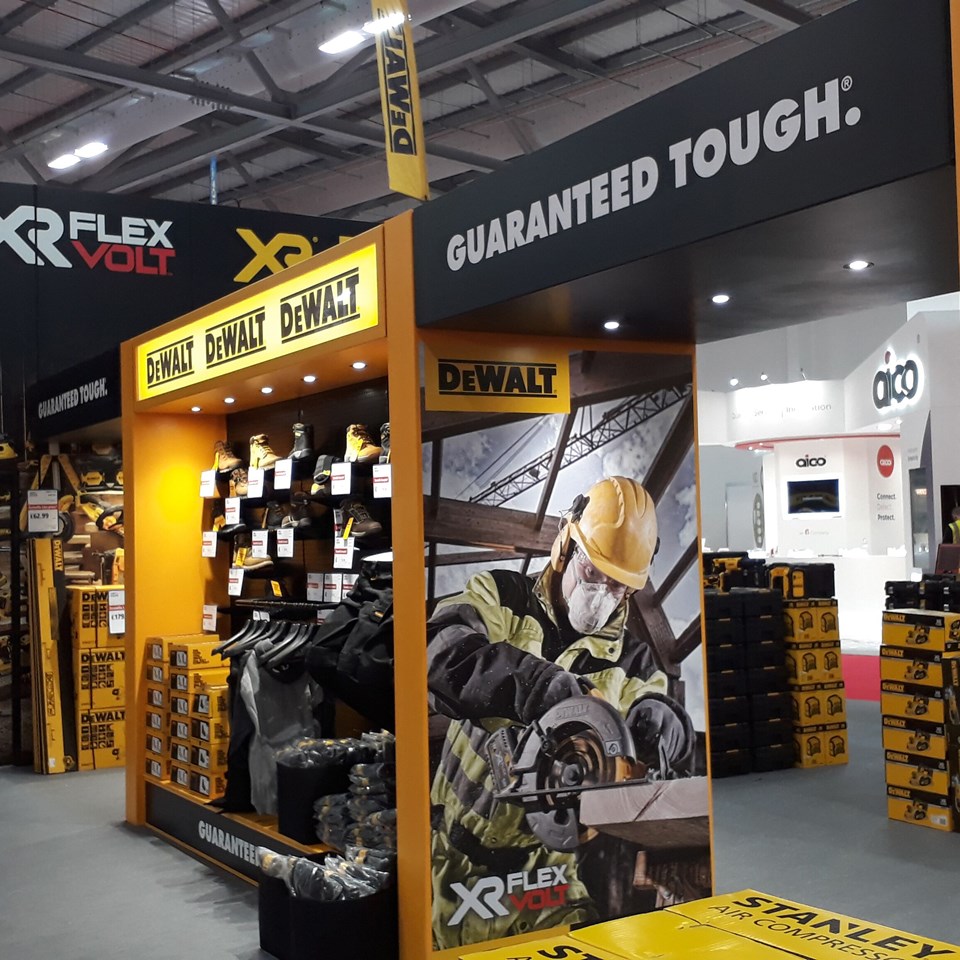 Flags
Flags can be customised with your brand to suit any indoor or outdoor event, offering maximum visibility and marketing presence. Our promotional flag range is suitable for a wide range of applications including events and exhibitions, trade shows, sporting events, festivals, country fairs, front of business and forecourts. Popular event flags include feather flags, teardrop flags and sail flags which come in a range of sizes, with footings to suit every type of surface.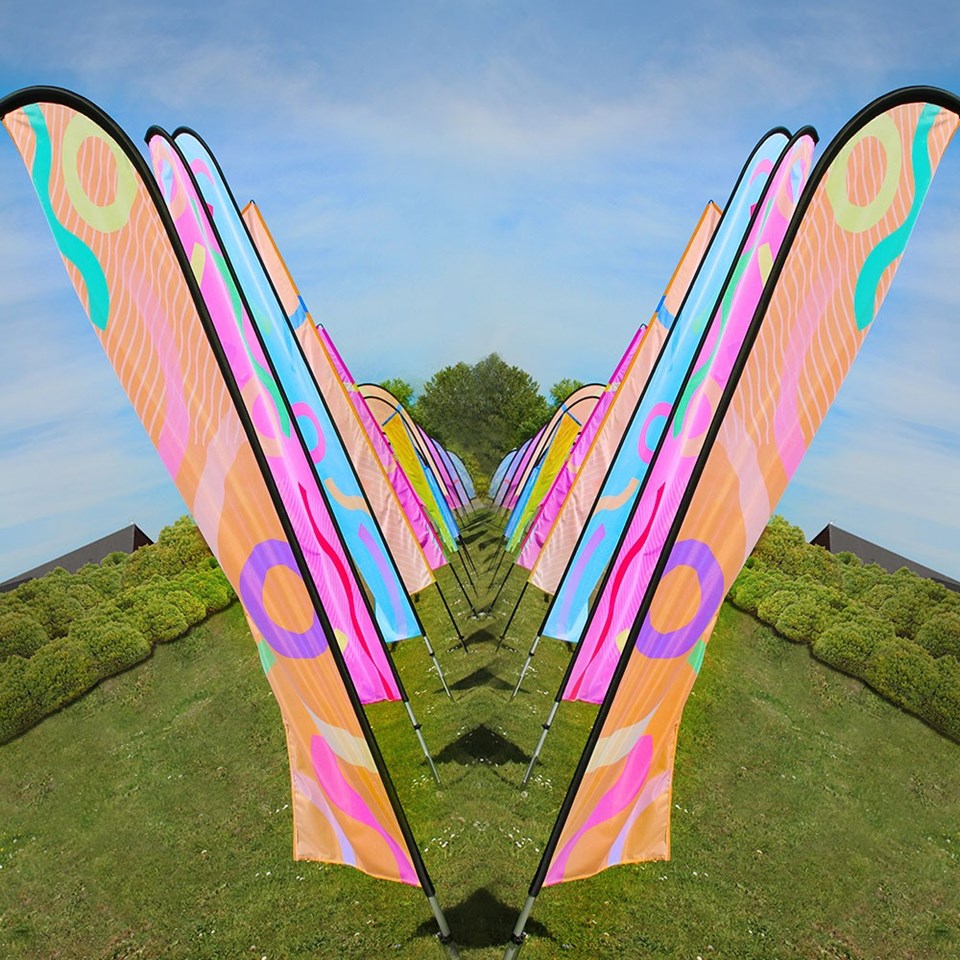 What size should my Exhibition Stand be?
When executed well, bold is better when it comes to exhibitions. You are much better off opting for a smaller space and using your budget to make it look fantastic and add the 'WOW' factor, leaving a positive impression on visitors.
What should my Budget be for an Exhibition Stand?
As much as you can afford. Smaller businesses that operate with a tighter budget will naturally look for ways to save money. Think about the value you and your customers will get from you attending the exhibition. Exhibition & Display Signage should be something you have for at least a few years so definitely invest in high quality that reflects your brand and services.
How can I prepare for an Exhibition at the last minute?
If you're compiling a to-do list for your last-minute exhibition, consulting an experienced stand producer, like Signs Express should be at the top. An eye-catching exhibition stand is essential to attract attention and achieve your goals at events. Therefore, contacting an expert as soon as possible, provides a larger window to achieve a design that suits your needs as well as incorporate aspects that may require a longer turnaround.
How to produce an effective Exhibition and Display Stand?
The aesthetic appeal of your exhibition stand is vital to attract as much attention as possible and stand out from the crowd. If your choice of graphics are poor-quality, unexciting or looks outdated compared to your competitors — you'll significantly reduce customer engagement and your overall chances of success.
While you may already have design ideas in mind for your exhibition stand, it's always a good idea to explore as many different options as possible. The key to trade show success is attracting as much attention as possible and standing out from the crowd.
Express have several decades of experience in the exhibition, sign and print industries, meaning we have an eye for interesting designs and have the skills to produce first-class exhibition stands. Whether you're looking for a modern minimalistic design or an engaging complex layout — our experts will ensure your exhibition matches your requirements.
How can I stand out at an Exhibition?
Keep in mind your competitors have the same goal, and therefore it's vital to embrace creativity and unique design ideas. Fortunately, we live in an era where technology and graphic design are more advanced than ever, which offers a fantastic array of immersive and eye-catching possibilities. If you have any specific ideas you want to explore or are struggling for inspiration, our team can help you to make your vision a reality.
Get in Touch
Enquiry Form
Please contact your local centre by completing this enquiry form and we shall respond to your request as soon as possible.
First Steps Community Playgroup - First Steps Community Playgroup

Nicola - Petals & Posies
Emily Bannister - Victorian Sliders

Bernadette O'Sullivan - Woodcroft Stud
Julian Marks - Roofcare South West

MICHAEL STOPFORD (1) - Cumulus Bookkeeping Services
Becky Hulse

Kulvinder Singh

Richard Croston

Ian Mounter - IDM Airless

Sophie Chappell

Rupert Gladstone - Spitfire Avian Pest Control Ltd

Construction Testing-Solutions-Ltd

Ricky Cobbledick

Oliver Koeller

Grace Mead

Paul Grosvenor

Rebecca Simpson

Mike Davies - Mike Davies Associates Ltd

Andy Dransfield - Andy Dransfield Driver Training

Luke Payne - Active Southwest

Richard Cale - Leaf Culture

Grace Young
Christopher Campbell - Kelly Group Ltd