The Complete Guide to Outdoor Promotional Solutions
Every time you walk through town, drive to work or pass a shop, you'll almost always notice some form of outdoor advertising. It's not just huge billboards you'll see either; smaller-scale adverts like signage boards, vinyl banners and printed flags are used every day by businesses to advertise their brand.
Outside marketing doesn't just have to be done in the summer when the weather is amenable. Today's modern materials mean that marketing outside your premises is a 365 day a year activity and is an effective way of grabbing passers-by and turning them into potential customers.
The following guide will explain outdoor promotional solutions, the most used products and any considerations that your business may need to take into account.
What is outdoor advertising?
Outdoor advertising is the promotion of any goods or services that are displayed outside and reach possible customers who pass them.
They are designed to grab the attention of people who pass them and can be used to advertise store promotions, events, business information, opening hours and new product launches.
Notable examples include billboards, stickers, signs, banners and more.
Why is outdoor advertising important?
Outdoor advertising can be an invaluable weapon in your marketing arsenal. It can help you reach that all-important footfall that passes through town and city centres every day. Placing your branding or promotional messaging in places of high footfall lets you target a wider audience.
How effective is outdoor advertising?
A Nielsen study* around outdoor advertisements, specifically posters, found that 51% of respondents had noticed an ad in the past month – 38% in the last week. Even more impressive, is the fact that 47% of those surveyed managed to recall an ad they had seen.
Those kinds of numbers can be vital to your company, particularly if you place your promotion on a busy street, where many will walk by every day. You'll have a much higher likelihood of people not just seeing your advert, but also retaining the message and possibly doing business with you in the future.
Suitable for all budgets Posters, signage, banners and flags are all affordable methods of marketing.
Advertising outside your shop front can create an impression on passers-by at a relatively low cost. There's a whole host of signage options, for a variety of different budgets, depending on the results you want to achieve.
Are there any disadvantages of outdoor advertising?
The advantages outweigh the disadvantages however, it's important to know the limitations of advertising outdoors.
People will generally see your ads while they're on the move, meaning you need to keep your message short to grab them while you can. There's also the risk of waste coverage, meaning not everyone passing by your outdoor advertising banner will be a part of your target market. However, this could be seen as a positive as you can reach all types of demographics which others forms of advertising may not let you, such as online advertising.
What are the different outdoor advertising regulations?
Before you commit to spending on outdoor advertising, it's important to know where and what you can and can't display.
The UK Government has strict guidelines on the subject and has published a guide to outdoor advertisements. Within this guide, items that are classed as an advertisement are defined, this includes:
Posters and notices
Placards and signage boards
Flag advertisements
Directional signs
Estate agent boards
Price displays
Depending on where you display your advertisement, you may need permission from the relevant authorities.
Generally, you'll need to follow five 'standard conditions' when you display outdoor promotional materials. They need to be:
Kept clean and tidy.
Maintained in a safe condition.
Displayed with the permission of the owner of a site they are on.
Not obscuring any transport-related signs (road, rail etc.).
Removed quickly if the planning authority requests it.
Printed flags
What are printed flags?
Printed flags are outdoor displays that can be customised with your branding or marketing and placed outside stores or at public events and exhibitions. They're secured using a solid base or ground spike. Flags are printed in several different shapes, including:
Feather
Crest
Fin
Teardrop
Flamingo
Why use printed flags?
Typically used to promote events or placed at the entrance of your premises. Pedestrians will instantly see the branding or messaging displayed. Printed flags are also machine washable and easy to iron, so they're a long-term marketing investment if you're planning on displaying the same promotion for a while.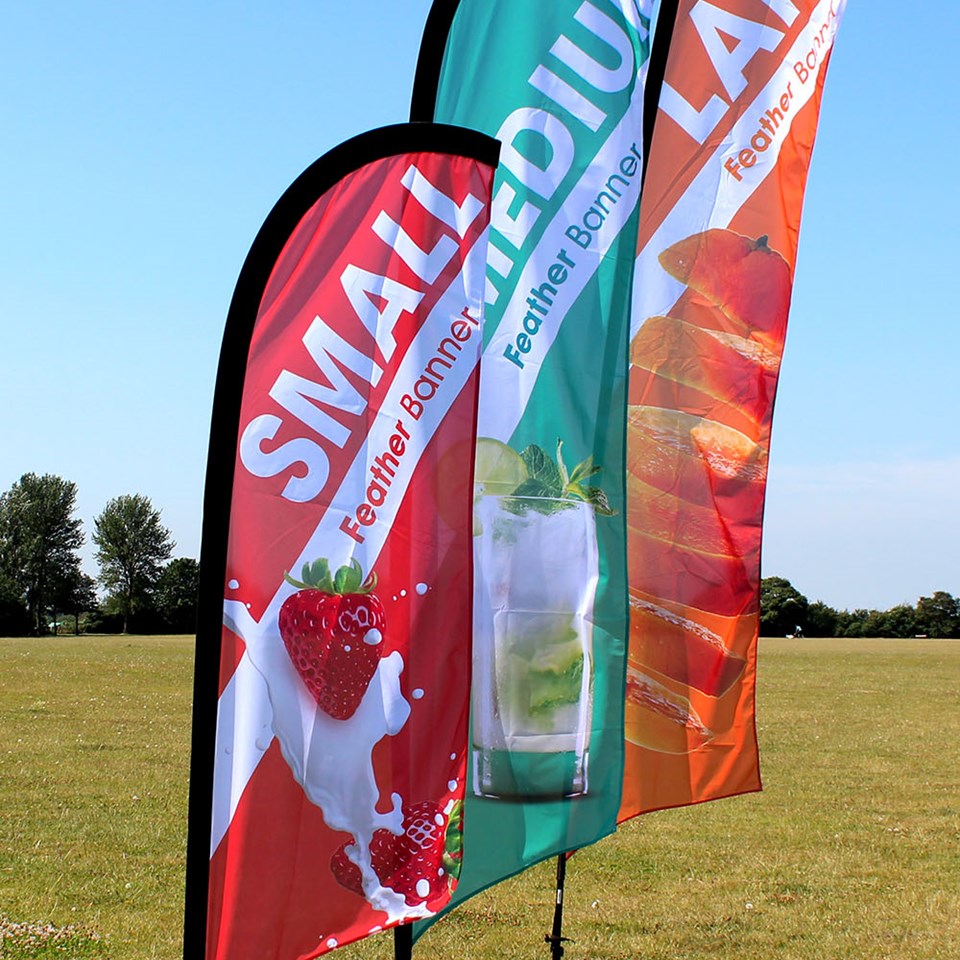 Floor stickers
What are floor stickers?
Floor stickers are eye-catching decals that are used to direct your customers to where you want them to go when they're outside and inside your store.
Perfect for helping people follow social distancing guidelines, they mark out where people can go and show which direction to follow. Stickers can be customised with your design and messages – keeping your instructions on brand.
Why use floor stickers?
They're a responsible way of maintaining government guidelines on customers queuing outside and walking inside your premises. Floor stickers provide the ideal opportunity to customise with your brand logo and keep it at the forefront of your customers' minds.
Are floor stickers durable?
Yes, however durability is impacted by a variety of factors, such as the material and product used, the area of placement and how much the area is exposed to the weather and foot-fall.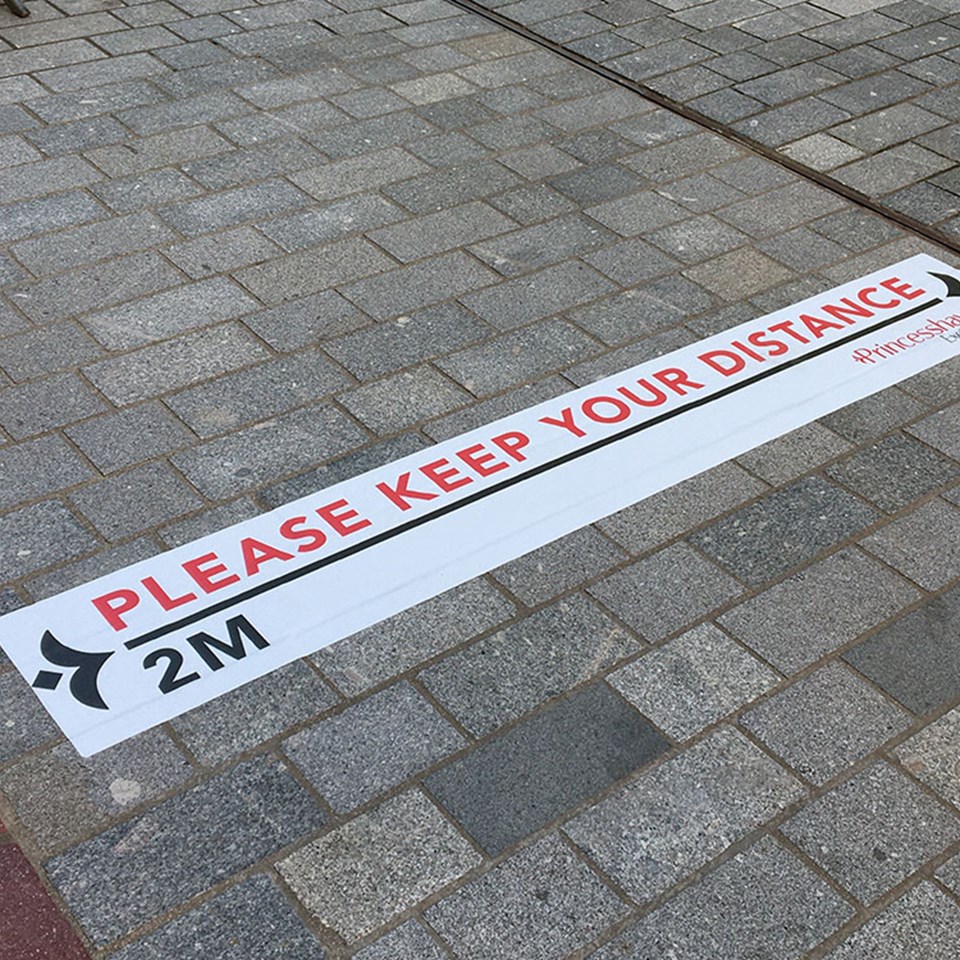 Signage boards
What are signage boards?
Signage boards are durable outdoor promotional tools that are fixed and displayed onto walls or objects outside business premises. They're a fantastic opportunity to get creative with your adverts and use colourful graphics and text to catch the eye of pedestrians. Available sign types include:
ACM – made from aluminium and plastic, for long-lasting sturdiness.
Foamex PVC – an ideal cost-effective solution for short to mid-term promotions.
Fluted Plastic – made from corrugated plastic for short-term promotions.
Why use signage boards?
Because they're made from sturdy materials, they can withstand the elements outside – much more than paper-based marketing. This makes them a worthwhile investment, as they can remain in place and looking good for a long time.
How effective are signage boards?
Signage boards are incredibly effective, with a Nielsen Study* indicating an increase in brand awareness of 47.7%. More visibility and recognition of your brand could lead to extra business.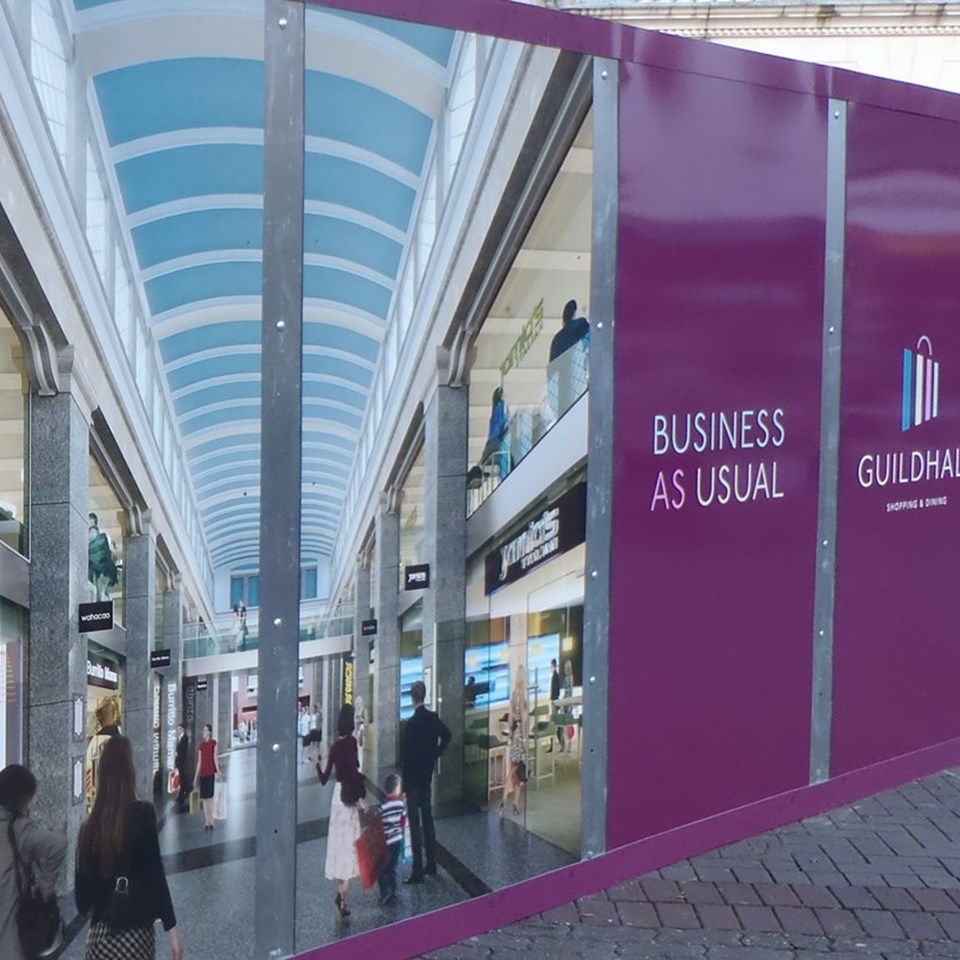 A-boards
What are A-boards?
A-boards are free-standing, double-sided frames that businesses use to promote their brands, products, offers and discounts. Designed to attract new customers, A-boards act to boost footfall by signposting your premises to people walking past.
Why use A-boards?
Often found outside cafes and restaurants to display menus or offers, literally stopping potential customers in their tracks to check out what they have to offer. They are also commonly used to advertise a sale or promotion, tempting people into a business.
What are A-boards also known as?
A-boards are also referred to as A-frames, pavement signs and sandwich boards. Instead of including a poster, some versions will instead feature a blackboard ready to be written on in chalk, often with a wooden frame rather than metal.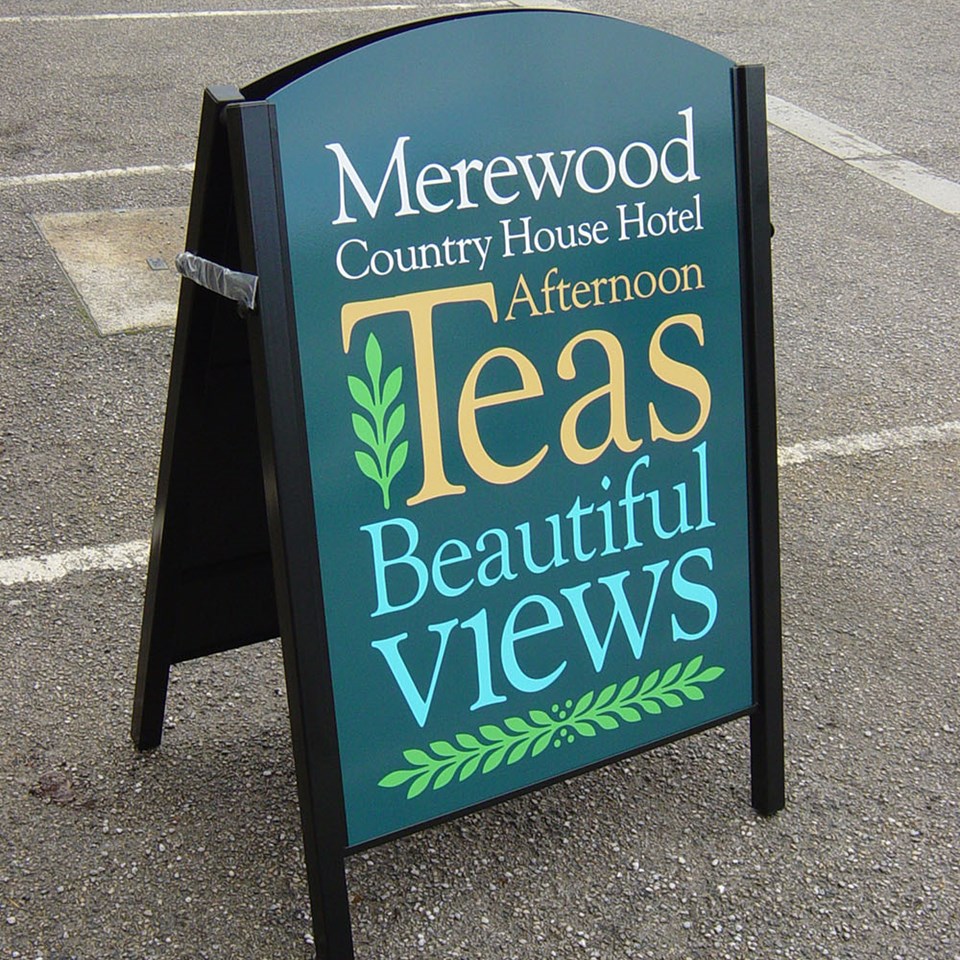 Window stickers
What are window stickers?
Window stickers, also known as window graphics, are decals that are made to stick to the inside or outside of a window and designed to grab your customer's attention before they even walk into your premises. Window stickers can be easily applied (and removed) onto glass surfaces.
Why use window stickers?
Businesses typically use them to display:
Opening hours
Address information
Directions
Sales and discount information
Read more about Window graphics here.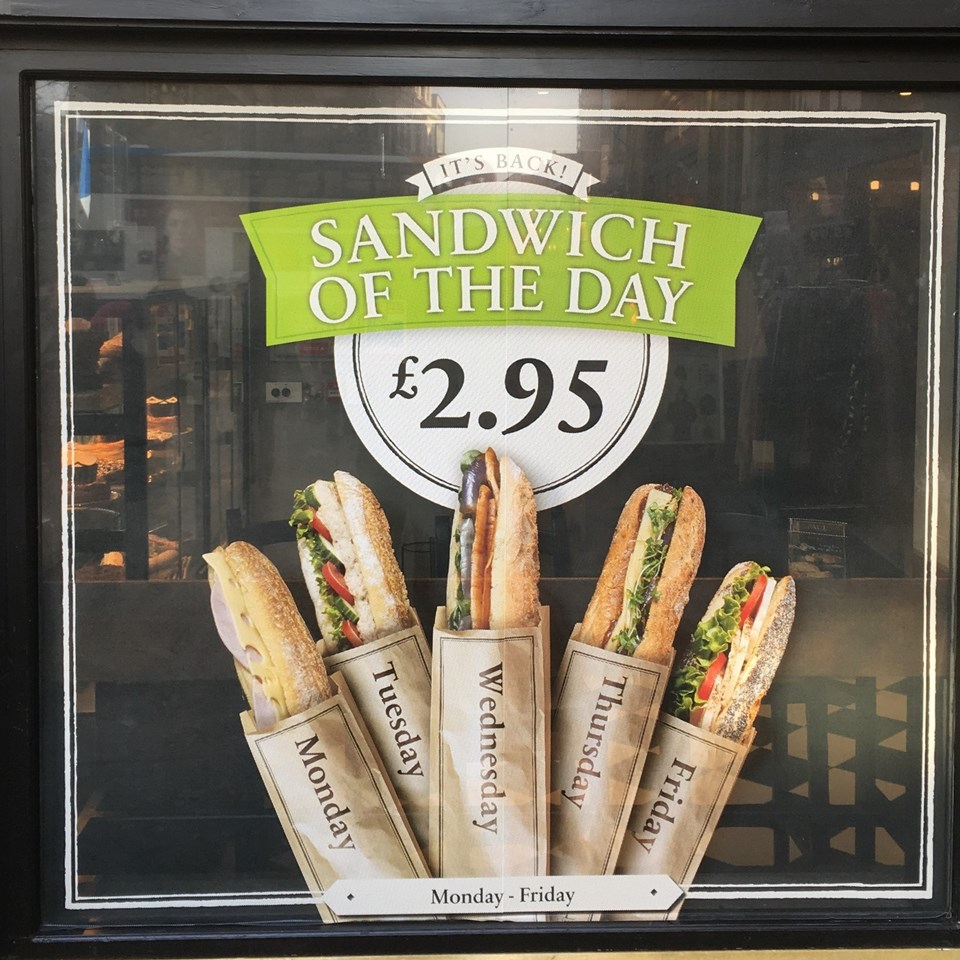 Vinyl banners
What are vinyl banners?
Vinyl banners are large-size material displays that are produced to be durable enough to be displayed outside and withstand the elements. Commonly used banner materials:
PVC – lightweight, non-perforated banners.
Mesh – banners with small perforations, which allow wind to travel through – leaving them less susceptible to damage outdoors.
There are also bespoke, branded café barriers, which display a banner attached between two aluminium posts – frequently seen outside coffee shops and restaurants.
Why use vinyl banners?
Banners are a great solution for both long- and short-term promotions whilst also being lightweight, robust and easy to store for when you need them next. With engaging design, vinyl banners can be instantly recognisable and effective at capturing the attention of passers-by.
How do you hang a vinyl banner?
Vinyl banners can be attached to a surface using cable ties or tension hooks; threaded through reinforced metal eyelets on the banners themselves, enabling you to secure them to a window or outside wall. A popular option is a banner frame which ensures your design stays secure.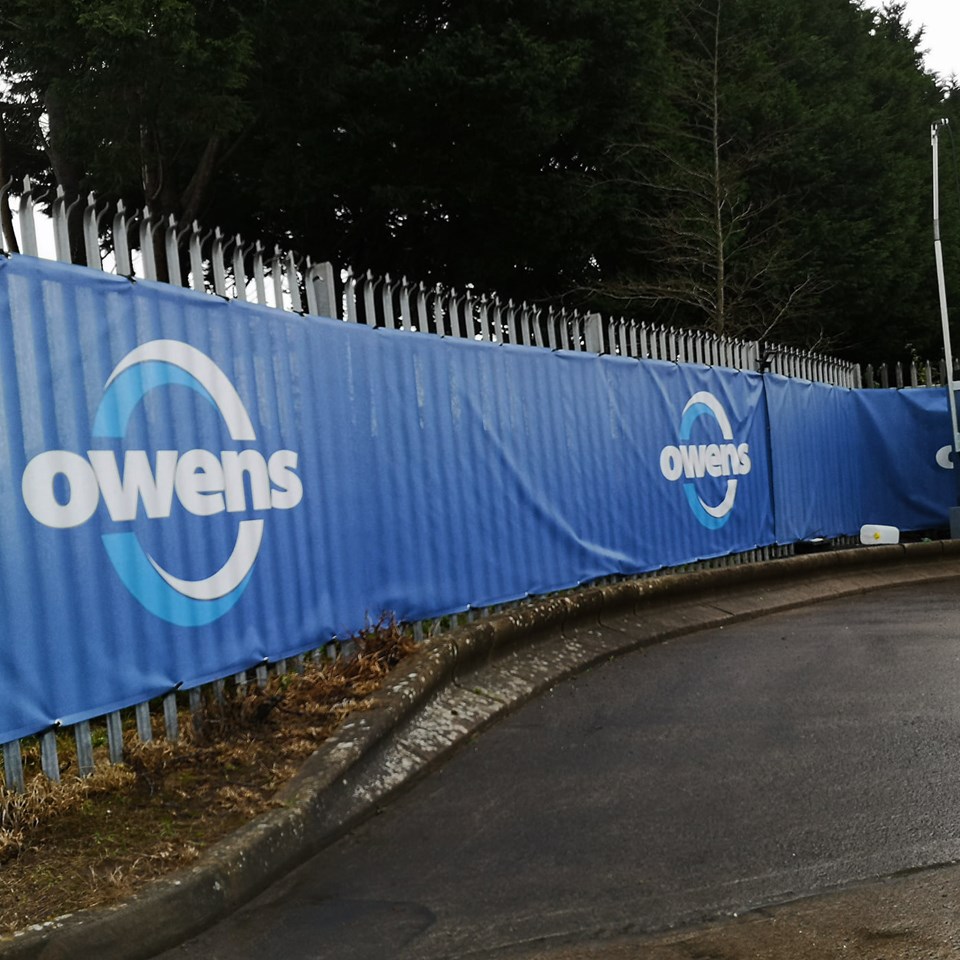 Wall Graphics
What are wall graphics?
Wall graphics are decals that can be placed in a variety of locations– both outdoors and indoors. They can be stuck to a wall using vinyl wall adhesive. These wall stickers use a unique adhesive technology for application and are highly effective as short or long term solutions.
Why use wall graphics?
Wall graphics are printed with a design that suits your promotion and can be applied to a range of surfaces. This includes plastic, brick, metal, concrete and more.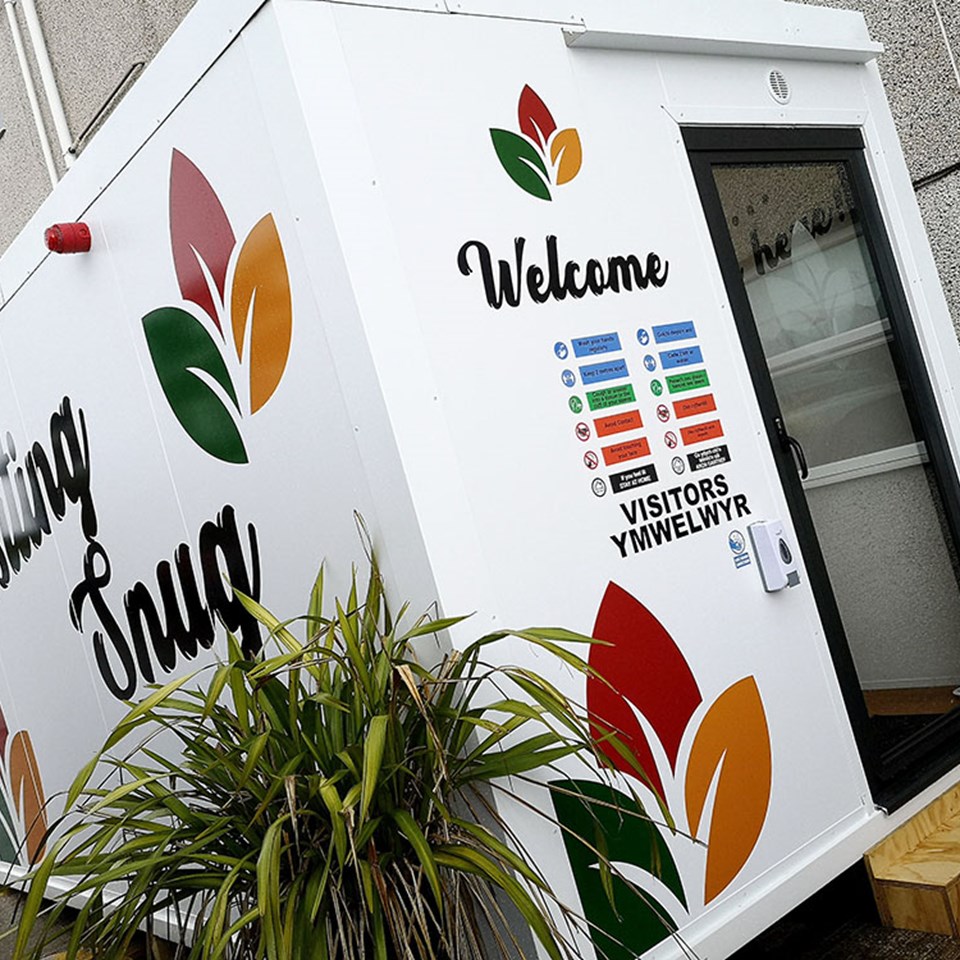 Get in Touch
Enquiry Form
Please contact your local centre by completing this enquiry form and we shall respond to your request as soon as possible.
Roots to Food - Roots to Food

Deborah Hockey - Sky Platform Hire Ltd

El Picante

Dunster House

Baytek Office Solutions - Baytek Office Solutions

Bedford Bid

Cranfield Aerospace Solutions

Combi-Ride - Combi-Ride

Kimberley Food Fest - Kimberley Food Fest

Hashim Majeed - Byron Fast Foods

Ross Salmon - Salmon Heating Services

Liz Myers - UWM Accountants
Richard Hook - Postcards Cafe, Exmouth

Paul Knight

Peter Hines
Juicy Vapes

LSK Hire Ltd

Roy Martin

David Rooney - Bath Spa University

Fred Vernalls - Exeter and District Scouts

James Varney - Professional Window Cleaners Exeter LLP

Charlie Trulove

Rosemary Duffett

Adam Clark - Park to Pro