Signs Express Swansea
A* Grade Signage with Signs Express Swansea
Signs Express Swansea work with Swansea University to Overhaul Welcome Week Signage
Initial Brief
The initial brief provided by the customer was that they were looking to do a 'complete overhaul of the marketing of the two local University Campuses, using a more innovative approach,' for Welcome Week. The marketing department sent us a list of potential signage that they were interested in exploring to have some estimated costings and decisions on whether the items required were something we could offer.
In total, we were asked to produce and supply the following items:
Double sided projecting heavy duty PVC Banners in various dimensions
Personalised printed deckchairs
Bus shelter graphics
Flat sign
Mesh banners
Polyester Mirror Image flags and flagpoles
3-sided bollard covers
Contra-vision to various campus building windows
External floor graphics
External / Internal Illuminated Freestanding cubed light-boxes
External Wall / Pillar Wall wraps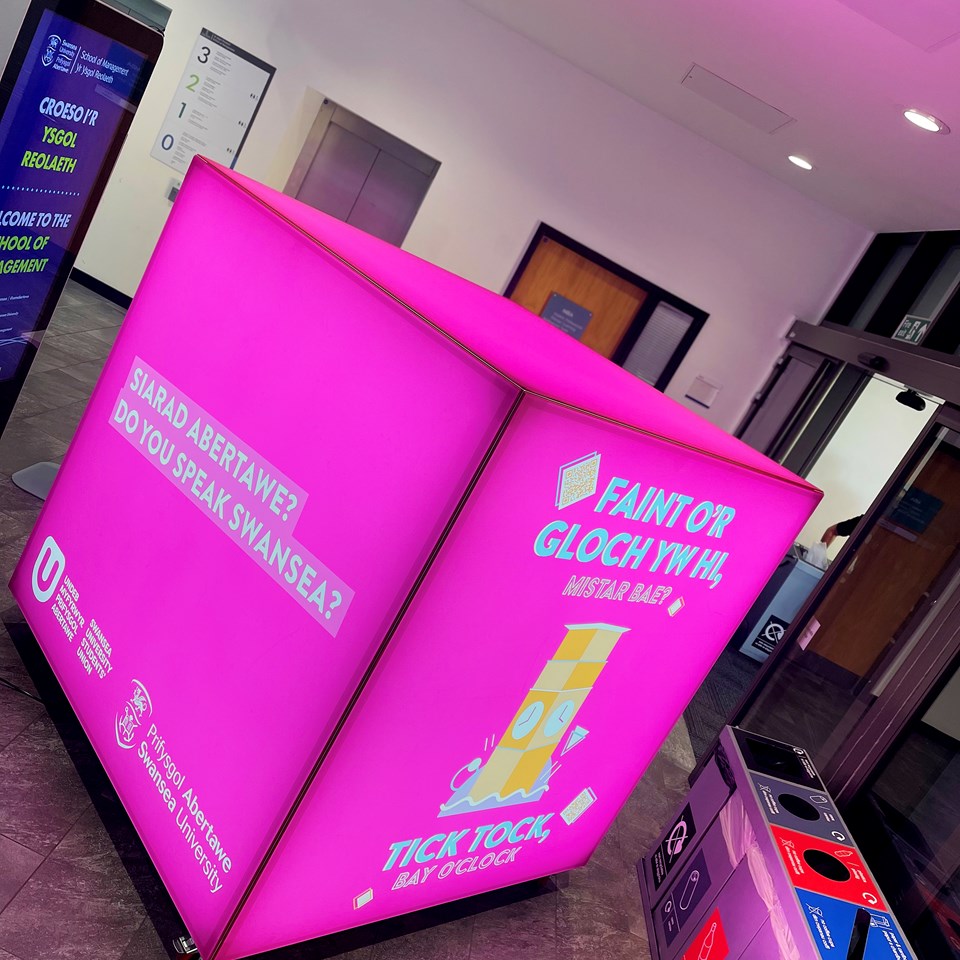 The Solution
We provided a detailed quotation based on the initial brief and the Swansea University Marketing Team signed off on the items that they wanted to proceed with.
An in-depth site meeting was arranged to ascertain correct measurements and locations. With a continuous line of communication between our team and the University staff, a timeline was agreed upon with regards to artwork, production and installation in preparation to meet the deadline for the new students arrival on both campuses.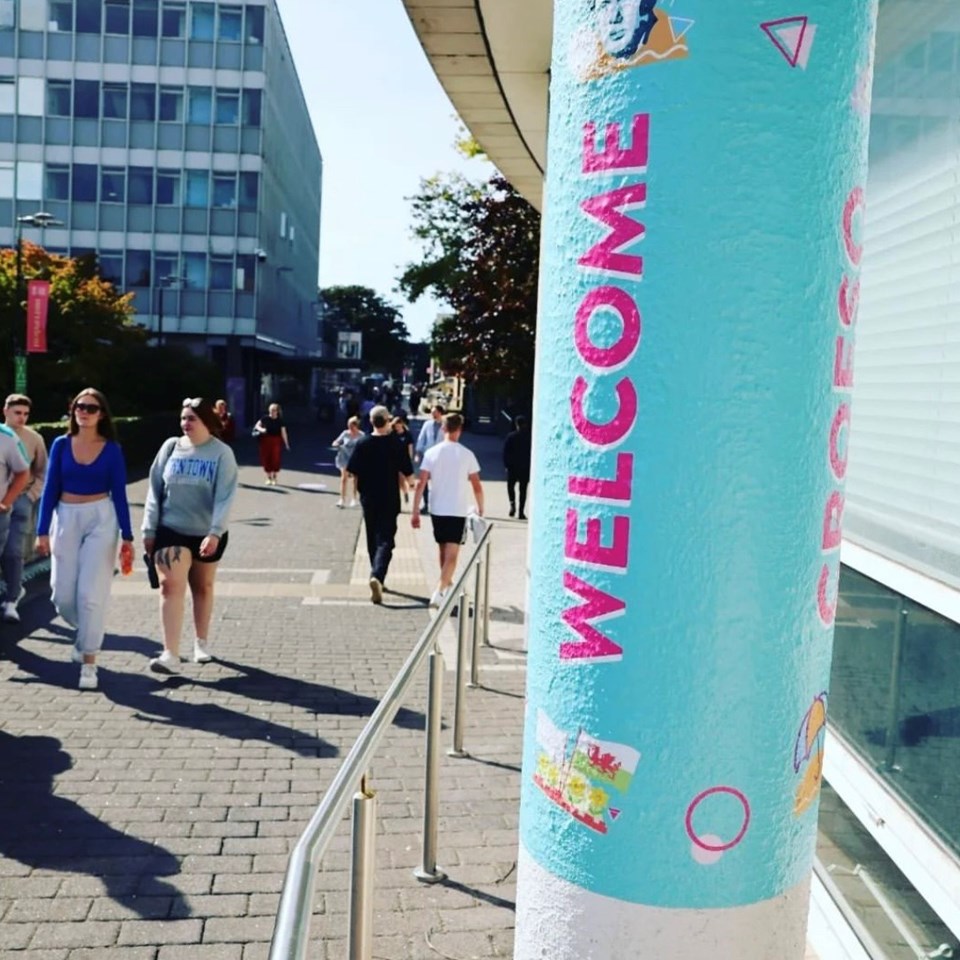 The Result
Due to the expertise and experience of the team at Signs Express Swansea including planning, administration, and strong internal and external communication, we were able to meet the University's deadline.
The purpose of the project was to re-imagine the Welcome Week marketing, creating fun, vibrant and unique signage that was inviting to students but that also aided in direction around the campus. The creative combination of products was reviewed by the new students via questionnaire post-completion and received glowing reviews.
We look forward to working on future projects with Swansea University throughout 2023 and beyond!!
Are you looking to breathe life into your signage?
Get in touch with your local signage experts at Signs Express.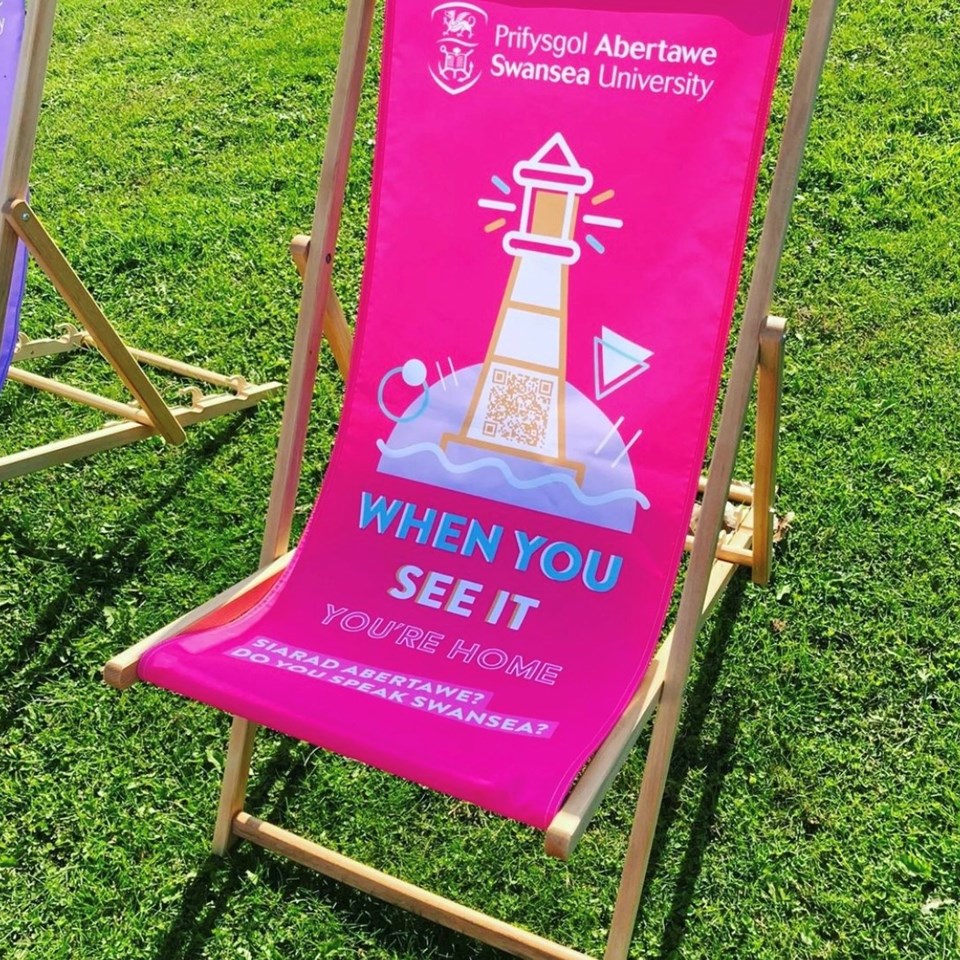 Get in Touch
Enquiry Form
Please contact your local centre by completing this enquiry form and we shall respond to your request as soon as possible.
First Steps Community Playgroup - First Steps Community Playgroup

Nicola - Petals & Posies
Emily Bannister - Victorian Sliders

Bernadette O'Sullivan - Woodcroft Stud
Julian Marks - Roofcare South West

MICHAEL STOPFORD (1) - Cumulus Bookkeeping Services
Becky Hulse

Kulvinder Singh

Richard Croston

Ian Mounter - IDM Airless

Sophie Chappell

Rupert Gladstone - Spitfire Avian Pest Control Ltd

Construction Testing-Solutions-Ltd

Ricky Cobbledick

Oliver Koeller

Grace Mead

Paul Grosvenor

Rebecca Simpson

Mike Davies - Mike Davies Associates Ltd

Andy Dransfield - Andy Dransfield Driver Training

Luke Payne - Active Southwest

Richard Cale - Leaf Culture

Grace Young
Christopher Campbell - Kelly Group Ltd

Why Choose
Signs Express?
Quality
Exceptional solutions, service and advice.
Experienced
An award-winning brand established for over 30 years.
Extensive
The largest product range to service all sectors and businesses.
Bespoke
Tailor-made signs and graphics that deliver value for money.
Local
Providing local knowledge at the heart of your community.
Recommended
Highly rated by customers that trust us time and time again.
First Steps Community Playgroup - First Steps Community Playgroup

Nicola - Petals & Posies
Emily Bannister - Victorian Sliders

Bernadette O'Sullivan - Woodcroft Stud
Julian Marks - Roofcare South West

MICHAEL STOPFORD (1) - Cumulus Bookkeeping Services
Becky Hulse

Kulvinder Singh

Richard Croston

Ian Mounter - IDM Airless

Sophie Chappell

Rupert Gladstone - Spitfire Avian Pest Control Ltd

Construction Testing-Solutions-Ltd

Ricky Cobbledick

Oliver Koeller

Grace Mead

Paul Grosvenor

Rebecca Simpson

Mike Davies - Mike Davies Associates Ltd

Andy Dransfield - Andy Dransfield Driver Training

Luke Payne - Active Southwest

Richard Cale - Leaf Culture

Grace Young
Christopher Campbell - Kelly Group Ltd