Signs Express Twickenham
Breathing new life into local recycling bins
Signs Express Twickenham work with SF Print to refurbish the waste bins in the local Borough.
The Brief
SF Print provide signage to Richmond-upon-Thames borough council and local community. They approached Signs Express Twickenham to replace the signage on 15 outside recycling bins that collect Waste Electrical and Electronic Equipment (WEEE). Everyday wear & tear and exposure to all weather meant the graphics had become tired, faded and in need of updating.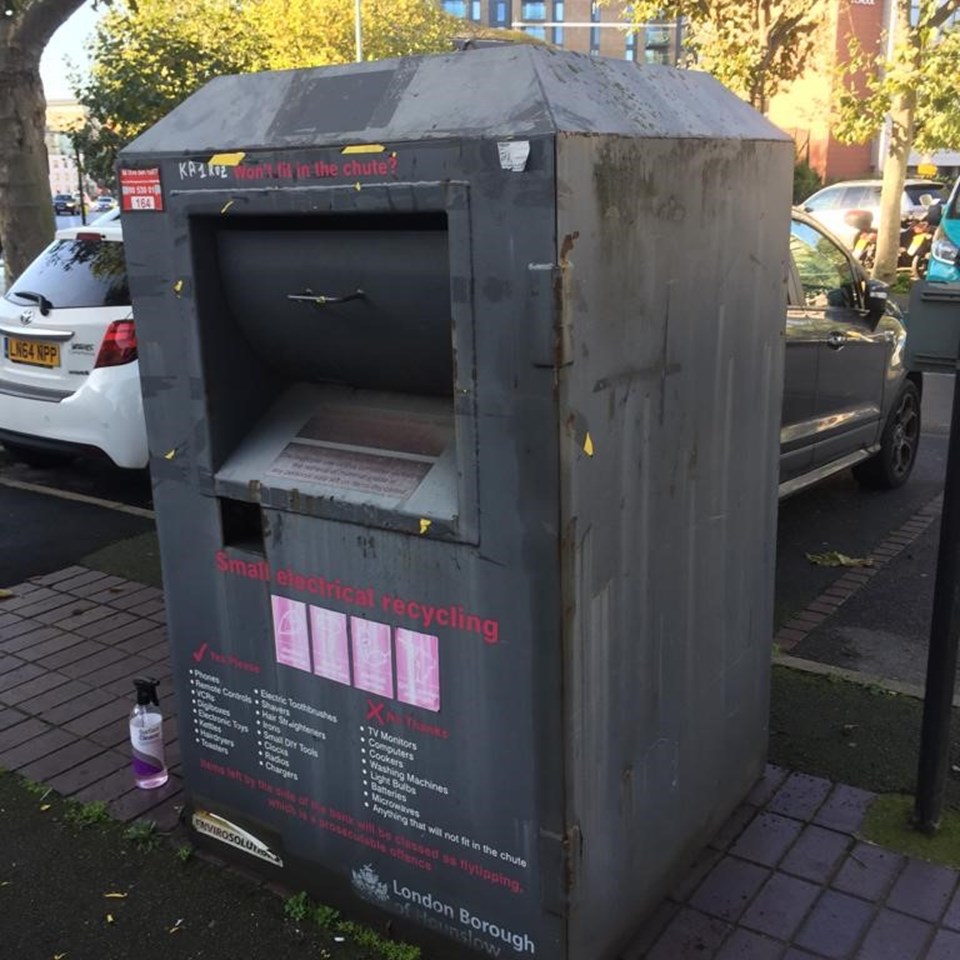 The Solution
Replacing the signage was a multi-step process. After assessing the state of the bins, the Twickenham team suggested using a high tack material with a clear matt lamination to provide durable, long-lasting signage that would also accommodate their worn metal structures.
Next, the SX team helped to prepare the updated artwork, and then printed and laminated the graphics for installation. Meanwhile, the existing graphics were stripped to uncover a suitable surface to which the new signs could be applied.
Finally, accurate mapping and scheduling were used to complete the installation, along with a keen eye for detail to ensure each bin was fitted with the sign showing its unique identification number.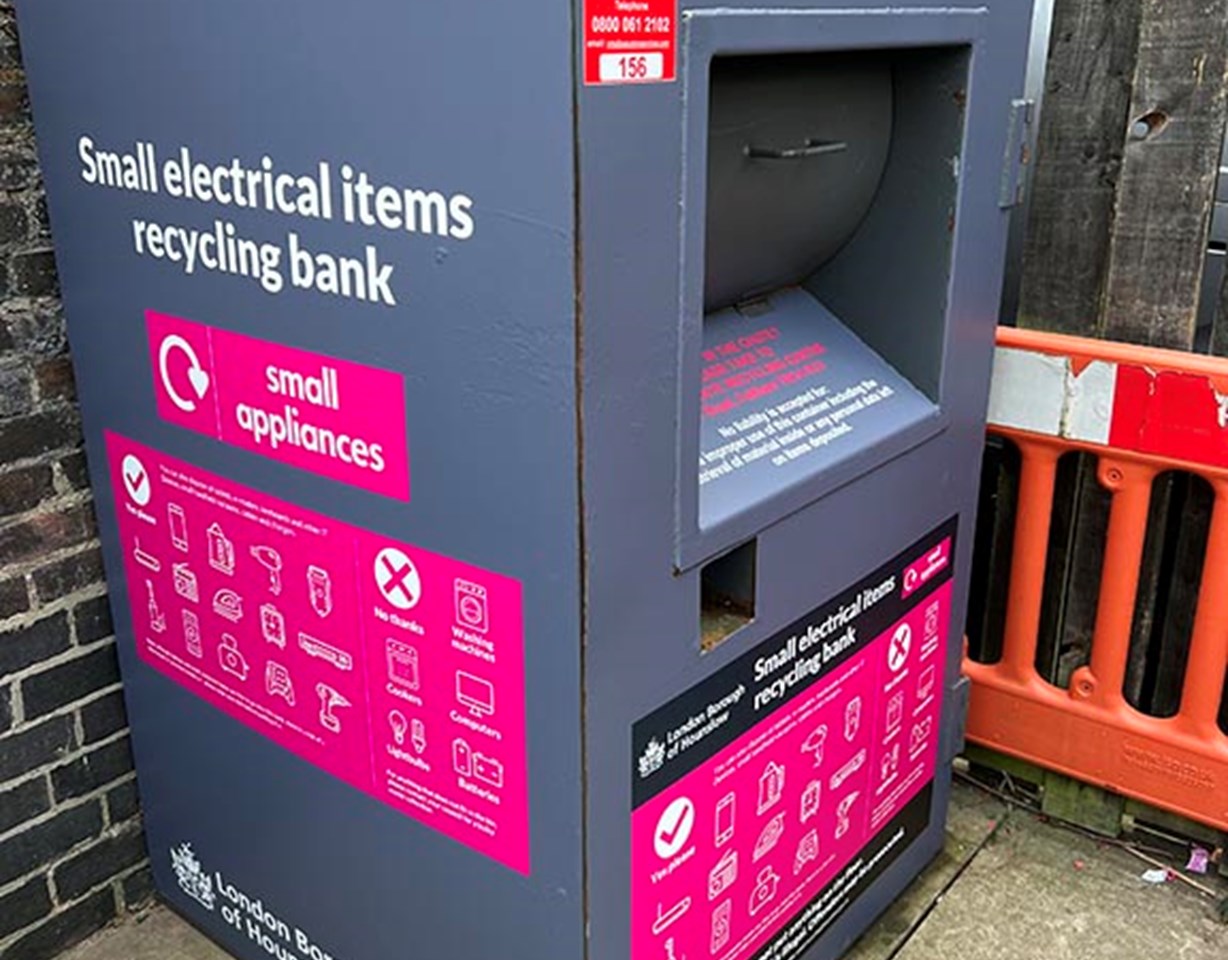 The Result
The expertise and experience of Signs Express Twickenham ensured the bins were completely transformed within the customer's timeframe and budget. Their tired and weather-beaten appearance has been replaced with one that's fresh, appealing and contributes to the look and feel of the local environment.
In the past, SF Print transported the bins off-site to be resprayed and then delivered back to the location. This time however, Signs Express installed the new signage on-site, reducing the cost and time needed – and with high quality products that both met the customer's brief and surpassed their quality standards.
Because the bins are located across the borough, effective planning was key to successfully completing this project. But despite the challenging weather, the Twickenham team pulled together to achieve an excellent result for the customer within the short lead time. We are looking forward to completing more projects like this, which have the potential to be rolled out in many boroughs across London.
Do you have a need for signage?
Get in touch with your local signage experts at Signs Express.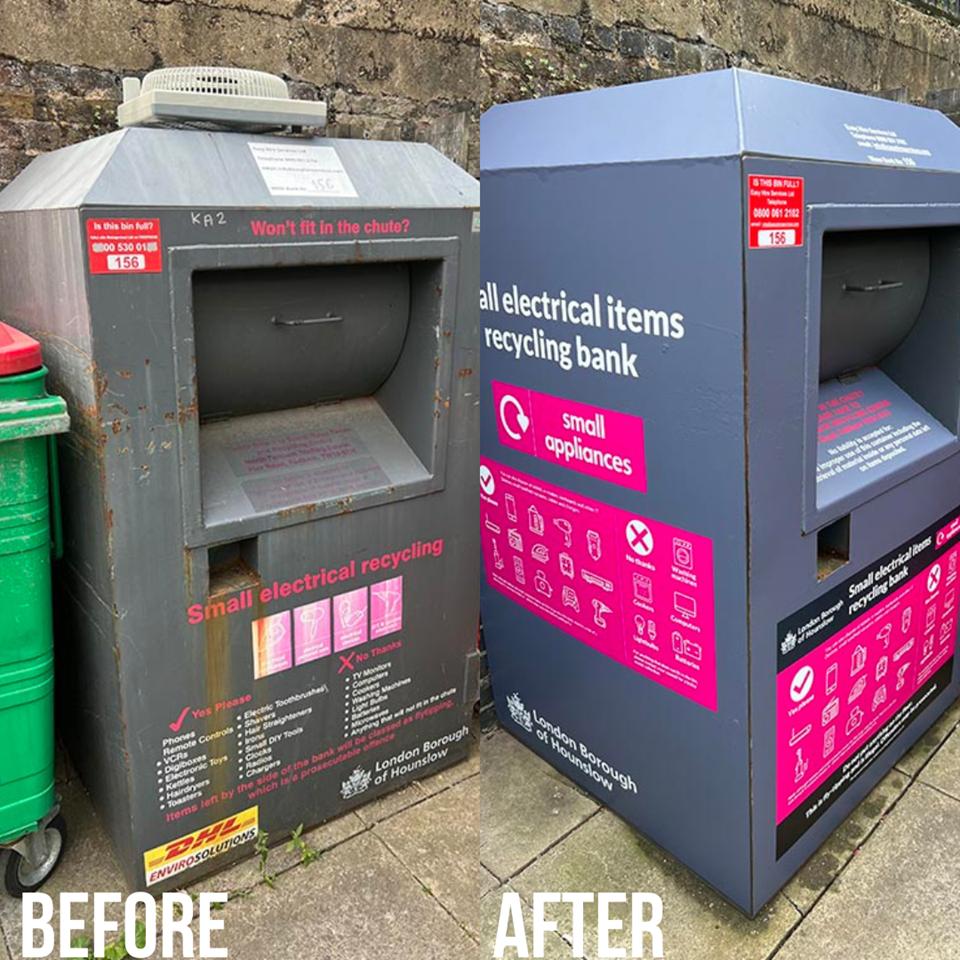 Get in Touch
Enquiry Form
Please contact your local centre by completing this enquiry form and we shall respond to your request as soon as possible.
First Steps Community Playgroup - First Steps Community Playgroup

Nicola - Petals & Posies
Emily Bannister - Victorian Sliders

Bernadette O'Sullivan - Woodcroft Stud
Julian Marks - Roofcare South West

MICHAEL STOPFORD (1) - Cumulus Bookkeeping Services
Becky Hulse

Kulvinder Singh

Richard Croston

Ian Mounter - IDM Airless

Sophie Chappell

Rupert Gladstone - Spitfire Avian Pest Control Ltd

Construction Testing-Solutions-Ltd

Ricky Cobbledick

Oliver Koeller

Grace Mead

Paul Grosvenor

Rebecca Simpson

Mike Davies - Mike Davies Associates Ltd

Andy Dransfield - Andy Dransfield Driver Training

Luke Payne - Active Southwest

Richard Cale - Leaf Culture

Grace Young
Christopher Campbell - Kelly Group Ltd

Why Choose
Signs Express?
Quality
Exceptional solutions, service and advice.
Experienced
An award-winning brand established for over 30 years.
Extensive
The largest product range to service all sectors and businesses.
Bespoke
Tailor-made signs and graphics that deliver value for money.
Local
Providing local knowledge at the heart of your community.
Recommended
Highly rated by customers that trust us time and time again.
First Steps Community Playgroup - First Steps Community Playgroup

Nicola - Petals & Posies
Emily Bannister - Victorian Sliders

Bernadette O'Sullivan - Woodcroft Stud
Julian Marks - Roofcare South West

MICHAEL STOPFORD (1) - Cumulus Bookkeeping Services
Becky Hulse

Kulvinder Singh

Richard Croston

Ian Mounter - IDM Airless

Sophie Chappell

Rupert Gladstone - Spitfire Avian Pest Control Ltd

Construction Testing-Solutions-Ltd

Ricky Cobbledick

Oliver Koeller

Grace Mead

Paul Grosvenor

Rebecca Simpson

Mike Davies - Mike Davies Associates Ltd

Andy Dransfield - Andy Dransfield Driver Training

Luke Payne - Active Southwest

Richard Cale - Leaf Culture

Grace Young
Christopher Campbell - Kelly Group Ltd