About
Engraving
Signs Express utilises the latest technology with our range of engraving machines to aid our highly skilled designers in creating personalised, engraved designs suitable for your requirements.
With engraving we can ensure consistency, flexibility and a fast turnaround. There are lots of products that utilise engraving including plaques, data plates, tags and electric components.
Many signs and graphics are also created using an engraving machine, with the precision allowing an accurate and sharp finish.
Why is Engraving used?
There are two main areas where engraving is used:
To produce smaller scale signs which are required to be robust, due to them either being in an outdoor location or in high wear areas. This is common for valve, cable, machine and asset tags and control panels.
For decorative signs, such as plaques engraving can also be used to produce creative, intricate and interesting signs using materials such as wood, glass and acrylics.
Which products are made by Engraving?
Data plates and tags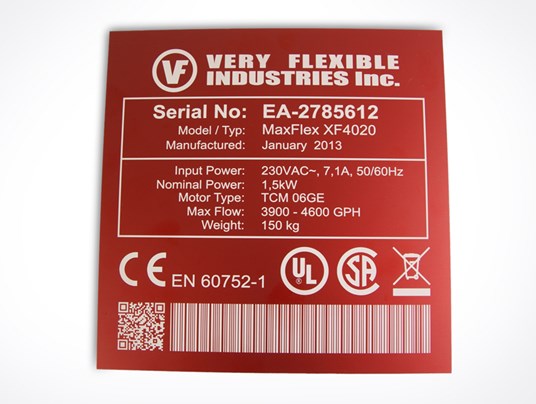 Engraving is the perfect method for producing data plates. You can laser mark self-adhesive materials, multi-layered plastics and metals.
Electric components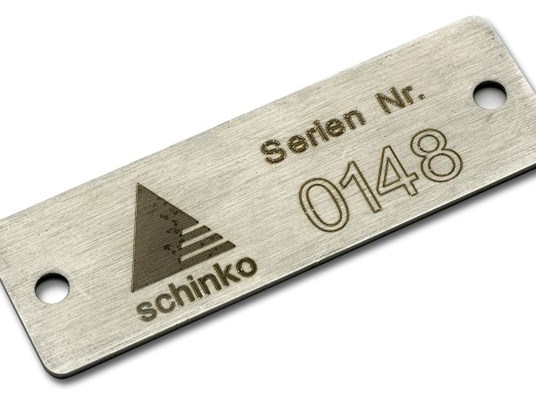 The laser marking of electronic components is high-contrast, permanent and very fast. Control cabinet components, electrical housings and electronic components can be marked.
Signs and Graphics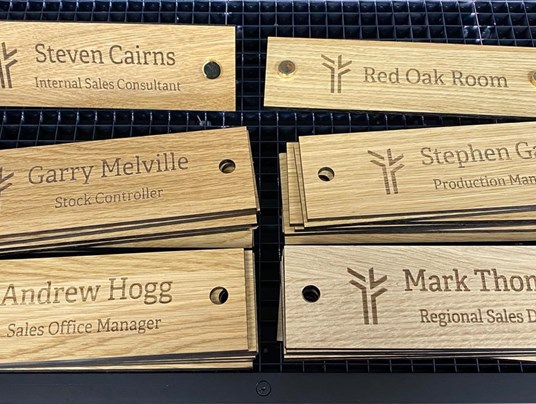 Laser finishing provides the capabilities to create unique POS/pop-up displays, illuminated and business signs. It is also very common for external and internal plaques to be engraved, these are often seen outside offices or businesses.
What materials can be engraved?

A variety of different metal types, such as, stainless steel, brass and aluminium.

Almost any type of wood, MDF or ply.

Many plastics but the most popular by far is traffolyte for data plates and Perspex for signage.

There are many types of material that can be engraved, from leather to glass to slate. If you are unsure, just ask!
What are the advantages of engraving?

Durability – a hard wearing permanent product.

Versatility – many colours can be used along with different types of materials.

Precision – complex text, images and fine details can be produced.

Cost effective – no set up costs, it's as easy for us to produce a one off as it is to produce 1000's.
Not sure what you're looking for?
Speak to our dedicated team direct…
0118 462 0743
Find Your Local Signs Express
With over 60 centres across the UK and Ireland, we enjoy a national reputation for providing quality products and supreme customer service.
Get in Touch
Enquiry Form
Please contact your local centre by completing this enquiry form and we shall respond to your request as soon as possible.
Why Choose
Signs Express?
Quality
Exceptional solutions, service and advice.
Experienced
An award-winning brand established for over 30 years.
Extensive
The largest product range to service all sectors and businesses.
Bespoke
Tailor-made signs and graphics that deliver value for money.
Local
Providing local knowledge at the heart of your community.
Recommended
Highly rated by customers that trust us time and time again.
First Steps Community Playgroup - First Steps Community Playgroup

Nicola - Petals & Posies
Emily Bannister - Victorian Sliders

Bernadette O'Sullivan - Woodcroft Stud
Julian Marks - Roofcare South West

MICHAEL STOPFORD (1) - Cumulus Bookkeeping Services
Becky Hulse

Kulvinder Singh

Richard Croston

Ian Mounter - IDM Airless

Sophie Chappell

Rupert Gladstone - Spitfire Avian Pest Control Ltd

Construction Testing-Solutions-Ltd

Ricky Cobbledick

Oliver Koeller

Grace Mead

Paul Grosvenor

Rebecca Simpson

Mike Davies - Mike Davies Associates Ltd

Andy Dransfield - Andy Dransfield Driver Training

Luke Payne - Active Southwest

Richard Cale - Leaf Culture

Grace Young
Christopher Campbell - Kelly Group Ltd