5 Top Tips to Brand Your Vehicle
Vehicle wrapping is very popular, but there are a few other solutions that are just as quick and easy to give your vehicles more visibility. The right vehicle graphic can help you stand out from your competitors and turn your vehicle into a 24/7 marketing machine. If you're looking for ways to brand your vehicle, you don't have to look any further than what's available at any of our Signs Express centres!
1. Vehicle Graphics are a Quick Way to Update Your Fleet
Vehicle decals and stickers are a low-cost option and can be speedily applied to your vehicle to keep downtime to a minimum. One of the quickest options to brand your vehicle is to apply magnetic signs, which can be applied and removed with ease. This is a great option if you want to have ongoing promotional campaigns and need to change messaging regularly, or just need to brand a temporary hire vehicle. Wrapping and part-wrapping is our most popular method of branding, where the process involves removing any existing graphics and then applying vinyl wraps directly to the bodywork (the paintwork needs to be in good condition). Wraps are typically printed using large format printers that allow for high quality images and designs that wrap around some or all of your vehicle to give stunning results.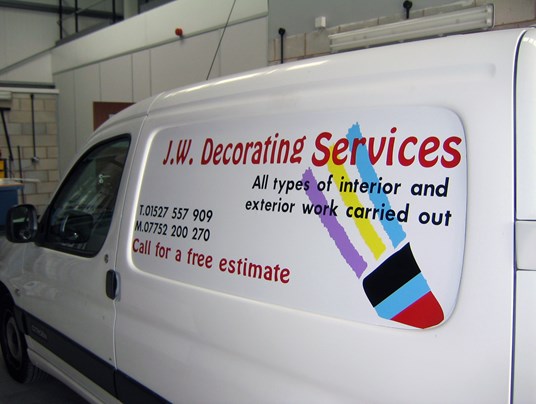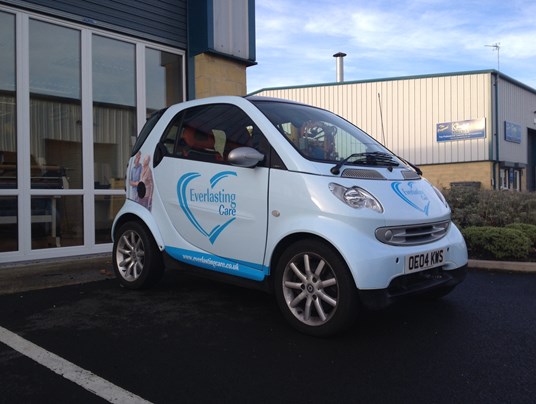 2. What Does the Wrap Do?
The wrap is a visual representation of your brand, so it should be designed with that in mind. It's also an opportunity to get your message out there and make it stand out from the crowd. The wrap makes sure that all of your vehicles have a consistent look across your fleet, even if they're different brands, models or paint colours; a wrap can aid customers in identifying them as part of an organisation. A wrap can also offer some protection against scuffs and stone chips to protect the bodywork.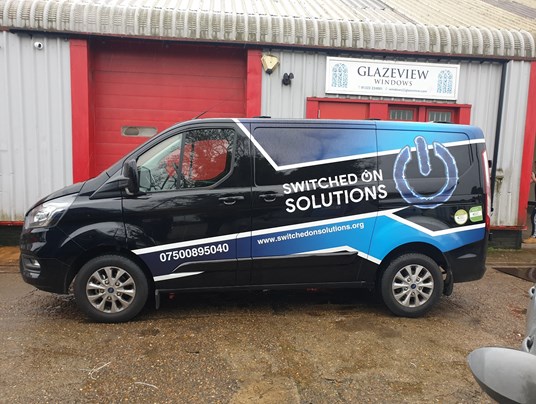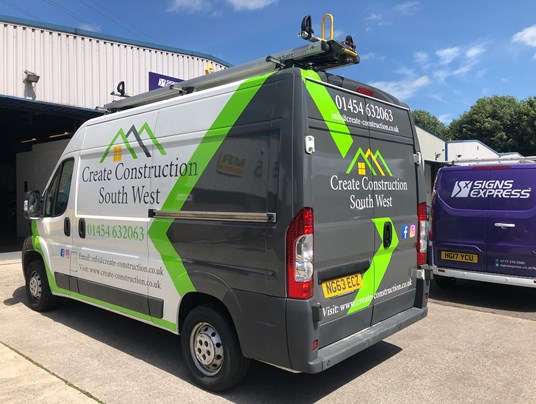 3. Why Wrap Your Fleet Vehicles?
Increased visibility: Wrapping your business vehicles can help to increase your company's brand awareness by distinguishing your organisations from competitors. With over 3,000 people seeing your vehicle every hour*, an unbranded car, van or lorry is a wasted opportunity.
Increased sales/customer loyalty: When people see their favourite brands everywhere they go, they develop an emotional attachment with those brands, making them more likely than ever before to make a visit or purchase. This means greater sales opportunities since consumers will want what they see. A study from 2019 reports, 'Investing in Out Of Home (OOH) Advertising' (of which vehicle graphics is part of) boosted customer loyalty by 275%.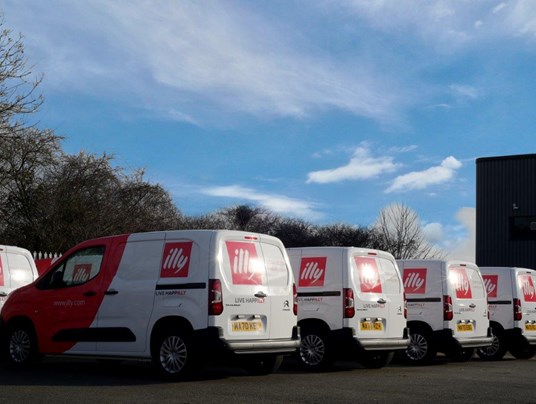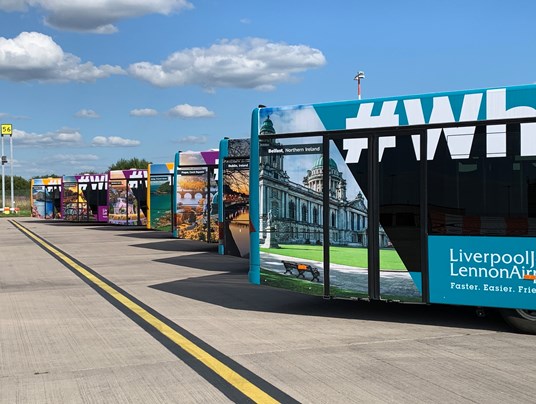 4. What Makes an Effective Wrap?
To ensure your wrap is effective, it must be visible from a distance. The wrap should also be visible in all weather conditions and from the side, back and front of your vehicle. This means that if you want to use stickers or decals on your vehicle as well, they need to be placed in areas where they can be seen from all angles, not just straight on or at eye level.
Finally, make sure that any graphics you choose will stand out at night too! If you think your design may not standout well during the day, it will almost certainly not standout at night.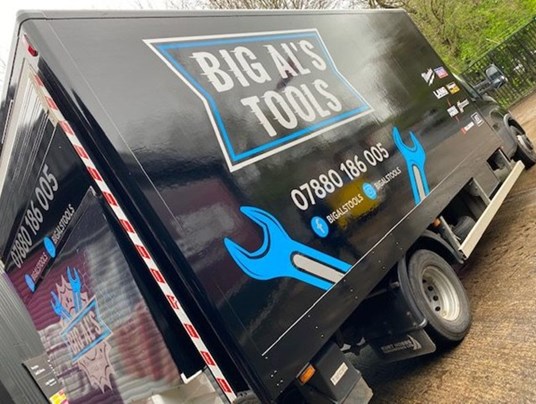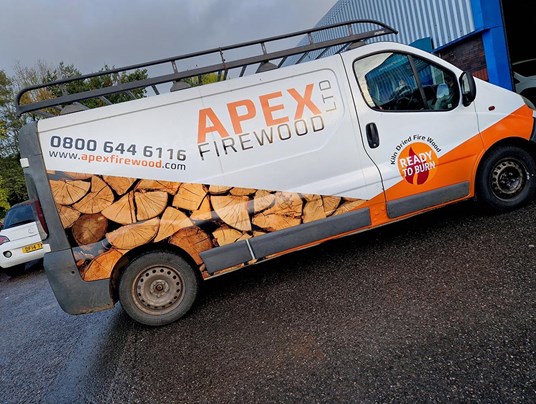 5. A well-branded fleet means more visibility for your vehicles.
Your brand is the face of your business, and it's important to get the most out of it. A well-branded fleet means more visibility for your vehicles.
To ensure your vehicle has a consistent identity with your business, ensure you use your corporate logo. The logo will help potential customers get a feel for what products and services you offer and whether you operate at a cost sensitive or premium end of the market. Should your organisation have brand guidelines, this is a great place to utilise them to ensure structure is given to the design process of the vehicle wrap or graphic.
Once you've decided to progress with a vehicle wrap or graphic, your next steps are:
Choose a style and a design that fits your brand, which includes your logo.
Make sure your chosen design clearly states who you are, what you do and how to contact you.
Find a company that can do the work for you. We think one of our 63 Signs Express Centres will do a fantastic job for what you require.
Choose a good designer that will deliver your vision in a consultative manner. Signs Express can offer a design service to turn your vision into reality.
Vehicle wrapping is a great way to brand your fleet vehicles. It's quick and easy, and it will make your company stand out from the competition. If you're looking for more visibility and productivity from your vehicles, then consider wrapping them with an effective wrap by Signs Express.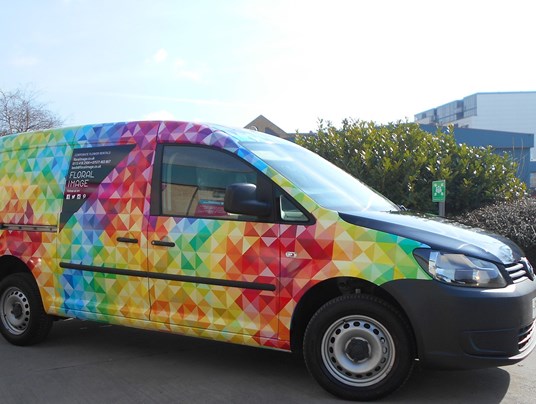 First Steps Community Playgroup - First Steps Community Playgroup

Nicola - Petals & Posies
Emily Bannister - Victorian Sliders

Bernadette O'Sullivan - Woodcroft Stud
Julian Marks - Roofcare South West

MICHAEL STOPFORD (1) - Cumulus Bookkeeping Services
Becky Hulse

Kulvinder Singh

Richard Croston

Ian Mounter - IDM Airless

Sophie Chappell

Rupert Gladstone - Spitfire Avian Pest Control Ltd

Construction Testing-Solutions-Ltd

Ricky Cobbledick

Oliver Koeller

Grace Mead

Paul Grosvenor

Rebecca Simpson

Mike Davies - Mike Davies Associates Ltd

Andy Dransfield - Andy Dransfield Driver Training

Luke Payne - Active Southwest

Richard Cale - Leaf Culture

Grace Young
Christopher Campbell - Kelly Group Ltd