Turn Your Vehicle into a 24/7 Marketing Machine
Vehicle graphics are a powerful marketing tool providing high impact advertising at an affordable cost. With over 3,000 people seeing your vehicle every hour*, an unbranded car, van or lorry is a wasted opportunity; you wouldn't hand out blank business cards so why leave your vehicle blank?
So, how do you turn it into a 24/7 marketing machine? We detail the steps to take below.
GETTING THE MOST FROM YOUR BRANDED VEHICLE
Commercial vehicle graphics should represent your brand and must be easy to digest, to not only grab the attention of a potential client, but so they also know how to get in touch. Our Signs Express experts share their top tips to remember when it comes to your overall design:
1. Think about what information you need to include
Who you are – your business name and/or logo.
What you do – clearly display your products and services.
How to contact you – you want to avoid having too much contact information on your vehicle, so we suggest having your website and a phone number.
2. Think about font and colour
Not all colours will work on your vehicle, for example, silver on a white vehicle is almost impossible to see in some lights. If your company colours don't work as cut vinyl direct onto the paint colour, we often solve this by flooding the panel with your corporate colour first.
As a rough guide, letters that are three inches high tend to be visible from about 7.5 metres away and letters closer to six inches tall can be read from around 10 metres***. So, where you can, make sure the letters are big enough for more visibility but not so big that they are 'shouting'.
Fonts should be evenly spaced so the letters are not squashed so closely together they're hard to read, but not so widely spaced that they don't instantly form a word to someone seeing your design for the first time.
3. Overall graphics
Setting your budget is key. There are a vast number of possibilities when it comes to vehicle signage, knowing your budget will allow the graphics to be designed to give the maximum effect. Once this has been determined, you can look at the many options available.
Think about which parts of your car, van or lorry are most visible. The most viewed area is often thought to be the rear of a vehicle so make sure this is a priority and fully utilised. Consider a smaller size or less text elsewhere if your budget is tight. For longer words or more detailed graphics, using the side panels works well as they have the largest surface area – just be careful how this will read if doors are open.
To ensure the maximum lifespan of the graphics, different materials will be used. The vinyl used, along with where the graphics are placed, will make a massive difference to the overall cost. For instance, a large logo on a flat panel will use a different material to that of the same sized logo that goes over panel creases, typically done on a partial or full wrap.
Check the vehicle proof carefully, is it the right make, model, wheelbase, colour? Does it have anything in the way of the graphics, extra locks, access ladders, rubbing strips, aftermarket windows? Is everything spelt correctly?
Finally, let your insurer know of any vehicle sign writing. Some companies may charge a slight premium as replacing the graphics in any accident will increase the repair bill but others will offer a discount as they believe that the vehicle is less likely to be stolen***.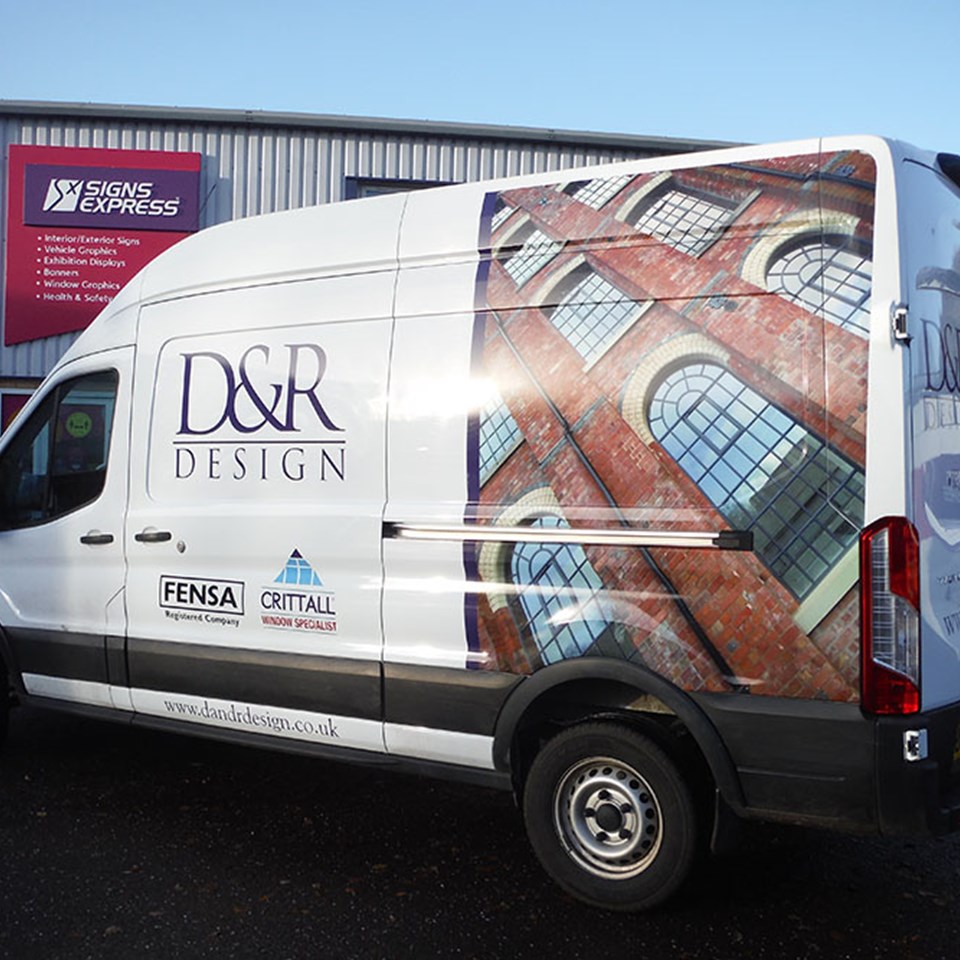 Benefits of Different Vehicle Graphic Types
Below details the different type of vehicle graphics along with the benefits and the limitations. It is key to know what the goal of the vehicle graphic is so the appropriate solution can be used.
1. Vinyl graphics
Vinyl graphics (sometimes called decals or stickers) offer you the chance to add lettering and simple logos using colours and fonts of your choice whilst remaining highly affordable.
Benefits:
Ideal for leased vehicles
Works within smaller budget
Easily replaced if vehicle needs repairing
Great for mixed use vehicles (professional & personal)
Considerations:
Designed to work with the colour of the vehicle paint work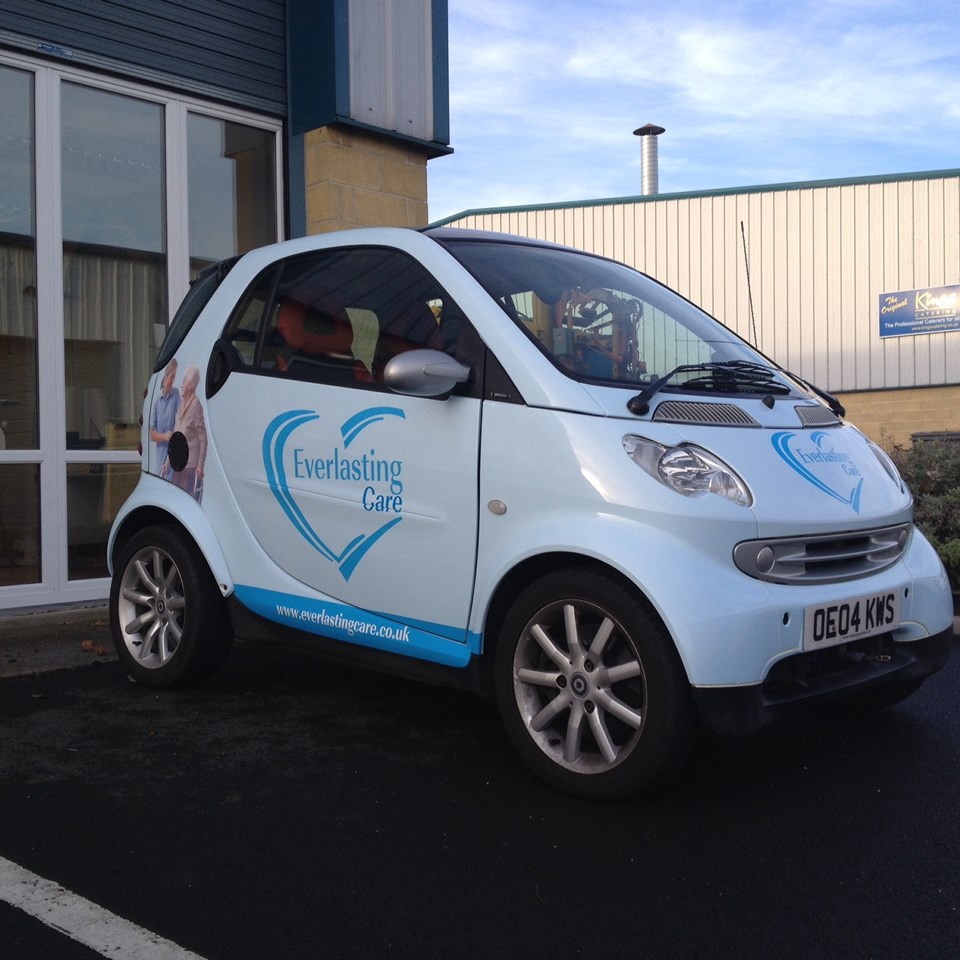 2. Partial Wraps
Vehicle wraps do not need to cover the entire vehicle, hence why partial wraps can be economical and highly effective to only wrap part of the vehicle. More and more companies are using vibrant colours and strong imagery to brand their vehicles and make the most of the space available.
Benefits:
Eye-catching
Professional appearance at an affordable price
Customised look
Considerations:
Medium to long term commitment to ensure value for money
Not visible from all angles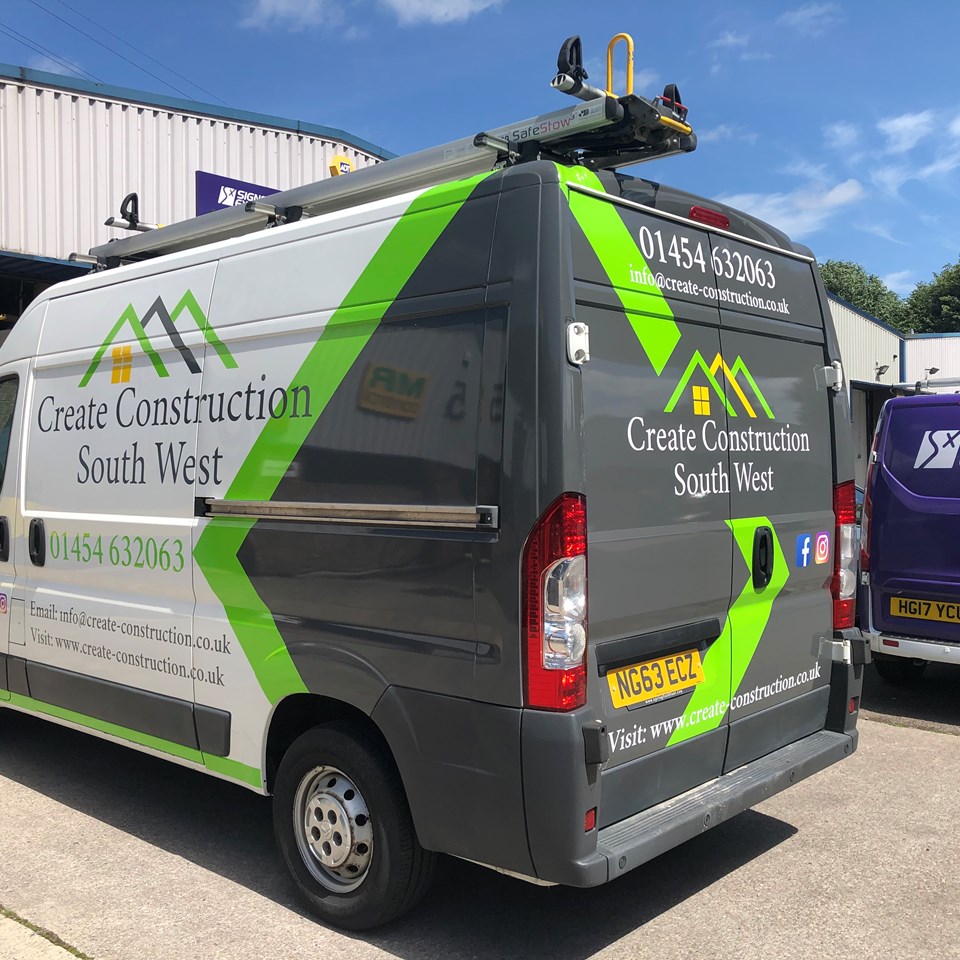 3. Full Wraps
The versatility of full vehicle wraps makes them a popular choice to apply your brand identity to any commercial van or truck.
Benefits:
Reversible so ideal for lease vehicles
High impact and can be seen from all directions
Vinyl wrap provides a barrier to potential damage
Cheaper option than a colour change respray
Considerations:
Most expensive option
The DVLA will need to be informed of any full colour change so the registration document (V5C) can be amended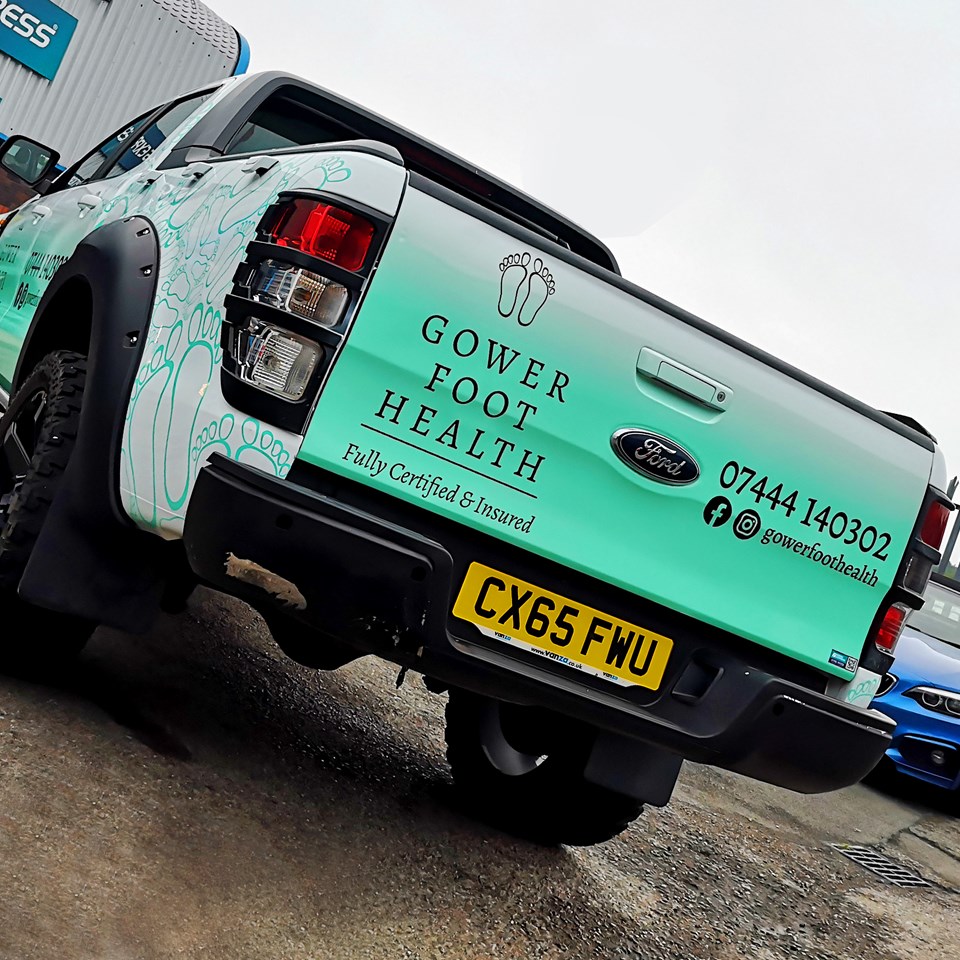 4. Reflective Vehicle Markings
For safety, any vehicles stopping on UK roads for works or inspections should be equipped with high-visibility rear reflective vehicle markings, compliant with Chapter 8 of the Traffic Signs Manual.
Benefits:
Comply with UK Traffic Signs Manual
The reflective graphics help keep your workers and other motorists safe
Keeping your panel recess area blank allows the rear of the vehicle to still be branded
Considerations:
Depending on the specific use of your vehicle, there are various grades of vinyl along with different widths and angles of chevrons to consider along with 'highway maintenance' text if appropriate
Chapter 8 kits can be produced with the panel recess area blank to allow for the rear of the vehicle to be branded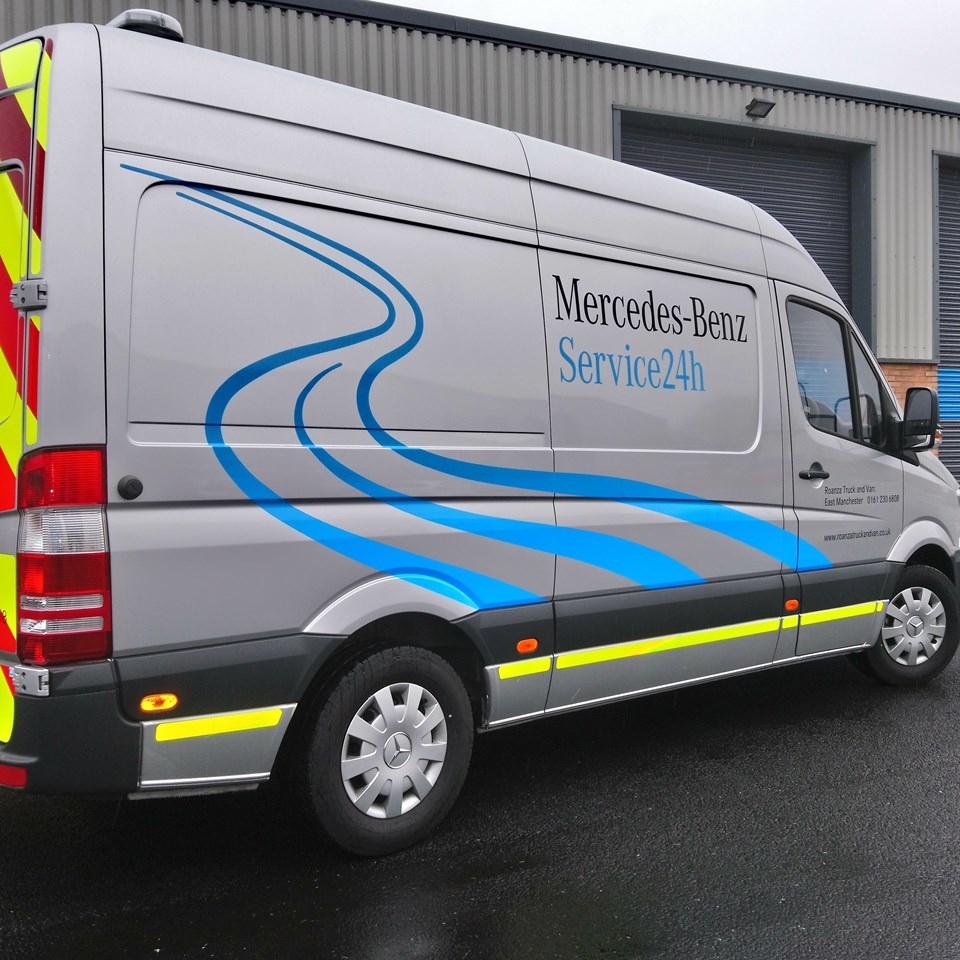 After following our above tips and guidelines, you will be driving away with a 24/7 marketing machine that you are proud of, competitors are envious of and customers are in awe of! At Signs Express, our highly-skilled team take into consideration every aspect of your vehicle livery from the initial design, budget and longevity of the graphics to the final, professional outcome. Whether you want to invest in a full van wrap or simple cut vinyl vehicle graphics, our specialist Signs Express centres provide effective and affordable solutions. Contact us today to find out how we can help you create your 24/7 marketing machine!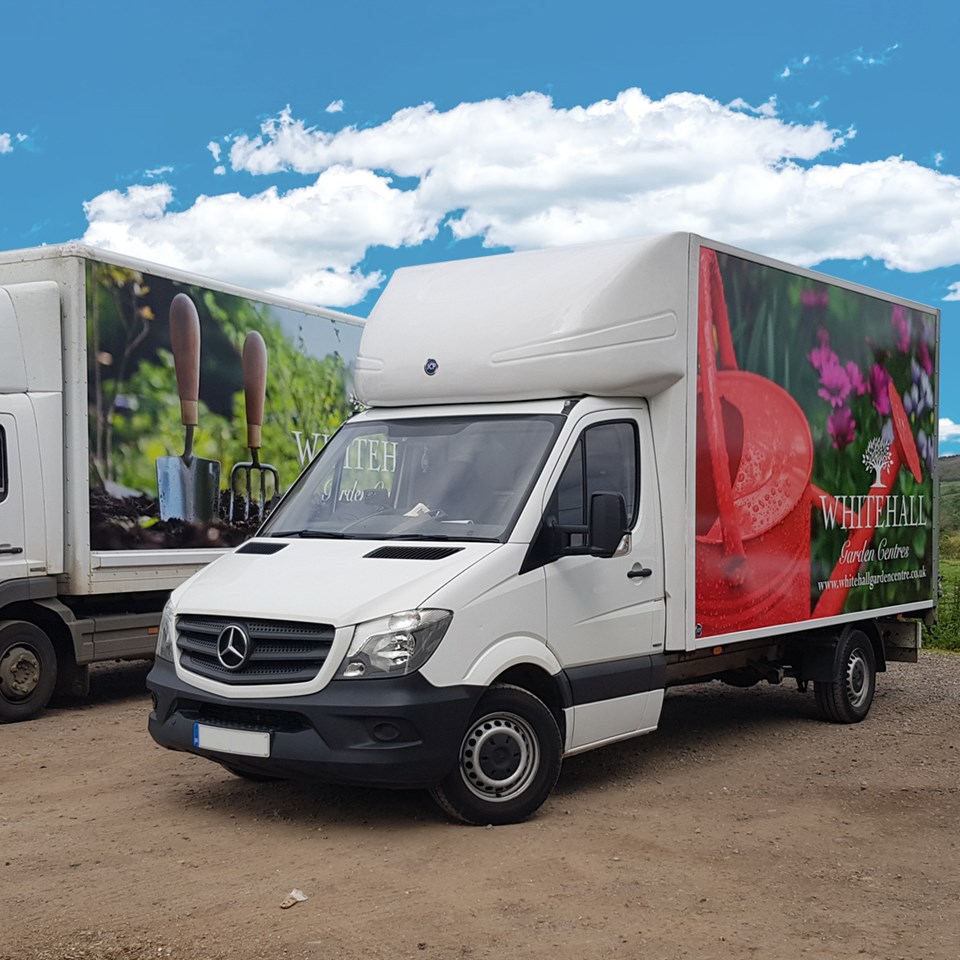 *Source: 3,000 impressions per hour based on a 10-hour working day. 3M study on the power of vehicle advertising.
**Source: Wrap UK 2020 ***Source: Confused.com Top tips to enhance your van security
First Steps Community Playgroup - First Steps Community Playgroup

Nicola - Petals & Posies
Emily Bannister - Victorian Sliders

Bernadette O'Sullivan - Woodcroft Stud
Julian Marks - Roofcare South West

MICHAEL STOPFORD (1) - Cumulus Bookkeeping Services
Becky Hulse

Kulvinder Singh

Richard Croston

Ian Mounter - IDM Airless

Sophie Chappell

Rupert Gladstone - Spitfire Avian Pest Control Ltd

Construction Testing-Solutions-Ltd

Ricky Cobbledick

Oliver Koeller

Grace Mead

Paul Grosvenor

Rebecca Simpson

Mike Davies - Mike Davies Associates Ltd

Andy Dransfield - Andy Dransfield Driver Training

Luke Payne - Active Southwest

Richard Cale - Leaf Culture

Grace Young
Christopher Campbell - Kelly Group Ltd