Essential Signs and Graphics for Tradespeople
We share our Top Tips on Signs and Graphics specifically for local tradespeople and small businesses.
What signage is available?
Van Graphics
It's common for construction businesses and trades to have graphics on their vehicles, and for very good reason!
Vehicle graphics are a top way of promoting your business and service when you're out on the road or parked at site. Vans, cars, lorries or even plant machinery can all have livery applied so be sure to make the most of the opportunity.
There are several options depending on your budget and what look you'd like to achieve:
Decals & stickers: simple yet effective, vehicle stickers are a budget-friendly option in comparison to a vehicle wrap. You can choose any design you wish, some people go down the text-only route and some combine the text with a company logo, images or icons.
Vehicle wraps: making a powerful impact you can either opt for a partial or full wrap depending on your budget and desired look. By using bright colours and strong imagery you can make a big impact.
Chapter 8: The type of vehicle graphics you may need rather than want! Chapter 8 is required for many works vehicles and we can apply these for you either on their own or alongside other graphics.
Our complete guide has some extra handy info: https://www.signsexpress.co.uk/products/vehicle/the-complete-guide-to-vehicle-graphics
And our Vehicle FAQs can be seen here:
https://www.signsexpress.co.uk/products/vehicle/vehicle-wrapping-faqs
Site Boards
Make your site board whatever you want it to be, we provide the size and shape you require and print with the messaging and design you want – although we can help to advise on the design front if needed.
Moveable to use at various sites and projects or temporary to advertise a development, site boards are a cost-effective way to promote your business. Your site board can be attached to fences, railings, scaffolding or designed with posts to be erected in the ground.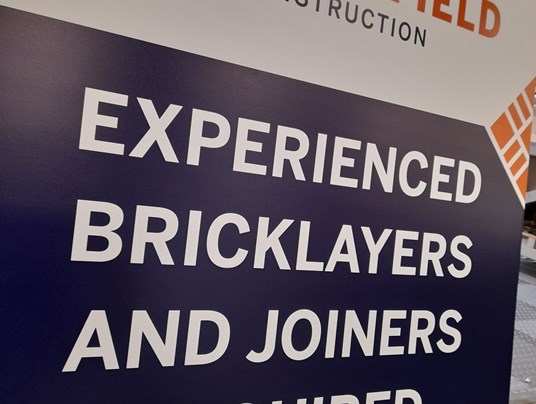 Health & Safety
We don't need to tell you that you need Health & Safety signs. Whatever your needs we offer a large range of signs with various messaging that can be applied to vinyl stickers, aluminium, polycarbonate or rigid plastic and site boards.
Why do you need signage for construction sites?
Again, you know the answer to this - your signage needs to fall into two categories. Firstly, signs and graphics that are necessary to ensure safety and compliance and secondly promotional signage that advertises your business – equally as important!
Signage can:
Protect you, your workers and the public
Ensure compliance with guidelines
Build local awareness and promote your services
Shout about your projects
How to order your signage
We have centres based across the UK and Ireland to make securing your signage as straight-forward as possible. All centres have dedicated vehicle bays for top quality graphic application and to ensure your vehicle is off the road for the least amount of time necessary.
You can find the centre closest to your business here!
First Steps Community Playgroup - First Steps Community Playgroup

Nicola - Petals & Posies
Emily Bannister - Victorian Sliders

Bernadette O'Sullivan - Woodcroft Stud
Julian Marks - Roofcare South West

MICHAEL STOPFORD (1) - Cumulus Bookkeeping Services
Becky Hulse

Kulvinder Singh

Richard Croston

Ian Mounter - IDM Airless

Sophie Chappell

Rupert Gladstone - Spitfire Avian Pest Control Ltd

Construction Testing-Solutions-Ltd

Ricky Cobbledick

Oliver Koeller

Grace Mead

Paul Grosvenor

Rebecca Simpson

Mike Davies - Mike Davies Associates Ltd

Andy Dransfield - Andy Dransfield Driver Training

Luke Payne - Active Southwest

Richard Cale - Leaf Culture

Grace Young
Christopher Campbell - Kelly Group Ltd