News
On the 17th July 2020, Boris Johnson indicated that companies could have more discretion over how to ensure safe working, and bringing staff back to the office from the 1st August. With that in mind, there is a lot to consider before your employees return to ensure your premises are prepared with necessary health and hygiene measures.
Engaging internal signs and graphics help to inform but are also essential in keeping your staff motivated and creating an inspiring environment in which to work. It is widely accepted that an environment that features visually stimulating elements, such as scenic wallpaper and etched window graphics, will positively effect moods and consequently productivity levels.
Health & hygiene
One of the biggest considerations for businesses is the layout of your office. Current guidelines state people should remain 2 metres apart wherever possible, but this can be reduced to 1 metre with certain risk mitigations in place. Desk dividers are the perfect solution to reduce risk, with transparent options available for easy communication between colleagues. Our freestanding partitions come in a range of sizes so they are easily adaptable for both desks and reception areas. Creating a more hygienic environment is of the utmost importance, with regular hand washing and sanitisation a necessity. We supply freestanding and wall mounted stations that can be placed at entrances and high footfall areas. These can also be designed to incorporate your logo or any other branding you may require.
Floor graphics
Floor graphics are a great way to introduce social distancing and communicate with staff and visitors. Manufactured using specialised non-slip materials to comply with UK regulations, floor graphics are scuff and scratch-resistant to ensure they remain looking fresh even in high footfall areas. In larger offices with more employees, floor graphics are the perfect solution to help manage queues for common areas such as toilets and cafeterias and are ideal for implementing one-way systems. We have a whole host of ready-made designs available in practically any shape and size. Completely customisable, bright and colourful floor graphics make strong visual reminders in upholding social distancing throughout your premises.
Window manifestations
There are several different types of window graphics, which all serve different and important purposes. From creating privacy to complying to health and safety guidelines, window graphics are a stylish option and can add professionalism to any office environment. Temporary window graphics are a great space-saving option in the current climate to highlight social distancing guidelines and give reminders to staff and visitors before entering the building. They are cost-effective and can be designed to complement your existing branding. If you have large floor to ceiling windows either within your office or at the front of the premises, etched and frosted window graphics are the perfect way to add some privacy while still looking appealing. Window manifestations are also an important consideration for large glassed areas, to ensure they can be seen by those walking around the office to avoid potential accidents. Another consideration for large glassed areas is the amount of sunlight coming through. Our solar control window film helps reject 90% of harmful UV rays, eliminate sun-glare on computer screens and can even save money on heating costs in the colder months.
Wayfinding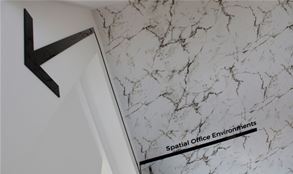 Help visitors and staff confidently navigate your premises with clear and concise directional signage. Wayfinding signs and graphics can be integrated into your existing branding, designed with eye-catching and vibrant images and text. Large office buildings often have multiple floors, offices and conference rooms, along with toilets and breakout areas making them challenging to navigate. Entering an unknown building can often be intimidating for visitors, but with useful wayfinding systems, you can help visitors find their way with ease. There are a multitude of options when it comes to wayfinding signage, from simpler post and panel external signage to interactive digital maps, informative wall mounted directories to striking wall graphics. Increasing your directional signage is a bigger priority now than ever before, helping to identify one-way systems and point people towards sanitising stations and toilets for handwashing.
Wallcoverings
Interior signage shouldn't just be used to fulfil guidelines, it also has many other benefits. The look of your premises is very important and high-quality signs and graphics have the ability to transform your office into a professional and stimulating space. Ensuring your office gives the right perception to potential customers and improving staff morale can both be achieved by installing eye-catching custom wallpaper. Wallcoverings push your interior design to the next level with digitally printed coloured gradients, modern matte finishes, or striking images. Durable and virtually maintenance-free, large feature walls are a cost-effective supplement to office interiors, creating a memorable experience and a lasting impression. Refreshing your internal space has many benefits and breathes life into the office by showcasing your brand personality. Signs Express can work with you to create bespoke solutions for your premises ensuring we create an environment that not only increases motivation but importantly promotes hygiene and social distancing practices that keep your team safe. Contact your local branch for a no-obligation discussion about your requirements, so together, we can give you confidence in re-opening your office.
First Steps Community Playgroup - First Steps Community Playgroup

Nicola - Petals & Posies
Emily Bannister - Victorian Sliders

Bernadette O'Sullivan - Woodcroft Stud
Julian Marks - Roofcare South West

MICHAEL STOPFORD (1) - Cumulus Bookkeeping Services
Becky Hulse

Kulvinder Singh

Richard Croston

Ian Mounter - IDM Airless

Sophie Chappell

Rupert Gladstone - Spitfire Avian Pest Control Ltd

Construction Testing-Solutions-Ltd

Ricky Cobbledick

Oliver Koeller

Grace Mead

Paul Grosvenor

Rebecca Simpson

Mike Davies - Mike Davies Associates Ltd

Andy Dransfield - Andy Dransfield Driver Training

Luke Payne - Active Southwest

Richard Cale - Leaf Culture

Grace Young
Christopher Campbell - Kelly Group Ltd