News
In a world where enhanced user experience can produce conversion rates of 400%*, the right wayfinding signage is an essential consideration for any business.
With that world now changing with the current times, it is more important than ever to ensure your customers and visitors can navigate their way around your premises efficiently and effectively, while adhering to social distancing. The value of an effective wayfinding system isn't only determined by a positive and safe customer experience, but also on how your brand can take advantage of the interactions that occur during a user's journey. What your navigation signage can achieve:
Identification – let customers know where they are such as at a hand sanitiser station, show seats allowed to be used or even identify any sale promotions or items no longer in stock
Direction – help customers move around your premises & towards their destination in a way that keeps your visitor's safety at the forefront of your business
Information – communicate areas designated for personnel use only or where people may be entering an area where face masks are permitted
Regulatory – inform visitors of the requirements and regulations in place for certain areas as well as enforcing social distancing
The wayfinding solution options in which you can facilitate a new way of managing footfall in your business premises come in all shapes and sizes. Options you can look into are:
One-way systems
Directional arrows with a 'One Way System' message can be applied in any direction to aid in temporary one-way systems currently in place. An essential sign to communicate to visitors, customers or staff and when implemented correctly, one-way systems make it easier to maintain social distancing, manage movement and significantly reduce customer contact.
Hanging signs and banners
Cost-effective and eye catching, customers will have no trouble navigating your premises and finding their destination with the help of hanging wayfinding signs. From inside your place of business, to the entrance or even the car park, hanging signs and banners can be used as the perfect navigation solution. These large signs can be placed where it will be the first thing your visitors see and therefore enhance the customer journey and give them confidence their safety is at the forefront of your mind.
Directories
A wayfinding staple, these directional signs are often installed at eye level to enhance visibility and seamlessly control customer flow. When used in conjunction with other Coronavirus safety signage, directories are an ideal solution to promote social distancing and health & hygiene regulations with your visitors.
Floor graphics
Anti slip self-adhesive vinyl floor graphics are a great space-saving way to clearly mark safe routes for visitors and employees around your premises. Floor graphics clearly show staff and customers the distance they must maintain to adhere to Government guidelines and indicate safe routes around your workspace.
Digital signage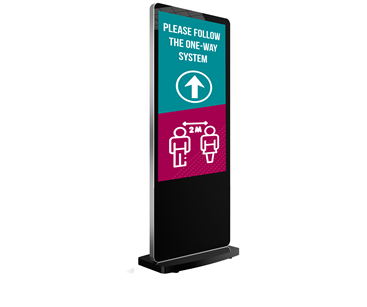 At this time, information is vital and digital signage plays an even bigger role than before. Quickly sharing important health and safety details with real-time updates is an absolute necessity in keeping employees and customers safe. All supermarkets, hospitals, pharmacies, schools and constructions sites and other businesses that are open need to communicate both security and prevention measures. Digital signage is an ideal visual communication tool to navigate customers where to go, detail how your business is adhering to guidelines as well providing safety measures for staff. With many shops and businesses reopening and lockdown measures easing, now is the time to prepare for higher footfall with effective and professional wayfinding signage. Contact your local Signs Express centre to discuss your wayfinding solutions, so we can help navigate you to success. *Fabrik Brands, 2018
First Steps Community Playgroup - First Steps Community Playgroup

Nicola - Petals & Posies
Emily Bannister - Victorian Sliders

Bernadette O'Sullivan - Woodcroft Stud
Julian Marks - Roofcare South West

MICHAEL STOPFORD (1) - Cumulus Bookkeeping Services
Becky Hulse

Kulvinder Singh

Richard Croston

Ian Mounter - IDM Airless

Sophie Chappell

Rupert Gladstone - Spitfire Avian Pest Control Ltd

Construction Testing-Solutions-Ltd

Ricky Cobbledick

Oliver Koeller

Grace Mead

Paul Grosvenor

Rebecca Simpson

Mike Davies - Mike Davies Associates Ltd

Andy Dransfield - Andy Dransfield Driver Training

Luke Payne - Active Southwest

Richard Cale - Leaf Culture

Grace Young
Christopher Campbell - Kelly Group Ltd