News
The way businesses connect and communicate with their customers is constantly evolving. Where locations once would have been filled with traditional vinyl banners and painted signs, technological advances are creating vast opportunities for branding and promotional communications for all sectors.
In a world where it is almost a requirement for products and services to be picture perfect, businesses have come to appreciate the quality, flexibility and visual impact that can be achieved by thinking outside the box when it comes to signs and graphics. The use of soft signage, architectural finishes, faux neon, natural woods and moss, industrial signage as well as digital signs, can help to heighten a customer's interest in your brand as well as draw consumers into your retail or office space.
Soft Signage
Soft signage has captured the interest of the sign and display market for a while enabling us to print onto lighter fabrics and textiles. The use of soft signage can deliver a more stylish and greater visual appearance compared with conventional alternatives. From banners and awnings to trade-show exhibits and backlit signs, the usage of soft signs is unlimited.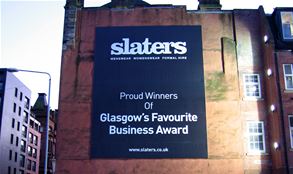 With soft signage able to provide flexibility, few limitations in size, and high-quality images, it is no wonder that this market is expected to grow by 30% annually over the next few years with the most popular products being banners, indoor wall graphics, and window displays*.
The environmental considerations in favour of soft signage are very powerful. Typically made in a more sustainable way than rigid substrates, soft signage is not only recyclable but easy to demount, store and reuse.
Architectural Finishes
Ideal for changing the look and feel of almost any surface, architectural films provide a seamless finish for a dynamic upgrade in any environment. Whether upgrading your fixtures and fittings, transforming a blank space or launching a complete rebrand it's good to have an idea of what you want from your architectural coverings. This could be to catch the eye of passers-by or simply improve functionality.
Upcycling your interiors not only reduces costs, but also unnecessary waste, and is an economical method of achieving the same look and feel of more costly conventional refits. With a life expectancy of up to 10 years, architectural films are proven to outperform other solutions such as laminates and wallpapers and are even UV resistant.
Faux Neon Signs
Faux neon uses low voltage, environmentally friendly LEDs to recreate the appearance of neon lighting and make your brand stand out from the crowd. Unlike traditional neon, faux neon is safe to touch and robust with an 80% reduction in running costs.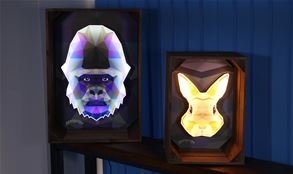 With the ability to customise the LEDs you can have the guarantee of brand consistency using programmable technologies that create colour-changing, innovative visual displays.
Bringing the Outside in
The use of natural materials intertwined with more traditional signage is a great way to present your message and brand in a fresh and inventive way. One of the most effective and creative options for doing so includes 'living signage', such as moss lettering, natural foliage, bark and even timber.
The creative opportunities with these natural products are almost endless. Virtually any shape, logo, font or size can be produced, enabling you to have outstanding features that will amaze customers. The flexibility of the product enables us to work closely with you to create workable designs that match your vision.
Natural moss and foliage require no watering, sunlight or maintenance and will stay fresh and soft to the touch long into the future, making it a perfect alternative to a traditional living wall. The combination of its flexibility in use, minimal environmental impact and low maintenance requirements make natural material signage an excellent product for companies searching for ways to bring the outdoors in and create a visually attractive space for staff and customers alike.
Industrial Signage
Industrial-style signs are becoming increasingly popular with businesses of all types. Often incorporating metallic tones and industrial elements, these bold, eye-catching designs use natural materials such as brick, concrete and even rust effects to add a quirky character to your brand.
Industrial-style interiors have withstood the test of time, making them a stylish option for those creating spaces with a sense of longevity.
Digital Signage
Digital signage can add significant value to the aesthetics of any public space. From freestanding digital screens and interactive displays to video walls and digital menu boards, the capabilities of digital signage go far beyond the traditional static sign.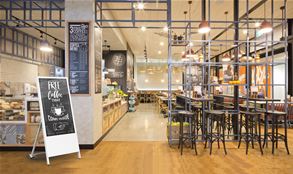 The possibilities for retail businesses are vast with 80% of brands experiencing a significant increase of up to 33%** in additional sales after implementing digital signage, while healthcare centres and hospitals can greatly benefit from digitally registering patients and displaying important health related information. With Signs Express being the largest signage network in the UK and the leading provider for 30 years, we have the ability to stay at the forefront of signage advances and aim to provide clients with the latest signage solution.
Contact your local centre to discuss all of the signage options for your business.
*Trade Group **Digital Signage Today
First Steps Community Playgroup - First Steps Community Playgroup

Nicola - Petals & Posies
Emily Bannister - Victorian Sliders

Bernadette O'Sullivan - Woodcroft Stud
Julian Marks - Roofcare South West

MICHAEL STOPFORD (1) - Cumulus Bookkeeping Services
Becky Hulse

Kulvinder Singh

Richard Croston

Ian Mounter - IDM Airless

Sophie Chappell

Rupert Gladstone - Spitfire Avian Pest Control Ltd

Construction Testing-Solutions-Ltd

Ricky Cobbledick

Oliver Koeller

Grace Mead

Paul Grosvenor

Rebecca Simpson

Mike Davies - Mike Davies Associates Ltd

Andy Dransfield - Andy Dransfield Driver Training

Luke Payne - Active Southwest

Richard Cale - Leaf Culture

Grace Young
Christopher Campbell - Kelly Group Ltd