News
First impressions count and that has never been as important as it is now. With many businesses either open or about to re-open it is the perfect opportunity to make sure you get noticed for all the right reasons.
Whether it's a total transformation, implementing your social distancing measures or simply refreshing some of your existing signage we are here to guide and advise on the best options for your needs. Having the right signage solution for your business can bring your brand to life, generate response, re-energise your office or simply reinforce health & safety procedures. In a recent Signs Express survey of 1000 businesses, 98% of consumers advised they would be less likely to work with a company if their signage was in disrepair, making it more important than ever to ensure any investment made stands the test of time. To achieve the maximum impact means understanding your individual needs for your business sector and supplying the relevant solutions to match. Take a look below to see what signage solutions are available for your sector as well as how signs and graphics can maximise your brand perception.
Retail
Shop signs need to be bold, memorable and most of all, eye-catching. They also need to reflect your brand and give passers-by a glimpse of what to expect when they enter your store. Retail signage can be easily adapted to suit brand requirements for any business including shopping centres, department stores, salons and independent retailers.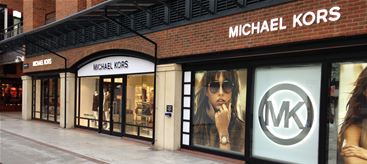 The benefits of shop signage include:
Positive first impression
Stand out from competitors
Consistent branding
Enhanced customer journey
Promote temporary offers
Re-engage your employees
When competition on the high street is fierce, it is paramount that your signage stands out from the very first impression. The range of signs & graphics solutions you can use to achieve this include:
Fascia signage
With almost 80%* of customers saying they enter a store based on its signage, having an eye-catching fascia sign is of the upmost importance. Make your brand pop by utilising built-up 3D letters which can be illuminated, adding extra visual impact.
Window graphics
The perfect solution to showcase temporary promotional offers, enhancing and varying your brand message to the public.
Digital signage
A great way of engaging customers by providing touch screen displays, POS screens and impactful video walls specifically designed to withstand all weather conditions.
Wall & floor graphics
A great, low-cost solution when you need to expand your brand's visibility without taking up valuable floor space. Often used as temporary point of sale, window, wall and floor graphics showcase promotions in a creative and dynamic way.
Point of sale signs
Our range of point of sale signage is ideal for both short and long-term promotions encouraging customers to make a purchase. We understand the power of lighting and can consult on illuminated solutions for your interiors. *Source: FedEx Office ''What's Your Sign'' survey
Hospitality & Leisure
Hospitality and leisure venues have ample opportunity to make great use of signage and displays. Whether signage is used to give directions, provide information or reinforce your brand, it can make a significant contribution to improving the customer experience. Treated with the right approach, hospitality premises welcome and comfort while leisure facilities will motivate, relax or stimulate. Having consistent signage from the outside in helps guests and visitors feel relaxed and informed.
You can achieve any of the following simply through signage:
Positive first impression
Consistent branding
Stand out from competitors
Promote offers
Motivate or relax visitors
Engage employees
Hospitality & Leisure signage comes in all shapes and sizes including:
Entrance signs
Within the first seven seconds*, people have already started to form their first impression, so making sure you are well signposted with quality branded signage is essential to tempting your clientele into your establishment.
Digital menu boards
Digital menu boards alone are known to yield increased sales of 31.8%** when compared to static boards due to increased engagement with consumers. This modern and professional signage solution can be fully customisable using ready-made templates while adding your very own images and branding.
Pavement furniture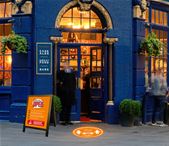 A-boards and pavement signs can be tailored to your exact needs with a huge range of options available. This form of signage is suitable to be used outdoor with many having the option to easily change promotional materials and messages on a regular basis. Pavement board panels and posters can be interchangeable or have a fixed message for a permanent outdoor sign solution.
Café barriers
Café style barriers help to define your outside space and create a pleasant seating area for your visitors and customers while adding a professional finish. The barriers are easy to install, hard wearing and act as a weatherproof wind barrier for your customers. Café barrier systems can also be used to bring order to outdoor queuing areas or define acceptable designated smoking areas.
Architectural finishes
Architectural finishes are ideal for changing the look and feel of almost any surface by wrapping them with specially designed architectural films. With over 1500 patterns, textures and effects available, from wood grains to marble, metallics to stone, architectural finishes are an ideal, cost-effective solution for any business. *Source - Forbes 2018: You And Your Business Have 7 Seconds To Make A First Impression: Here's How To Succeed **Source: Digital Signage Today
Construction & Tradespeople
What better way to create a positive and lasting impression than with signage that represents your business and developments? Brand awareness of the projects you undertake is crucial to bringing your business to life and is something that can be easily achieved through the right visual solutions.
You can use signage as a tool to achieve any of the following:
Advertise projects & developments
Protect from potential hazards
Showcase your work
Demonstrate prestige & individuality
Enhance your construction sites, marketing suites and advertise new opportunities through signage solutions, including:
Vehicle graphics
Utilising vans, lorries, cars and plant equipment vehicles are an ideal opportunity to advertise your company while on the road on or on-site. Vehicle graphics are a cost-effective solution that also enhance your brand perception showcasing professionalism and therefore reliability and quality.
Hoardings
First impressions count and what better way to create a great one than using custom hoardings which can be installed around your entire site perimeter. Hoardings are a great marketing tool, showcasing what the development will look like once completed whilst concealing construction work and protecting the health & safety of the public and your workers. One of our most popular upgrades is an anti-graffiti laminate which incorporates technologies to enable easy removal and cleaning if your hoarding is vandalised.
Health & Safety signs
Health & Safety signage is an effective communication tool to indicate hazards within a workplace to help reduce accidents and keep businesses compliant.
Site boards
As a place to meet potential clients prior to any plots being completed, it is paramount that the marketing suite exterior is of a high quality and evokes a positive first impression of your brand. Using eye-catching site board signage can be key to ensuring this attracts potential buyers.
Professional Services
It is widely accepted that the spaces in which we work can affect our mood and, in turn, productivity, with 21%* of workers claiming they would be more productive in a better designed workspace. Office signs and graphics are one of the most simple and effective ways of creating a stimulating work environment at a reasonable cost. Internal and external signage powerfully promotes your name, what your business does, and creates the right first impression. Graphics help transform the office, and by working with your brand guidelines we can create the image you require.
An effective use of corporate colours incorporated into varied patterns and textured surfaces can create a productive, harmonious workplace. You can use branding across your premises, from the car park to the cafeteria, the reception area to meeting rooms. Simply utilising signage solutions within your workspace, you can achieve the following:
Create a great first impression
Engage & motivate employees
Ensure a consistent appearance
Provide a professional environment
The below signage solutions can assist in creating a professional environment makes all the difference when potential clients are deciding whether to work with you:
Wayfinding and directional signs
Wayfinding and directional signs inform people of your location and tell clients where they need to be. This creates a sense of confidence, removing the need to seek assistance in an unfamiliar space.
Reception signage
An eye-catching and professional reception sign can welcome and direct as well as being instrumental in presenting that vital first impression.
Custom wallpaper
Large blank spaces can benefit from wall graphics to add colour, branding and promotions, as well as ambience. Almost 50% of millennials have turned down jobs due to lack of a modern workplace so using cost-effect custom wallpaper to spruce up your premises is vital.
Etched window film
Tasteful window graphics are essential for grabbing the attention of visitors, are invaluable for brand recognition and can also offer functionality and privacy. Whether you need to update your office décor, present your brand or increase privacy, window graphics are an attractive and low-cost solution. Ranging from frosted vinyl options to specialist one-way and solar control film, this versatile option can completely transform the look and practicality of your premises and bring your brand to life.
Architectural finishes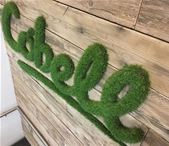 Use your imagination and utilize textiles & specialistic finishes to keep a modern and fresh feel. Whether you are looking to create a feature wall, refresh your desks, upgrade your counters or brighten your washrooms, architectural finishes will transform your existing spaces. *Source Research conducted by YouGov & Saracen Interiors, workplaceinsight.net Nov 2018
Education
Educational signage is a key investment that needs to inspire as well as enhance the experience of students, staff and all those that interact with it. Whatever your needs, from simple door signs to completely transforming spaces, signage can play a major role in branding, energising, organising and promoting your centre of education.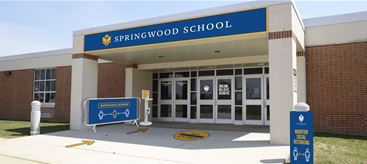 The benefits of education signage include:
Improving punctuality & learning
Increase safety
Celebrate achievements and boost moral
Communicate messaging
Engage students and staff
The above can be achieved through implementing the following signs and graphics:
Post and panel signs
One of the most widely used signage systems, post mounted signs are a cost-effective form of exterior signage. Post & panel signage is often used to give informative or directional information, or mapping purposes in school car parks and education centre entrances.
Window, wall & floor graphics
This array of signage can be a mix of permanent or temporary solutions used to turn rooms into inspiring and creative spaces for students to learn. They can also be installed to encourage, promote best practices and positive behaviour. Durable and virtually maintenance-free, eye-catching feature walls, window & floor graphics are a cost-effective supplement to creating a memorable experience and lasting impression.
Wayfinding and directional signs
This mix of signage can direct parents and pupils to drop-off areas and point visitors towards the main entrance, whilst internal directional signs are an easy way to improve navigation and mark out key locations throughout the school.
Noticeboards
Perfect for areas of high footfall that need to convey information that is updated on a regular basis. People instinctively notice these boards and are drawn toward their contents, making them the ideal solution if you have lots of information to display from various education departments and students. Boards can come in a range of sizes and can have a water-tight, weather-proof cover keeping them safe from abuse. They can also be lockable and illuminated from the inside.
Healthcare
With healthcare signage, you can educate and inform patients, promote your services, navigate and direct, and highlight awareness initiatives. From hospitals, dentists, care homes, health centres and pharmacies of all shapes and sizes, your signage is a key investment which will create a more welcoming atmosphere as well as being practical and informative.
Our extensive range means that you can achieve any of the following, simply through signage:
Educate & inform
Promote services & products
Enhance experiences
Navigate & direct
Highlight awareness initiatives
Protect from potential hazards
The 6 points above can all be achieved by incorporating some or all of the signs and graphics below:
Post and panel signs
Post and panel signs are cost-effective solutions that are crucial to any establishment to not only inform but also improve efficiency within busy health centre environments.
Digital signage
On average, digital signage captures 400%* more views than static signs demonstrating it's an effective way to engage with visitors.
Wayfinding & directional signs
Communication and navigation are essential in providing a positive experience for patients and staff alike, so clear signage is paramount in delivering effective solutions. There is no limit to the size of these signage solutions but make sure you get planning permission for the installation of larger directional signs.
Monoliths & totems
The use of monolith signs guarantees maximum visual impact for your health centre and presents important brand and health information which can be seen from the road. Add illumination to your totem sign for that extra impact and visibility throughout the day and night.
Custom wallpaper
Wallpaper can help enable a calming and reassuring environment for visitors coming into your health care centre as well as showcasing professionalism and therefore reliability and quality. *Source: Digital Signage Today Contact your local Signs Express centre to discuss your business sector signage solutions, and bring your brand to life.
First Steps Community Playgroup - First Steps Community Playgroup

Nicola - Petals & Posies
Emily Bannister - Victorian Sliders

Bernadette O'Sullivan - Woodcroft Stud
Julian Marks - Roofcare South West

MICHAEL STOPFORD (1) - Cumulus Bookkeeping Services
Becky Hulse

Kulvinder Singh

Richard Croston

Ian Mounter - IDM Airless

Sophie Chappell

Rupert Gladstone - Spitfire Avian Pest Control Ltd

Construction Testing-Solutions-Ltd

Ricky Cobbledick

Oliver Koeller

Grace Mead

Paul Grosvenor

Rebecca Simpson

Mike Davies - Mike Davies Associates Ltd

Andy Dransfield - Andy Dransfield Driver Training

Luke Payne - Active Southwest

Richard Cale - Leaf Culture

Grace Young
Christopher Campbell - Kelly Group Ltd