News
Having set out his roadmap for emerging out of lockdown this week, Boris Johnson has indicated that schools should start reopening to all pupils from 8th March. To ensure your school is in the best position, we have compiled our essential signage solutions to make sure your premises are a safe environment for students and staff to return to.
Implementing social distancing
Effectively managing social distancing can be easily achieved by installing the following economical signage solutions. Floor graphics and window graphics are used to:
indicate where pupils should and shouldn't stand
show which direction to queue
clearly signpost to specific rooms or areas around the school.
Both types of signage are long-lasting but can also be easily removed if necessary, meaning they're ideal for fast-paced changes in messaging or regulations. Banners and notices help to:
reinforce important health and safety messaging in an engaging way
remind pupils of new school rules.
Pop-up banners are easy to transport so can be moved to another area if required. They can also be used to section off a certain area or corridor to coincide with one-way systems.
Mass testing facilities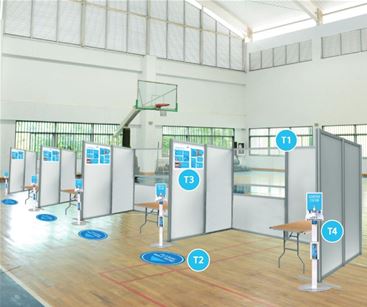 If your centre of education requires a mass testing facility, we have a range of solutions to ensure a safe and efficient process. Our testing site essentials include:
Linear testing booths (T1)
Anti-slip floor graphics (T2)
Notices (T3)
Sanitiser stations (T4)
Desk mounted screen dividers
Maintaining a good hygiene level
A high level of hygiene is always essential in any centre of education and there are some simple ways to increase this level to reduce risk. Sanitiser stations should be installed in high-traffic areas as pupils should sanitise when they arrive at school, return from breaks, use bathrooms, change classrooms and before eating.* Desk dividers and cough and sneeze guards can be used to protect staff and pupils. Especially useful in reception areas, canteens and in small classrooms where social distancing is more challenging.
Making your education centre easy to navigate
In any high-traffic area it is key that navigation is clear, allowing people to flow easily between rooms and avoid unnecessary contact. Wayfinding solutions are essential for all schools, showing pupils where and how to find different rooms or buildings. These solutions can take many forms including large maps on walls, hanging signs along corridors and door signs. One-way systems can also be effectively implemented by using wayfinding solutions. Organising the flow of pupils at varying times through the day is important and will help to reduce contact. Floor and window graphics, and large banners are a good way of achieving this.
Creating an inspiring workplace
Returning to a school setting will be a big change for students and staff and having a motivational workspace will help with this transition. A general refresh is always a good idea, bringing a clean and fresh look to inspire pupils. Custom wallpaper can bring empty walls to life with exciting and vibrant images and text. This could be with a feature wall, motivational messages, school history or your logo. Feature displays will allow for even more engagement and reflect the values and ethos of your school. Create something fun and exciting for pupils and visitors to see.
Essential signage for your school
Alongside new signage for social distancing, wayfinding and motivation there are also some essential signs and graphics that are commonly required by schools. Post and panel signs usually stand at the entrance of the school grounds, with the school name, logo and contact details on them. This sign may give visitors their first impression of your school, so make sure it reflects the values and quality of your education centre. You may also find post and panel signs used for directions and displaying important notices. Car park systems are important to keep pupils safe within school grounds. Messaging such as 'slow down', 'caution, children' and 'no parking or drop-offs' help to control traffic and remind people of the dangers. Controlled parking and pick-up and drop-off areas will also reduce mixing of parents. Directional signage will help students, staff and visitors navigate your school grounds. A good directional system is especially useful for schools, colleges and universities with multiple buildings or campuses.
Getting prepared
The Government has announced education centres will have two-weeks' notice before pupils are expected to return. Signs Express are ready to help with any of your sign and graphics needs so contact us today. Find your local branch here! *The Telegraph - When will schools reopen for primary and secondary pupils? Latest Covid-19 lockdown updates. As of 22/02/2021.
First Steps Community Playgroup - First Steps Community Playgroup

Nicola - Petals & Posies
Emily Bannister - Victorian Sliders

Bernadette O'Sullivan - Woodcroft Stud
Julian Marks - Roofcare South West

MICHAEL STOPFORD (1) - Cumulus Bookkeeping Services
Becky Hulse

Kulvinder Singh

Richard Croston

Ian Mounter - IDM Airless

Sophie Chappell

Rupert Gladstone - Spitfire Avian Pest Control Ltd

Construction Testing-Solutions-Ltd

Ricky Cobbledick

Oliver Koeller

Grace Mead

Paul Grosvenor

Rebecca Simpson

Mike Davies - Mike Davies Associates Ltd

Andy Dransfield - Andy Dransfield Driver Training

Luke Payne - Active Southwest

Richard Cale - Leaf Culture

Grace Young
Christopher Campbell - Kelly Group Ltd