Top Tips for branding your office
You've worked hard to create a good brand, but how can you replicate it within your office space? Research shows that a well-designed office can increase productivity by up to 20% (awspaces.com, 2022). Here are our top tips for branding your office:
Consider the materials you're using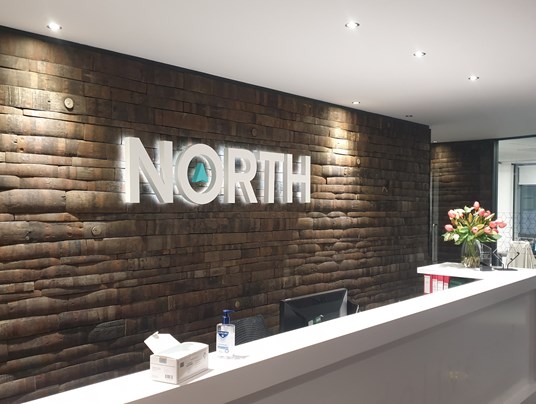 Investing in the materials you're using in your office makes a huge difference to your brand positioning. A company working within the professional services industry needs a sleeker look because they're expected to represent professionalism. While it's important to portray professionalism, ensure your space is welcoming to your visitors too. You don't want to alienate them by making the materials you're using feel too stiff or stuffy. When it comes to marketing your business, brand appearance is everything – replicate this into your office space too.
Look at the space as a whole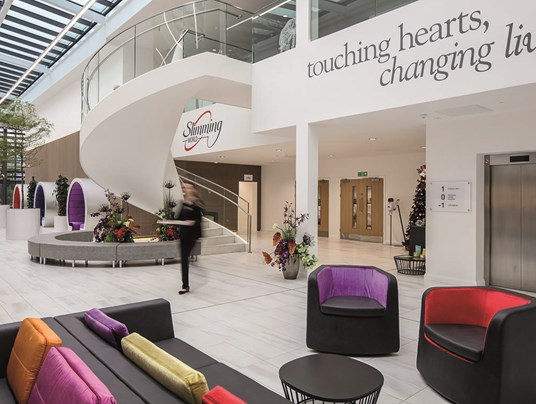 A study in 2019 found that 77% of workers want access to both collaborative and private spaces at different times (Gensler, 2022). Even if you don't have the budget to redesign the whole office space at once, consider the concepts and themes so they can be translated throughout at a later date. This will help to build cohesion within the space that best reflects your brand for visitors and produces the optimum work environment for your staff.
Colour schemes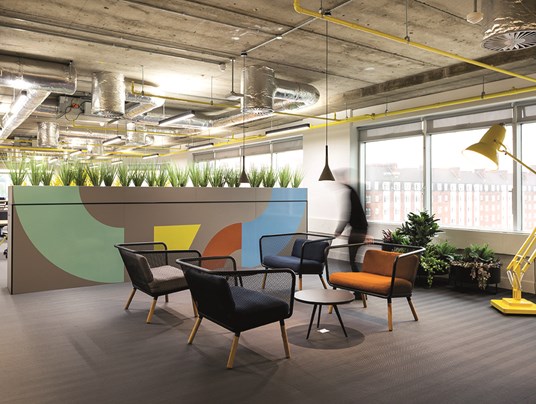 There's no better way to brand your office than incorporating your brand colours into your interiors. However, consider where you place these items and how much colour is used. If your staff are working within an intense environment, you don't want the intensity of bright and bold colours everywhere – consider how your brand colours complement traditional office themes and materials.
Differentiate between staff & client spaces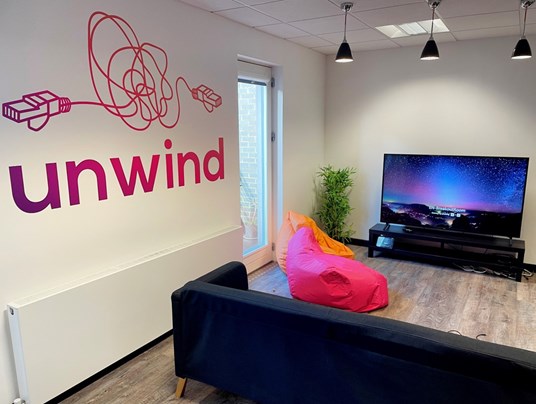 Staff can sometimes see through the branding that is aimed at customers because they witness the everyday realities of the business. So, make sure you differentiate between staff and client spaces, to ensure that your staff feel comfortable in their working environment.
Think about the types of spaces or touchpoints where branding matters (meeting rooms, reception area and toilets are usually top of the list). Consider what the most important employee areas are in your office and consider which behaviours you want to encourage or discourage, for example, do you want a quiet zone for staff looking for high focus? Then apply these ideas to create a new look for your space.
The contrast to the workspace is where your employees relax, eat and socialise. Having somewhere for employees to go during their lunch break, away from their desks, is beneficial to their well-being as well as the productivity of the office. 78% of workers agree that taking a lunch break away from their desk improves their job performance (gitnux.com, 2023). Wall graphics and wallpaper are a powerful way of encouraging behaviours. You could use a wall sticker with a quote or graphic relating to eating, relaxing or even something fun.
Check out our latest Blog here
View more
Get in Touch
Enquiry Form
Please contact your local centre by completing this enquiry form and we shall respond to your request as soon as possible.
First Steps Community Playgroup - First Steps Community Playgroup

Nicola - Petals & Posies
Emily Bannister - Victorian Sliders

Bernadette O'Sullivan - Woodcroft Stud
Julian Marks - Roofcare South West

MICHAEL STOPFORD (1) - Cumulus Bookkeeping Services
Becky Hulse

Kulvinder Singh

Richard Croston

Ian Mounter - IDM Airless

Sophie Chappell

Rupert Gladstone - Spitfire Avian Pest Control Ltd

Construction Testing-Solutions-Ltd

Ricky Cobbledick

Oliver Koeller

Grace Mead

Paul Grosvenor

Rebecca Simpson

Mike Davies - Mike Davies Associates Ltd

Andy Dransfield - Andy Dransfield Driver Training

Luke Payne - Active Southwest

Richard Cale - Leaf Culture

Grace Young
Christopher Campbell - Kelly Group Ltd