Case Study
A Total Transformation for Preston North End FC
THE BRIEF
Preston North End Football Club, contacted Signs Express Central Lancashire wanting a comprehensive transformation of their home team changing rooms, aiming to create an environment that would both inspire the players and showcase the club's rich heritage and commitment to excellence.
The main aim of the re-fit was to modernise the overall look and feel of the changing rooms and to create a 'Premier League' aesthetic. At the same time, it was important to the client to reflect the history and prestige of the club in the design elements – and all need to be completed within a tight timeframe before the start of the season.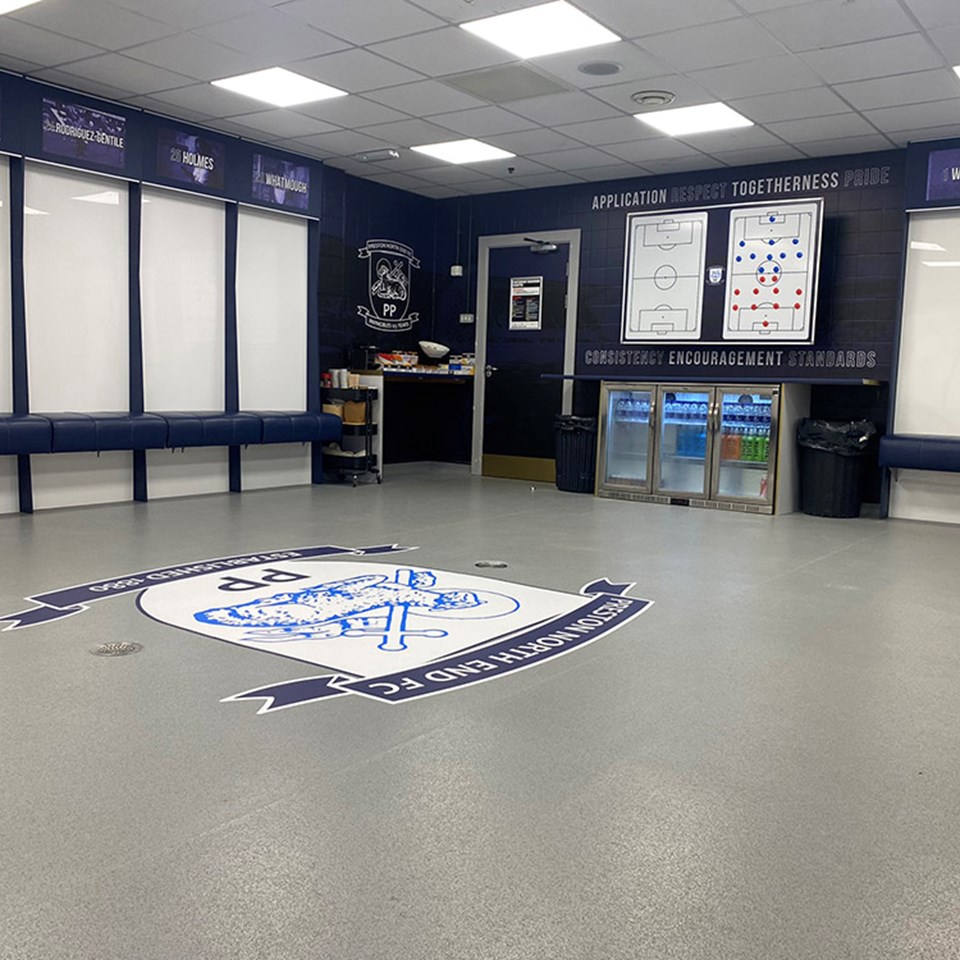 THE SOLUTION
We were responsible for all aspects of the project – from the initial concept and design to production and installation. To ensure the project was completed on time and fully satisfied the client's brief, it was planned and carried out in two key phases.
Phase 1: Modelling & Design
First, we precisely measured the changing rooms and recreated them to scale in SketchUp. This gave us the ability to present a comprehensive 3D visual to the client, encompassing all aspects of the proposed redesign.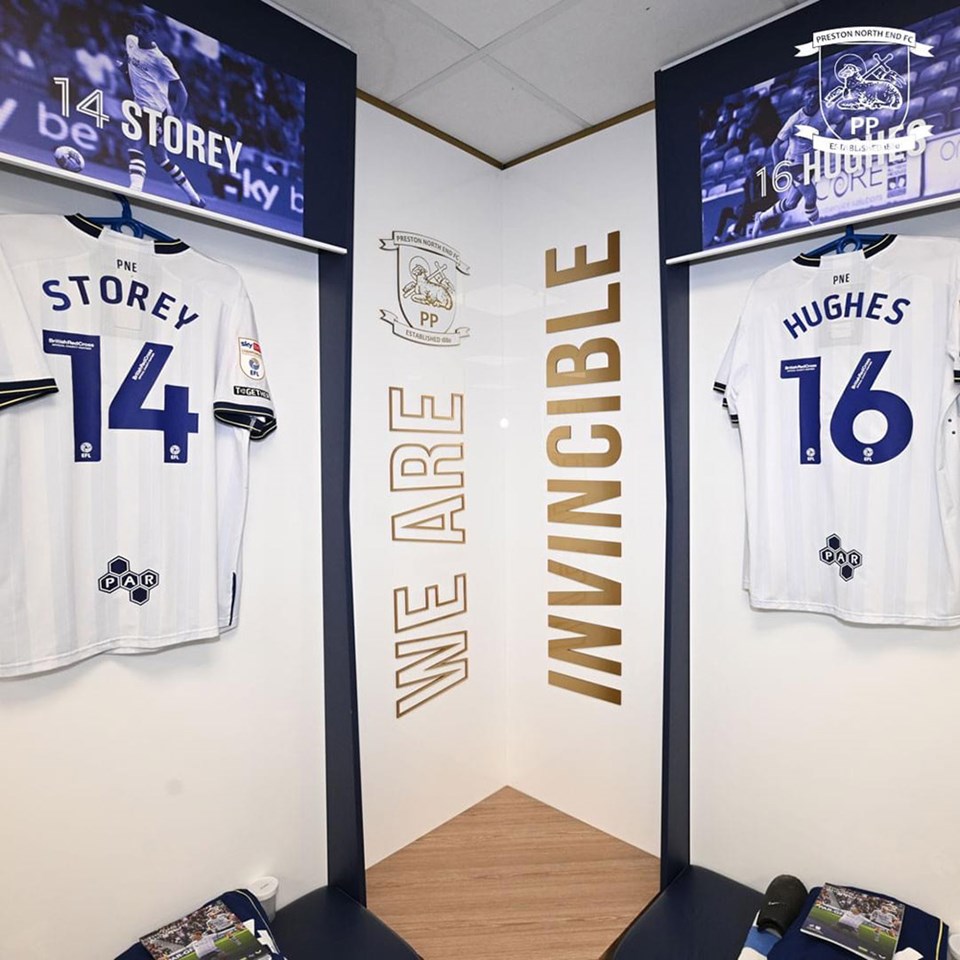 Phase 2: Production & Installation
Player Pods
We crafted the individual player pods, using timber batons & plywood to form the base structure, which along with the existing structure we then wrapped in 3M DI-NOC blue architectural film, giving them a modern and cohesive look.
Pod Backdrops
We crafted the pod backdrops from high-gloss acrylic, offering a sharp contrast and premium look with a luxurious finish and enhanced aesthetic appeal.
Header Panels
By integrating magnetic Teslabase, we ensured a hidden magnet behind each of the header panels. This allows the kitman to easily swap out ferrous material printed player names for every match.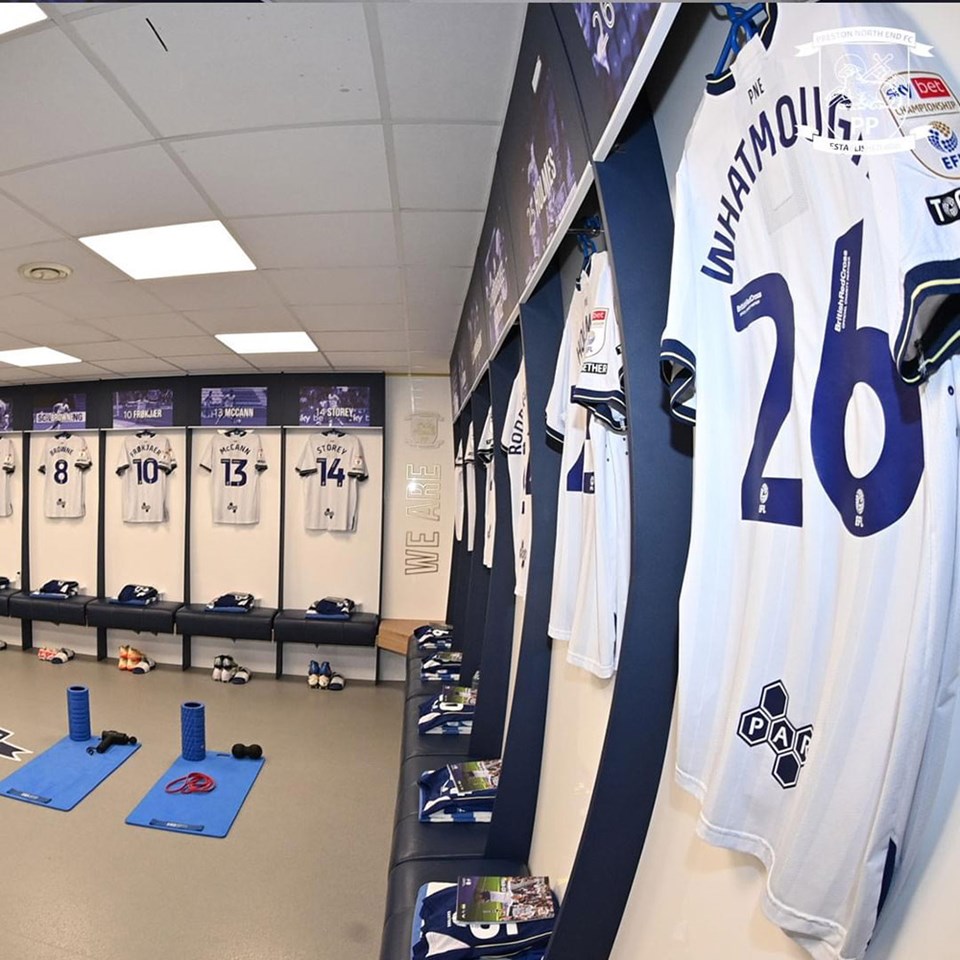 Floor Vinyl
We specifically chose to design and install a floor vinyl of the club badge on the changing room floor, adding a bold and prideful element to the space.
Tactics Board
Our team designed a bespoke magnetic drywipe tactics board with an adjustable bracket.
Furniture & Tiles Refurbishing
Both the existing furniture and the previously unsightly tiles were wrapped in 3M DI-NOC blue and Mactac WW-100, respectively, giving the room a modern and cohesive finish.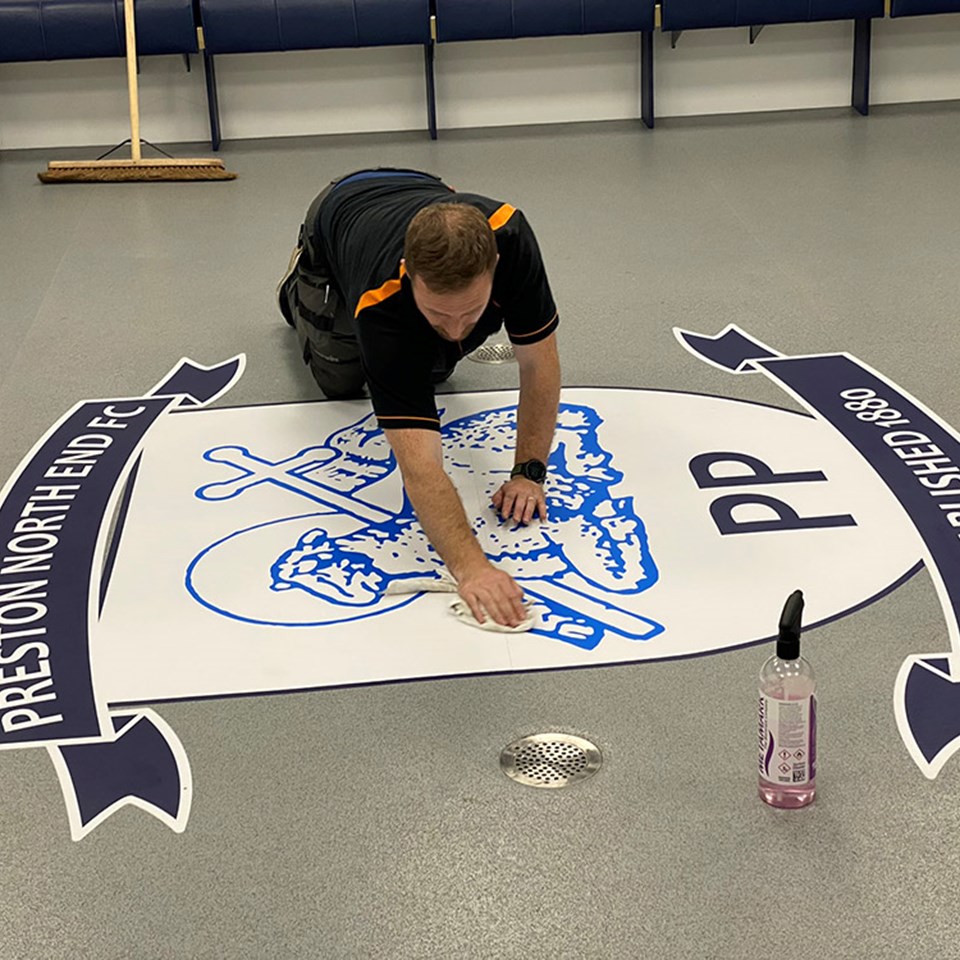 THE CHALLENGES
The tight timeframe was a significant challenge for the project, and sourcing some of the materials in time posed some logistical issues. However, our team worked extra hours and collaborated efficiently with local Prestonian companies to ensure timely and quality completion.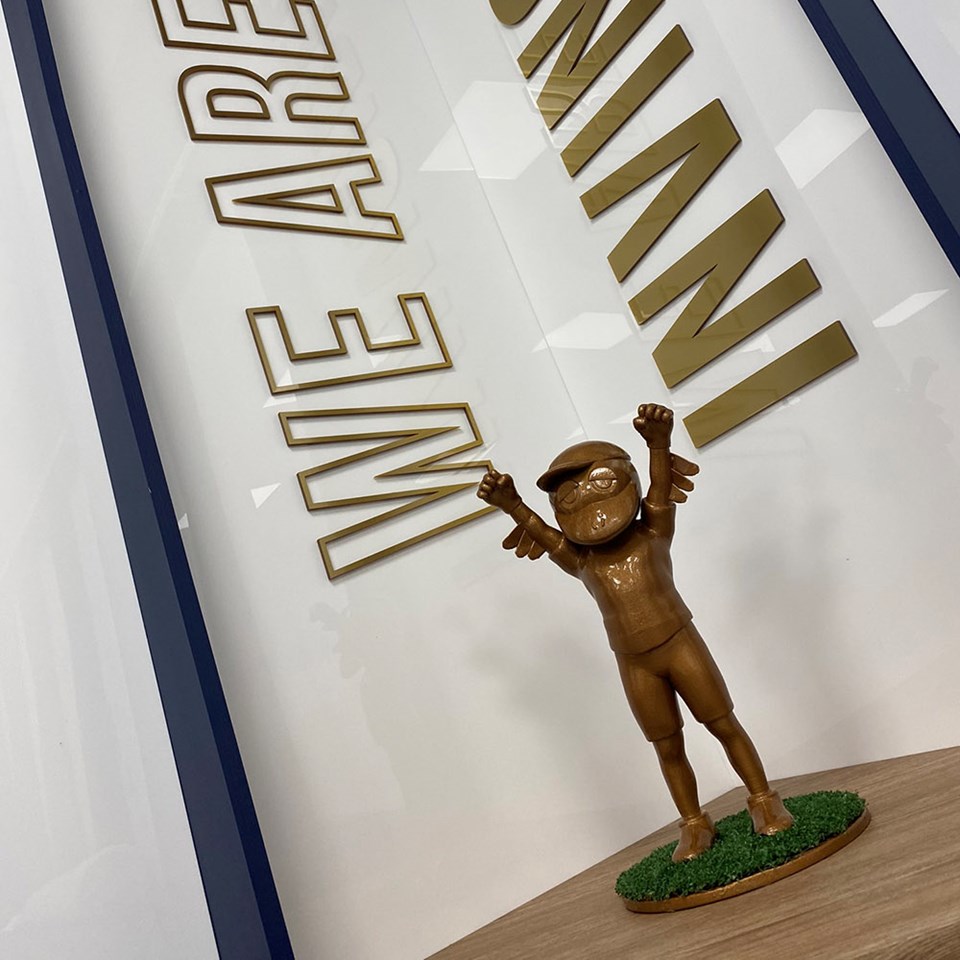 THE FINAL RESULT
This project was a pleasure for our team to take on and a massive achievement to complete. The outstanding features of the project were:
Complete Fit-Out
This wasn't just a minor upgrade. The job demanded a full transformation of the existing space, ensuring every aspect was addressed, from floor to ceiling.
Innovative Use of Existing Structures
Despite the time constraints, we managed to ingeniously repurpose and integrate the existing fixtures and fittings. This approach not only met the deadline but also ensured sustainability by minimizing waste.
Tile Overhaul
One of the primary challenges was the pre-existing tiles that covered the entire room. Instead of removing them, which would have been time-consuming and costly, we opted for advanced materials to cover and modernize them. This strategy was both efficient and impactful, yielding a fresh, revamped aesthetic.
Fast-Paced Solutions
Recognizing the tight timeframe, our team utilized quick yet effective material solutions, ensuring that the quality wasn't compromised. This speediness demonstrated our team's adaptability and expertise in handling projects under pressure.
Modernisation
The transformation from an outdated tiled room to a state-of-the-art changing facility is truly remarkable. It stands as a testament to the possibilities of blending creativity with cutting-edge materials.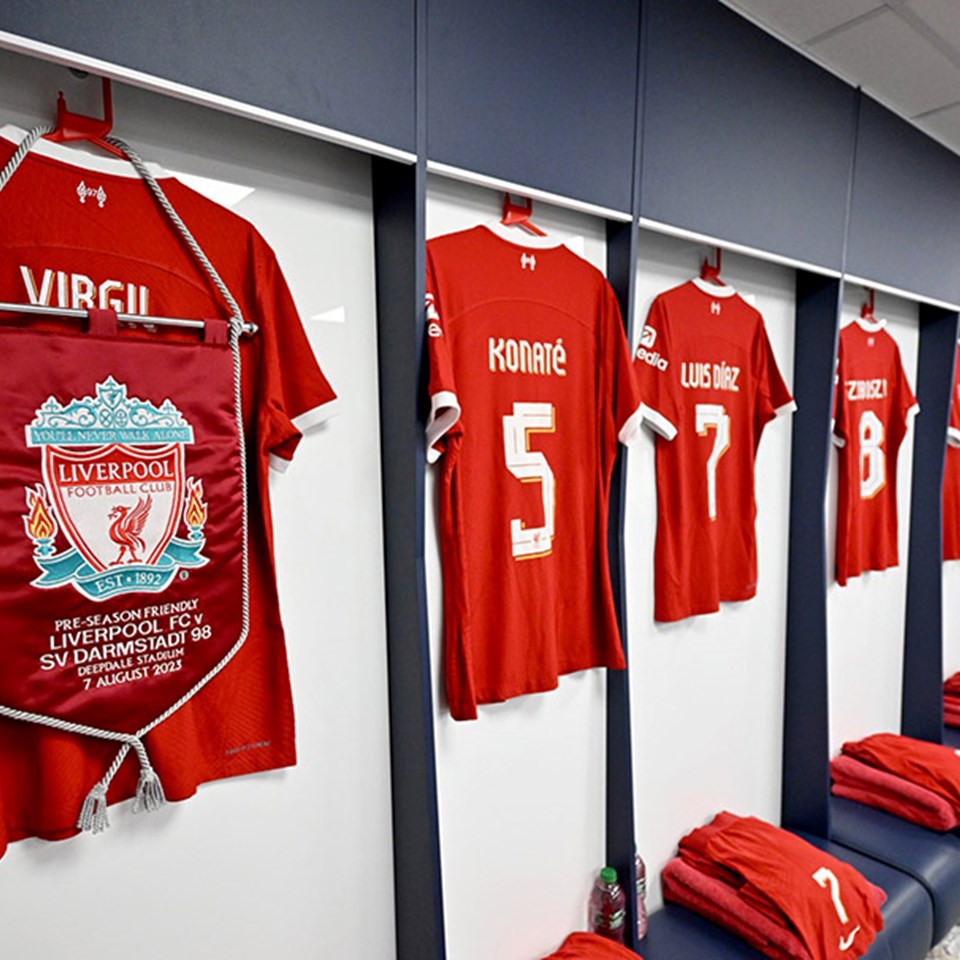 TESTIMONIAL FROM PRESTON NORTH END FC
"I've been in the world of football for many years and have seen a variety of changing rooms, but what Matt Rutlidge and his team have accomplished for Preston North End is nothing short of spectacular. Their transformation of our home team changing rooms based on the ideas we presented is a true testament to their unparalleled skills, creativity, and dedication.
Every corner of the room reveals the meticulous care and attention to detail that has gone into the project. The fully bespoke player pods and newly upholstered seats not only exemplify the depth of Signs Express Central Lancashire's expertise but also make the space feel truly special and tailored for our players.
Moreover, the ability of the team to execute this project within the tight timeframe and without compromising an ounce of quality is commendable. This not only speaks of their team's dedication and professionalism but also of the seamless collaboration with fellow Prestonian companies. It's wonderful to see such synergy and local collaboration bringing out the best for our club.
In conclusion, I couldn't be more pleased with the outcome and am extremely grateful to have had the opportunity to work with professionals of Signs Express Central Lancashire's calibre. Preston North End and its players will undoubtedly benefit from this world-class environment you've created, and it will no doubt inspire and motivate us for the seasons ahead." – Ryan Lowe, Team Manager at Preston North End
TESTIMONIAL FROM SIGNS EXPRESS CENTRAL LANCS
"We are extremely proud of the outcome of this project. Working with Preston North End, an iconic club with such a rich history, was an honour and a challenge we eagerly embraced. Our team showcased their exceptional talent, dedication, and ability to innovate. Collaborating with local Prestonian companies added to the experience, and we are thrilled to have been a part of this transformation. The client's trust and openness to our ideas made this project a remarkable journey." - Matt Rutlidge, Centre Manager at Signs Express Central Lancashire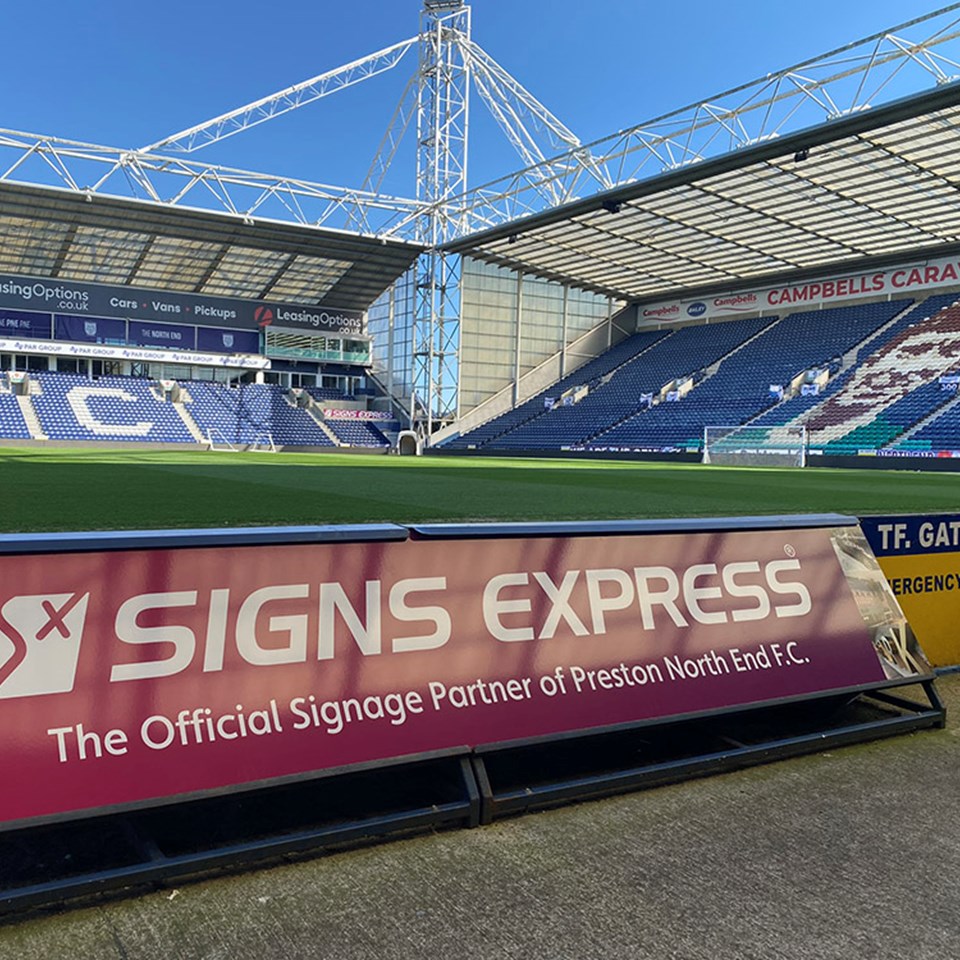 Are you looking for a trusted signage partner, with an eye for creative and innovative solutions?
CONTACT US
Why Choose
Signs Express?
Quality
Exceptional solutions, service and advice.
Experienced
An award-winning brand established for over 30 years.
Extensive
The largest product range to service all sectors and businesses.
Bespoke
Tailor-made signs and graphics that deliver value for money.
Local
Providing local knowledge at the heart of your community.
Recommended
Highly rated by customers that trust us time and time again.
First Steps Community Playgroup - First Steps Community Playgroup

Nicola - Petals & Posies
Emily Bannister - Victorian Sliders

Bernadette O'Sullivan - Woodcroft Stud
Julian Marks - Roofcare South West

MICHAEL STOPFORD (1) - Cumulus Bookkeeping Services
Becky Hulse

Kulvinder Singh

Richard Croston

Ian Mounter - IDM Airless

Sophie Chappell

Rupert Gladstone - Spitfire Avian Pest Control Ltd

Construction Testing-Solutions-Ltd

Ricky Cobbledick

Oliver Koeller

Grace Mead

Paul Grosvenor

Rebecca Simpson

Mike Davies - Mike Davies Associates Ltd

Andy Dransfield - Andy Dransfield Driver Training

Luke Payne - Active Southwest

Richard Cale - Leaf Culture

Grace Young
Christopher Campbell - Kelly Group Ltd