Local Loyalty
We have supported local businesses and maintained those relationships since our very first day!
At Signs Express Sheffield & Rotherham we are a team that love working with our local community and businesses. We have helped many businesses across the UK. This is one example of many that have occurred during the time we have been operating. The service and quality we provide our customers with is mirrored in their loyalty.
The original Genesis sign was the very first sign that we manufactured and installed in 2004. We are still as proud of this sign today as we were the day it was installed. When reminiscing on our journey, Carol Morris said, "we are still so pleased to be a part of the chamber after over 18 years now. They helped and encouraged us to bring our business to Rotherham. We take pride that we now get to help other businesses across Rotherham and Sheffield."
The updated Genesis Business Park sign has been installed alongside the resurfacing of Sheffield Road and the installation of a cycle lane, and lots more exciting things that are happening in the Borough.
We are proud to be able to work with the people and businesses of South Yorkshire and we enjoy maintaining those relationships over the years.
Contact us today and start your journey with Signs Express Sheffield and Rotherham.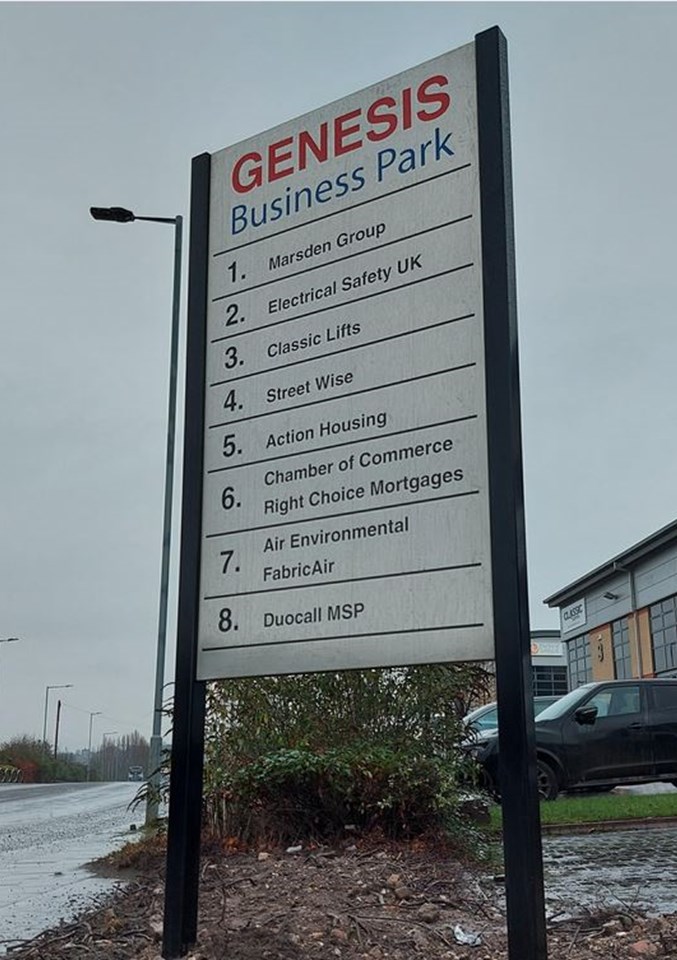 Get in Touch
Enquiry Form
Please contact your local centre by completing this enquiry form and we shall respond to your request as soon as possible.
Beatrice G de V Rhodes
Caroline Austen - Bright Stars Play Space

Rebrand retail - Wedding Vows

Hannah Campbell - Sheffield Doc Fest

Micky Johnson - Airbag Team

Stepahanie Masters - Wallnut Murals

Graham Grimm

Christopher Hamby

Matt Ward

Daniel Tait

Dan Archer

Jonathon Bower

Catherine
Trelancest Developments
Katrina Whale
James Stuchbury
Carrfield Medical Centre
Jody Garbutt
Alan Heathcote MSc - Senior Estates Manager Operations & Maintenance - Sheffield Children's Hospital
Mark Cadman - Director - Bommel UK Ltd
Alan Silvester - Digital Producer - Museums Sheffield
Andrew Barton - Managing Director - Sole JUice
Kirsty Arnold - Marketing Excecitive - Rotherham Chamber
Andrew Gardiner - Managing Director - 3 Shires ATM Solutions