Industry Insights: Construction Solutions
As part of our Construction site signage blog series, we spoke to Matt Rutlidge, Centre Manager at Signs Express (Central Lancashire) about one of their latest projects with Preston-based Rayner Rowen Construction Ltd.
Over to Matt as he discusses the client brief, process, and the challenges they had to overcome to deliver this extensive project.
So Matt, give us an overview of the project
Having been appointed by Saracens RFC for the redevelopment of their existing West Stand at the StoneX Stadium in Hendon, Rayner Rowen Construction Ltd contacted us to supply various health & safety signs.
The £20-million project involved the demolition of the existing stand, design, and construction of the new West Stand to accommodate nearly 3,000 spectators.
What was the brief from the client?
Managing Director, Matt Rowan, referenced a project they were currently working on and their imminent need for health & safety signage. Naturally, I asked him about the project and started to explore additional opportunities, asking questions such as: Who is providing the new signage for the stadium? How long will the works take from breaking ground to opening? These questions provided me with a better understanding of what services or products I could / could not offer on top of the original health & safety quotation.
Because Signs Express offer such a vast range of signs and graphics, I always find it's important to chat through a client's requirements as we can often support them with further solutions.
Tell us more about the quotation process for a construction project like this?
We always make sure we ask plenty of questions, it is the only way we can get a full picture of what the client is expecting and ensure our quotation or tender is spot on. With a large customer like this, we know that there will be very specific documents provided outlining their requirements. I also conducted further research to obtain valuable insight into the development plans containing photorealistic renders showing multiple new signs.
At Signs Express Central Lancashire, we provide a bespoke construction site signage catalogue for all our major construction clients. From Matt's original email we could identify a list of signs and graphics, along with their corresponding codes that were required for the start of the project. This made it easier for our customers as both artwork and prices were clearly displayed.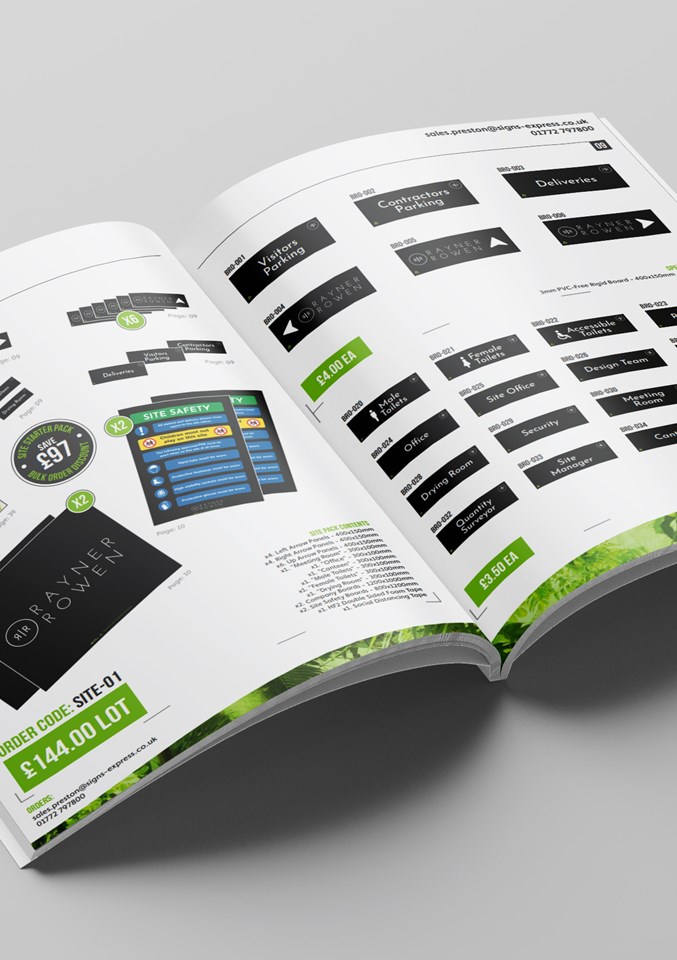 After the first stage was delivered, what other opportunities were there?
Once the health and safety signs were completed and confirmed the client was happy, we began discussing the additional signage we could potentially support them with including hoardings and post & panel signs. We had identified two key areas for Rayner and also for Saracens themselves regarding stadium branding. We find clients are always receptive to talking through our recommendations as well as using our expertise to often make suggestions for elements they haven't thought of and would benefit from. This can be everything from material choice to signage placement and everything in between.
What challenges did you face with a project of this size?
Once the post & panel signs were completed, we began work on the extensive hoardings required. This was not a straightforward part of the project, with several challenges we needed to navigate:
Rayner Rowen had leased the hoarding, meaning we could not install any permanent fixings. The panels needed to be removed without damaging the leased hoarding.
The wrong type of hoarding panel had been leased for a continuous design. Each panel had a panel connecting strut that protruded.
The hoarding was not level, meaning a full survey needed to be done to ensure that the artwork would continuously flow through panel joins.
500 panels need to be printed and delivered to the site within a tight timeframe.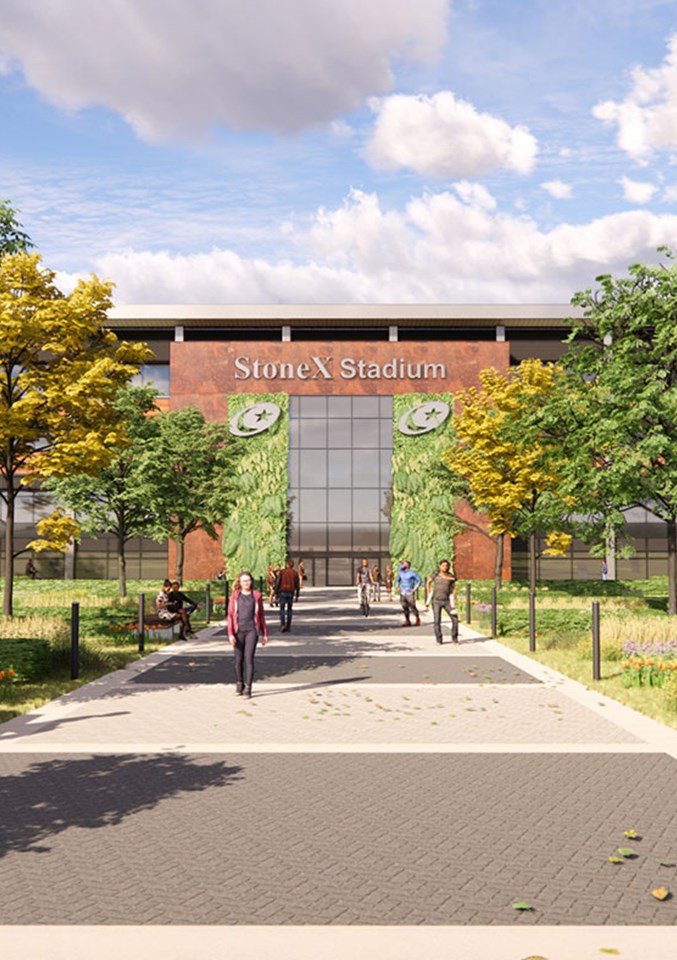 And how did you overcome these challenges?
We arrived at the following solutions:
After several conversations with the client, site managers, subcontractor installers, adhesive suppliers and our Franchise Support Centre it become obvious that there was no simple solution for applying print to the hoardings. So, we decided to fix it to panels made from durable, marine-grade plywood. This solved the issue of the wrong type being ordered as well as not damaging the leased hoarding.
To meet the project timeline, we printed the panels in-house in order of urgency and worked closely with the client to ensure the smooth installation of the signage.
We used our Mimaki JFX200-2513 EX to print directly to the face of digital print grade hoarding composite. The digital composite allowed us to achieve ultra-high-quality prints at a relatively low cost.

Tell us more about the benefits of signage for construction sites that customers may not think of?
In this case, we knew that the Saracens site would gain a fair amount of media attention, so it would be beneficial for Rayner Rowen to consider what opportunities this provided. Often companies forget that they can use the project they are working on to promote their products or services.
In this case, Rayner already required hoarding and post and panel signs. Instead of just using them for their functional purposes, we suggested branding them, displaying contact information, showcase work while also showing passers-by the plans for the Saracens development. It is a win-win for both the end customer and our client in this case.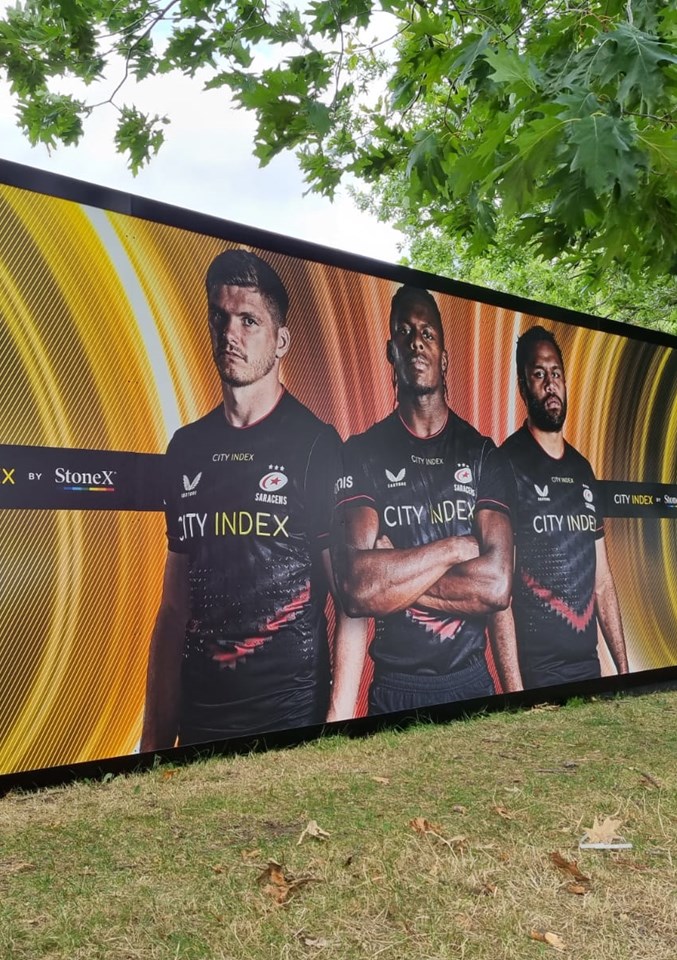 What makes Signs Express a good signage partner for construction companies?
Signs Express offers a wealth of knowledge and experience built up over 30 years in the industry. As part of a franchise network of over 60 centres, we can adapt and come up with innovative solutions to almost any problem. The project outlined above for Saracens RFU is a great example of this. We can call upon further resources should a project require it, whether it's to handle larger jobs or whether a task needs attending to urgently, the client will get the same reliable Signs Express standards.


Matt Rowan, Managing Director of Rayner Rowen Construction Ltd said:
"Matt & Tom at Signs Express Central Lancashire were incredible. The project seemed straightforward, but it was much more complicated and time-consuming under the surface. Their honest approach to creating a quotation and attention to detail was fantastic.
They worked with our client to ensure the final product looked just like the visuals they provided. We've worked with Signs Express for several years now and the reason we keep coming back is that they leave nothing up to chance. Every project receives the attention it needs and they're not afraid to say 'no' and have those difficult conversations. We'll continue to use Signs Express for years to come"
We have centres based across the UK and Ireland to make securing your signage as straightforward as possible.
Why not also check out our signage guide for construction sites and contact your local centre to find out more.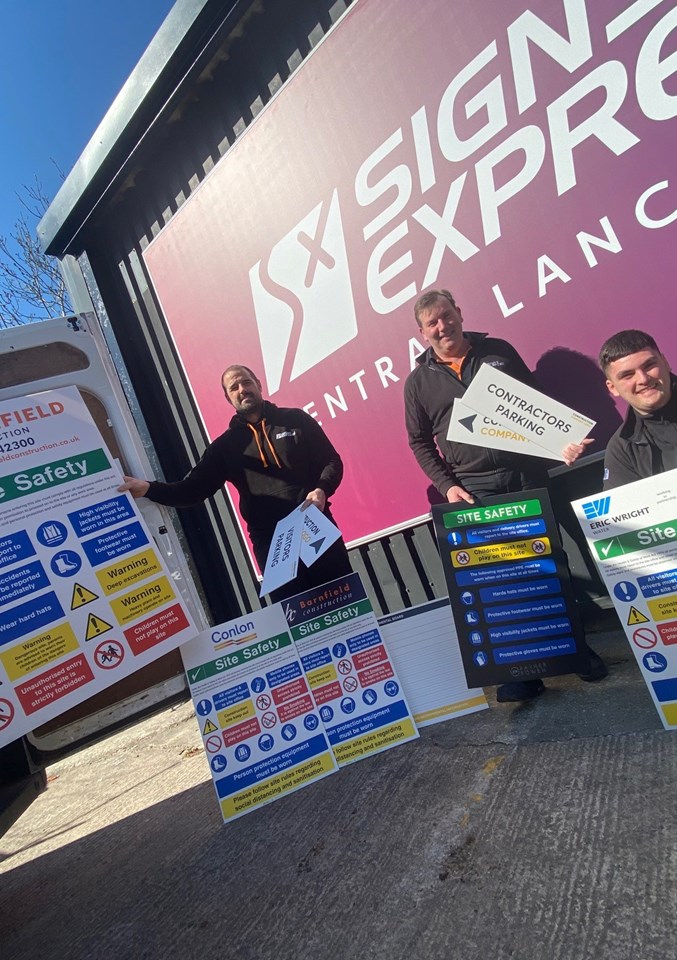 First Steps Community Playgroup - First Steps Community Playgroup

Nicola - Petals & Posies
Emily Bannister - Victorian Sliders

Bernadette O'Sullivan - Woodcroft Stud
Julian Marks - Roofcare South West

MICHAEL STOPFORD (1) - Cumulus Bookkeeping Services
Becky Hulse

Kulvinder Singh

Richard Croston

Ian Mounter - IDM Airless

Sophie Chappell

Rupert Gladstone - Spitfire Avian Pest Control Ltd

Construction Testing-Solutions-Ltd

Ricky Cobbledick

Oliver Koeller

Grace Mead

Paul Grosvenor

Rebecca Simpson

Mike Davies - Mike Davies Associates Ltd

Andy Dransfield - Andy Dransfield Driver Training

Luke Payne - Active Southwest

Richard Cale - Leaf Culture

Grace Young
Christopher Campbell - Kelly Group Ltd